| | |
| --- | --- |
| 2015 Schedule Breakdown and Predictions | |
---
| | |
| --- | --- |
| Thursday, June 4, 2015 8:12 AM | |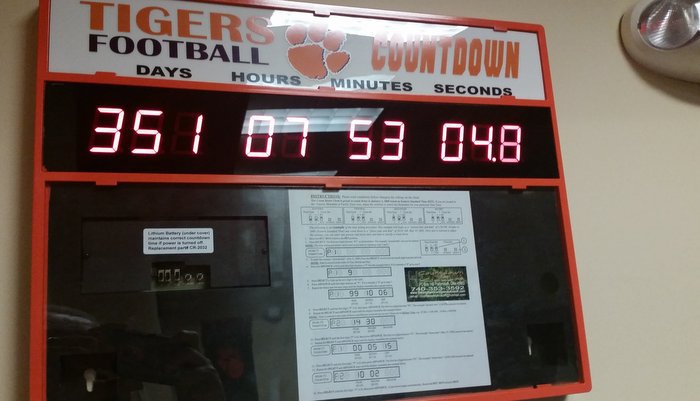 Spring football is in the books and Dabo Swinney

Dabo Swinney
Head Coach
View Full Profile 's camps don't get underway until next week. We call it downtime, and let's face it, it stinks. The ACC Kickoff is still 45 days away, even though we do get Swinney and the rest of the Clemson coaches in 40 days or so.
So what do we do? We look ahead to the season of course, and the biggest question I get from people is, "Will Clemson go undefeated next year?" The answer to that, simply, is no. Sure I could put on some orange-colored glasses and proclaim an undefeated season, but I've been around this game long enough to know that even the best teams slip up somewhere, and the Tigers have enough question marks in key places to give you pause.
With that in mind, Nikki Hood and I take a look at the schedule and give you our best guesses for the wins and losses. This is our best guess as of now, and I'm sure it will change prior to the start of the season.
WOFFORD AT CLEMSON
David Hood: Win
The Terriers gave Clemson a scare a few years ago in the Valley, but this isn't the same Wofford program and it's not the same Clemson program. The Terriers actually played Georgia Tech tough last season – breaking a 92-yard touchdown run in the process – but close doesn't count.
Nikki Hood: Win
Over the last five seasons, Clemson has opened with an SEC foe – Auburn from 2010-2012 and Georgia in 2013 and 2014, but for a revamped defense and a quarterback coming off of a torn ACL – Wofford is the perfect opponent. The Terriers run the triple-option, but Clemson should win on talent alone and the game should give young players plenty or reps.
APPALACHIAN ST. AT CLEMSON
David: Win
This will be a tougher test - Appalachian State experienced a terrific turnaround over the second half of 2014 and returns 20 starters and most of its second string. They will be Sun Belt contenders and have decent talent up and down the roster. But being a Sun Belt contender doesn't mean you win in Death Valley.
Nikki: Win
Appalachian State will be a stiffer competition than Wofford, but the Tigers should win on talent alone. Much like the opening game, Clemson should be in control by halftime and the second half should be a learning experience for the true freshmen offensive linemen and the second and third string defender who will be called upon to provide depth later in the season.
CLEMSON AT LOUISVILLE
David: Win, but boy oh boy
This was close to being a loss in my book. I get it – the Cardinals aren't what they were last season and have lost a ton of talent across the board, especially on defense and at wide receiver. My friends tell me I am crazy for thinking this will be a tough matchup. But at Louisville on a Thursday in what will be a true test? This one gives me the jitters and it's not even July.
Nikki: Win
The Cardinals are in a very similar situation to Clemson – they lost almost their entire defense and key offensive playmakers – however, Clemson has Deshaun Watson

Deshaun Watson
So. Quarterback
#4 6-2, 205
Gainesville, GA
View Full Profile . While a Thursday night at Papa John's Stadium won't be an easy task, Watson and company will make enough plays to take advantage of a young Louisville defense.
NOTRE DAME AT CLEMSON
David: Win
Notre Dame will be battle-tested by the time they arrive in Death Valley, but I have questions about this team. They are still the same team that lost five games last season and were 0-3 in true road games. They have talent, but I'm not sure they have elite talent across the board like Clemson. They are a good program. Not great.
Nikki: Win
Not to disrespect Virginia, but Notre Dame's trip to Death Valley for an early October clash, will be the Fighting Irish's first true test in a hostile environment. Gone is Everett Golson as the reins have been handed over to junior Malik Zaire, who attempted just 35 passes a season ago. If this game were in South Bend, my prediction might be a little different, but because it's in the friendly confines of Death Valley, I say win.
GEORGIA TECH AT CLEMSON
David: Win
Let me get this straight once and for all – I think if Deshaun Watson hadn't suffered a knee injury in Atlanta last season the Tigers would have won by two scores. The defense was just that dominant and Watson would have found a way to get Clemson in the end zone. But this year – Justin Thomas is a legitimate threat at quarterback and their defense will be a tad better under Ted Roof. This one is a tough one for me to call. Really, really tough. But I think Clemson wins in a close one.
Nikki: Loss
I know that the home team usually emerges victorious in this cross-division rivalry, but Georgia Tech quarterback Justin Thomas runs the triple-option to perfection. Clemson's defense benefitted from having a two-deep on the line that had faced Paul Johnson's offense several time, but this year it's just the starters. Can the second stringers come in and play their assignments and not be lulled to sleep by dive and the pitch to the outside? I'm too skeptical to say yes.
BOSTON COLLEGE AT CLEMSON
David: Win
The Eagles are never an easy out, but they have issues on the offensive line and have to find playmakers. It's usually a physical game between these two, and it scares me a little because Clemson's defenders will have to play that game just a week after having Georgia Tech's blockers try and end their careers with nasty cut blocks.
Nikki: Win
Boston College gave Clemson a scare last year in Chestnut Hill, but this year's game in Death Valley shouldn't be as close with Deshaun Watson at the helm. The Eagles return dynamic running back Myles Willis but lose the entire offensive line from last year. Boston College's defense should be better, but Clemson's offense wins out.
CLEMSON AT MIAMI
David: Win
They have talent in Miami, but it's never translated into wins and losses and they even lose to a bad South Carolina team in the bowl game. It's in Miami – where there isn't a lot of atmosphere – but the Tigers still come away with the win.
Nikki: Win
It seems like Miami always has four and five star talent all of the field but can't ever win more than six or seven games and this year will be no different. However, Clemson has the talent to match the Hurricanes and the better coaching staff. There are a lot of Clemson fans in Florida so this game may resemble a Clemson home game, giving the Tigers a little extra momentum.
CLEMSON AT NC STATE
David: Win
Another tough one on the road. I really like the recruiting success that Dave Doeren is starting to have up in Raleigh, and I think the Pack will be a contender down the road. Just not this year.
Nikki: Win
If there is one road game that terrifies me, it's this one. Strange things always happen when Clemson travels to Raleigh. Add in the fact that this one will be played on Halloween and there will surely be drama. N.C. State loses many of its offensive weapons but return quarterback Jacoby Brissett. This one will be a nail biter, but Clemson just has too much talent.
FLORIDA ST. AT CLEMSON
David: Loss
Maybe I just have too much scar tissue. But I look at that Florida St. program and I see all of those athletes and I cringe. They are very, very talented and even though they are young in spots this season they still have 5-stars all over the place. They also have a good offensive coach in Jimbo Fisher and a nice filler quarterback in Everett Golson. If Fisher can get Golson to stop with the foolish turnovers, he can be dangerous. And right now, I just think they have Clemson's number.
Nikki: Loss
Exit Jameis Winston. Enter Everett Golson. Florida State head coach Jimbo Fisher always makes his quarterbacks look like first round draft picks, even if they aren't, and I'm sure he'll do wonders with Golson's game. The Noles' will have home run threat Dalvin Cook in backfield. The defense will be young but there are five stars and just every position and this game is late enough in the season that they'll have time to grow up. Clemson's lost the last three - two to worse quarterbacks (Sean Maguire and E.J. Manuel) - so I have to go with the Noles.
CLEMSON AT SYRACUSE
David: Win
Too hot? Crowd too loud? None of the above. Syracuse has issues with talent, and that won't change this season. Scott Shafer can throw his gum and scream and rant – it won't make any difference. The biggest question for me is how many points Clemson will score.
Nikki: Win
The Carrier Dome may be hot and humid but it's November and Clemson has already played in much worse weather. The Orange are adding talent, but they are still no match for Clemson.
WAKE FOREST AT CLEMSON
David: Win
It's really just a talent thing. The Demon Deacons put together a nice recruiting class this past winter but still have a long ways to go before they are back to the days of beating the big boys.
Nikki: Win
See Syracuse. Head coach Dave Clawson has Wake Forest heading in the right direction, but even last year without Deshaun Watson, the Demon Deacons struggled to compete. Senior day and what could be the last game in Death Valley for several juniors will be plenty of motivation for the Tigers to get the win.
CLEMSON AT SOUTH CAROLINA
David: Win
I have to be honest – I thought Clemson was the better team in 2013 but let turnovers beat them. Clemson was definitely the better team in 2014, and they will be again in 2015. The Gamecocks simply don't have the same kind of program they did during the five-game streak, and the cracks began to show last season. Honestly…how many players on their roster do you think would start at Clemson? And honestly I can see the Gamecocks turning to quarterback No. 4 or even No. 7 by the time this game rolls around as Spurrier tries to find an answer.
Nikki: Win
Clemson finally got the monkey (or the Gamecock) off its back with a dominating performance in Death Valley last season and it's obvious that these two programs are heading in different directions. Who will be South Carolina's quarterback when Clemson comes to town? Will it be Connor Mitch or will Steve Spurrier have already handed the duties to true freshman Lorenzo Nunez? South Carolina's defense should improve a little but there is still a lack of talent in some areas and it will show with all of Clemson's offensive playmakers. Tigers win two in a row.
RECORD
David 11-1
Nikki 10-2