| | |
| --- | --- |
| 2014 LHP says commitment to Clemson is a dream come true | |
---
| | |
| --- | --- |
| Monday, March 24, 2014 6:59 AM | |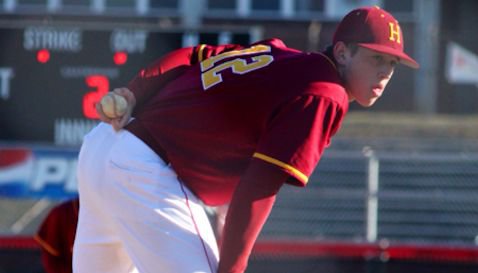 Coan McAlpine has been on a mission since he was five years old.
That mission?
To wear the orange and purple Clemson baseball uniform and be a part of Clemson's first national championship team.
McAlpine, a 6-4, 209 pound left-handed pitcher out of Hickory (NC), committed to Clemson last Friday and he told TigerNet Sunday night that it was a dream come true.
"I think there's something in those hills down there in South Carolina," McAlpine said. "I felt like it was time. I'm a fourth generation Clemson Tiger. I've been working on a dream for 13 years now - since I was five years old, I knew I was going to put on that Tiger uniform and go to Omaha to bring home the national championship. That's what I plan to do."
McAlpine is a fourth-generation Tiger who follows in the footsteps of his great grandfather who was a founding member of IPTAY, grandfather who was an honorary World War II graduate, parents who attended Clemson, and brothers Warren and William who graduated from Clemson in 2013.
"Orange runs through my veins. I bleed it,"McAlpine said. "I shout it from the rooftops and now I get to play for them. The fact that I get to say that I'm a Clemson Tiger is pretty awesome."
The First Team All-Atlantic Region pitcher chose Clemson over some of the top programs in the Carolinas.
"I had interest and offers from South Carolina, Chapel Hill, College of Charleston, ECU, Wofford, UNC-Wilmington, UNC-Asheville, Furman, Presbyterian College," he said. "I also had interest from some very, very high junior college programs that are very good for baseball."
The lefty has three pitches in his repertoire and has recently been discovered by MLB scouts after increasing his fastball velocity.
"I feature a two-seam fastball from the left side up to 91 mph," he said. "I work 87-89 mph. I come with a power slider up to 81 mph. I also work with a two-seam change-up that works 78-83 mph. I haven't changed any mechanics. I squatted down in the dungeon down at Clemson with the Clemson Weight Club and really hit the weights hard. I worked extremely hard and I've put everything together. With a 6-4 and 209 pound frame, things are going to happen."
Not only is McAlpine a star-athlete – the No. 2 rated left-hander in the state of North Carolina - but he is also a star student.
"This year I will be graduating as the valedictorian of my high school class and I'll be studying Biochemistry at Clemson," he said. "I also have a 5.4 GPA. I'll come in with somewhere in the neighborhood of 50 college credit hours. I'll come in as a second-semester sophomore."
This year's baseball team has had its ups and downs, but McAlpine said that with the current roster and the players coming in the Tigers will be able to put it all together next season.
"Obviously, this team has some room for improvement. I feel like we've had some games stolen from us late, but they've got a lot of talent," he said. "I think next year that I'm going to add a big component and we are going to put it all together. I'm really looking forward to having some great teammates with Chris Okey and [Matthew] Crownover and [Alex] Bostic who I played against in high school. I think we have a great class coming in with [Michael] Chavis. I think we're going to be great next year."
During 2012-2013, McAlpine was 24-1 with an ERA of 1.24. He averaged 1.42 strikeouts per inning and opponent's batting average was .107. He only allowed nine extra base hits against 743 plate appearances.