| | |
| --- | --- |
| Will The Streak End in 2014? | |
---
| | |
| --- | --- |
| Friday, January 24, 2014 11:38 AM | |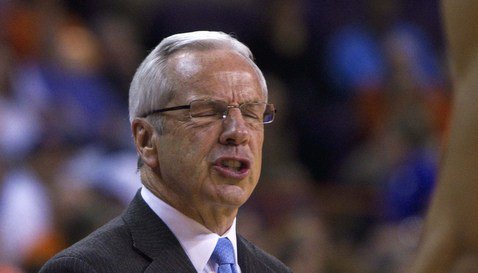 The Streak.
Ask any Clemson fan about The Streak, and you get an icy stare followed by a haunted look. They know what it means, just as surely as Denver Bronco fans can recount The Drive or San Francisco 49er fans can tell you about The Catch.
The Streak currently stands at 56 games. Fifty-six times a Clemson basketball has made the trek up Interstate 85 to Chapel Hill, to arenas such as Woollen Gymnasium, Carmichael Auditorium and Dean Dome. Fifty-six times the Tigers have returned home on the losing side of the ledger, a NCAA record for home-court domination of one team over another.
Will this finally be the year The Streak ends?
The Tigers (13-5 overall, 4-2 ACC) have played well at times this season, including an impressive 2-0 ACC road start and a 72-59 win over Duke in Littlejohn Coliseum. However, the Tigers lost in spectacular fashion (one writer called their performance perfectly terrible) at Pitt Tuesday night, dropping a 76-43 decision that in many ways wasn't even that close.
However, the Tigers lead the ACC in scoring defense (54.8 ppg) and are second behind Boston College in free throw percentage (74.3). The Tar Heels are 12th in scoring defense, and are last in the ACC in free throw percentage, making just 61.5 percent of their charity shots.
However, the Tar Heels are fourth in the ACC in scoring offense (75.2) and Clemson is next-to-last at 64.7 points per game. The Heels are also better than Clemson at turnover margin – North Carolina has turned it over 230 times while forcing 262, while Clemson has turned it over 199 times and forced just 193.
The Tar Heels are 11-7 overall and have a 1-4 record in the ACC, good for 13th in the ACC standings. This isn't your typical North Carolina team, but they've beaten the likes of Louisville, Kentucky and Michigan St. this season, and those teams have a combined 49-8 record.
They've also lost at home to Belmont (yes, Belmont has more wins in Chapel Hill than Clemson), at UAB and were blown out by Virginia earlier this week.
The opportunity is there for the Tigers to finally claim a win, but they've had these chances before. Here is a look at a few of the more memorable (if you can call them that) Clemson trips to Chapel Hill.
1982
This was the year Dean Smith won his first NCAA title, and he had players like James Worthy, Samy Perkins and a youngster named Michael Jordan on his squad. Clemson was just 2-5 in the ACC heading into the game, but led 35-33 at the half and were up by nine points with less than nine minutes left, but the Heels came back to win 77-72.
1998
Who can forget Rick Barnes and Dean Smith going head-to-head a couple of times. It all started early in Barnes' tenure when the Tigers were called for 32 fouls to just nine in a game against the Heels. In late January of 1998, the Tigers got physical with North Carolina and where whistled for a then-ACC record 41 fouls (UNC was called for 19). Six Clemson players fouled out, and the Tigers had just four players on the court when the game ended.
Oddly enough, Clemson actually outscored North Carolina over the 70-second period in which it had just four players.
2002
North Carolina went 8-20 overall, 4-12 in the league and 6-9 in the Smith Center that season. However, the Heels rolled 96-78 and was arguably the best game North Carolina played all season.
2003
Clemson blew a late lead and missed a 3-pointer in the final seconds, losing 68-66 in Matt Doherty's final season as head coach at UNC.
2008
The Tar Heels had already given the Tigers one heartbreak that season when Wayne Ellington's 3-pointer at the buzzer gave the Heels a 90-88 win in overtime at Littlejohn. A few weeks later, the Tigers held a 15-point lead (68-53) with just over eight minutes remaining and were still up by 11 with just three minutes to play, but Ellington and Tyler Hansbrough (39 points, 14 rebounds) shot the Heels back into the game, and they won 103-93 in two overtimes. And, just in case you're counting, the Heels beat the Tigers in the ACC Championship Game a month later.