| | |
| --- | --- |
| Uncle Mo' is wearing orange | |
---
| | |
| --- | --- |
| Sunday, January 17, 2016 8:01 AM | |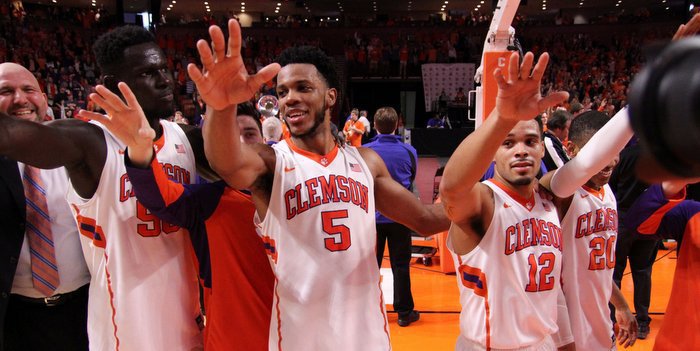 GREENVILLE – Uncle Mo' is wearing orange.
The Clemson men's basketball team made history Saturday afternoon at the Bon Secours Wellness Arena as they completed the trifecta of beating three consecutive ranked teams – No. 16 Louisville, No. 6 Duke and No. 8 Miami.
The secret to the Tigers' success?
Momentum and confidence.
Clemson got off to a sluggish start in losing games to UMass, Alabama, South Carolina and Georgia in the month of December, but gained new life as ACC play started. At North Carolina in late December was the last time the Tigers were on the losing end of a game, and they have reeled off five consecutive ACC wins, including Saturday's 76-65 win over Miami.
Jordan Roper, Landry Nnoko and Jaron Blossomgame – three of Clemson's oldest players – are playing with more confidence than ever before, evident Saturday as Roper scored 18 points and Blossomgame had a 25-point day.
Roper told the media following the win that the difference between the team playing in January and the one that played in December is simply momentum.
"I think just the moral victory of the game showed that we could play with a team as talented as North Carolina," Roper said after Saturday's win. "Just that little bit of confidence and momentum went into the next game and it's just been rolling. As Coach Brownell says, Uncle Mo - Uncle Momentum - it's huge for us right now and we just want to keep building on that."
Blossomgame echoed the sentiments of his teammate saying the momentum started building after the North Carolina game on December 30th when the Tigers went toe-to-toe with the Tar Heels for most of the game.
"Even at UNC, we played a great game," Blossomgame said. "We were in the game with six minutes left and we had a chance to win but things didn't go our way. Ever since then we've been really confident. We came here and beat Florida State and the momentum from that game carried over to the next game. Obviously, it has taken us to wear we are right now. I feel like the sky is the limit for this team if we keep being coachable and coming to work each day."
Roper said they aren't doing anything different as a team. They're just coming to work everyday trying to get better, but the confidence around the locker room has changed the way they're playing on gameday.
"The game of basketball is a lot about confidence and momentum and right now we have both," Roper said. "We're playing really well and guys are stepping into their roles and doing what they're supposed to do. We just hit the nail on the head continuously. We just fight every day and guys are really stepping up and it's really paying off.
"I think we're not really thinking about clutch moments. We're just following our fundamentals and playing with confidence right now. Guys are stepping up and making great plays."
It doesn't matter if they're taking on a highly ranked team or playing on the road, Roper and Blossomgame said they are treating every game the same – as a business trip.
"We didn't want that (the Clemson record) to consume us. We knew we had a big game today and we knew we had to take care of business," the duo said. "We didn't want any outside things to affect us. It wasn't about making history. It was just about taking care of business today. We just have to take care of business each day. It's one day at a time. Each game is big. We're in the ACC. That's our approach. We'll get over this one and prepare for the next one."
Up next for Clemson is a Tuesday night trip to Charlottesville, Virginia to take on the No. 4 Cavaliers – a challenge Roper said the team is ready for.
"We're playing well. We have confidence and momentum right now, so we're ready to take on any challenge that's ahead," Roper said.