---
| | |
| --- | --- |
| Friday, March 14, 2014 12:17 AM | |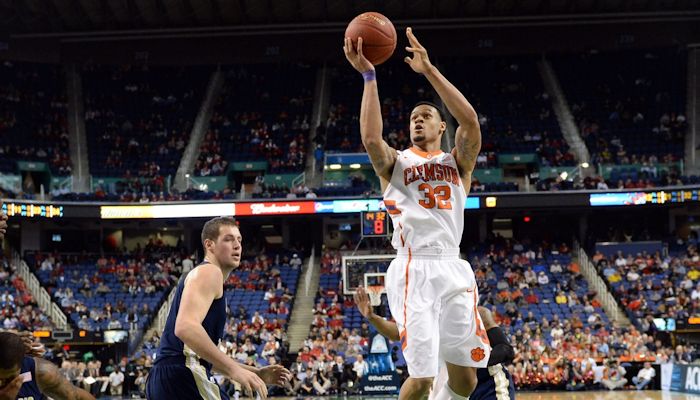 Brad Brownell

Brad Brownell
Head Coach
View Full Profile said. "Just found a way to win when we really weren't playing as well as we needed to win. I thought Georgia Tech, you have to give their kids a lot of credit, their coaches a lot of credit.

"They outcompeted us the first 20 minutes, really hurt us on the boards. Thought we were a little nervous offensively and turned the ball over a lot but settled into the game a little bit better and just tried to fight. Got down I think it was 49-40, got the guys into a timeout and somehow KJ and Rod kind of rallied them a little bit, Damarcus kind of rallied our troops a little bit."

The first half was a back-and-forth affair, but the Jackets eventually skipped out to a 20-15 lead and it was the Tigers who looked like they had played an overtime game the night before.

However, the Tigers found a little bit of offensive rhythm and went on a 9-2 run over the next two minutes, finishing the streak with a 3-pointer from Austin Ajukwa

Austin Ajukwa
Fr. Guard
#1 6-5, 190
Columbia, SC
View Full Profile that gave the Tigers a 25-22 lead with 3:15 remaining in the half.
The Tigers managed just two points over the final three minutes – a runner by Siddy Djitte – and the Jackets hit a 3-pointer at the buzzer to take a 29-27 lead into the locker room.
The Jackets carried that momentum into the second half, owning the offensive boards by taking enough bad shots that long rebounds became the norm. For the Tigers, the offense dropped into too many dry spells and Tech took its biggest lead of the game at 49-40 on a 3-pointer by Marcus Georges-Hunt with just 7:51 remaining in the contest.
The Tigers – much like in the first half – found a rhythm and went on a 7-0 run that was punctuated by a Damarcus Harrison

Damarcus Harrison
Jr. Guard
#21 6-4, 200
Greenwood, SC
View Full Profile 3-pointer at the 6:21 mark that it 49-47. Two minutes later, Jaron Blossomgame

Jaron Blossomgame
RS Fr. Forward
#5 6-7, 215
Alpharetta, GA
View Full Profile hit two free throws that tied the score at 51-51.
The Tigers then responded on the defensive end, and Blossomgame put back a McDaniels miss at the 3:32 mark and the Tigers had their first lead since late in the first half at 53-51, putting the Tigers on a 13-2 run in a little over four minutes.
The Tigers went up 55-51 on another basket by Blossomgame, but Trae Golden hit a runner in the lane that made it 55-53, and the Tigers failed to get a shot off on the offensive end, giving Tech the ball trailing by two points with 18.6 seconds left on the clock.
Golden drove into the lane and put up a wild shot with a little over four seconds left, but the ball bounced out to center Daniel Miller, who drained a jumper as he fell down, tying the score at 55-55 with 0.8 seconds remaining in regulation.
Landry Nnoko

Landry Nnoko
So. Center
#35 6-10, 245
Montverde, FL
View Full Profile said that the Tigers didn't have to be reminded of their overtime failure against Pitt last Saturday.
"It didn't affect us at all," Nnoko said. "At that point, it was go time. We knew they had played an overtime game last night, and we knew they had to be tired. So we just kept after it, and we hit our free throws when we had to."
In overtime, the Jackets jumped out to a 60-57 lead, but a jumper by Harrison with 44 seconds left gave Clemson its first lead of the overtime at 63-62. With 26 seconds left, Golden was called for an offensive foul as the Jackets tried to set a pick on Harrison. Harrison drained both free throws for a 65-62 lead, and the Jackets would never recover.
"Obviously a tough way to end a pretty good run," Tech head coach Brian Gregory said. "We did a lot of good things tonight and it's been like many of the games that we played against Clemson, back and forth. They had a lead and we had a lead. It usually comes down to making plays at the end of the game. And they made more than we did, unfortunately."
Clemson has played Duke once this season – the Tigers took a 72- 59 win over the Blue Devils at home on Jan. 11. Three Tigers posted double-doubles in that win – K.J. McDaniels

K.J. McDaniels
Jr. Forward
#32 6-6, 200
Birmingham, AL
View Full Profile (24 points, 10 rebounds),
Jaron Blossomgame (14, 14) and Landry Nnoko (10, 13).
If you can't see the PDF below, click here to open it.