| | |
| --- | --- |
| Tigers take on top-ranked Syracuse and the "amoeba" | |
---
| | |
| --- | --- |
| Friday, February 7, 2014 4:37 PM | |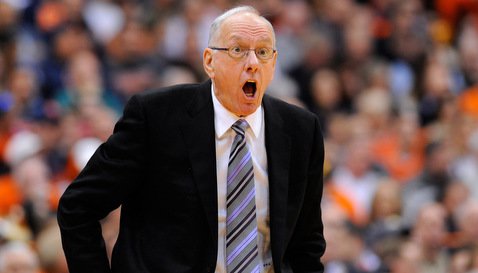 CLEMSON – A resurgent Clemson basketball team gets its chance at the amoeba Sunday.
The Tigers ((15-6, 6-3 ACC) travel to face top-ranked Syracuse (22-0, 9-0 ACC) this weekend in the Carrier Dome, the first meeting between the schools as ACC foes. It will also be the first chance for head coach Brad Brownell

Brad Brownell
Head Coach
View Full Profile and his players to get a good look at not only the Carrier Dome, but the Orangemen's vaunted 2-3 zone.
That zone – perfected by 'Cuse head coach Jim Boeheim – is a nightmare for teams that are used to playing against man-to-man defenses. It's also something that former Georgetown head coach John Thompson called a "damn amoeba."
"The 2-3 zone has been with us since the dawn of time," Thompson once said of the Syracuse zone. "It's the way it slides and moves out there, like a damn amoeba."
Thompson then said that the Syracuse defense is a 2-3 zone in name only.
"The only time it's a 2-3 zone is when they're waiting for you to bring the ball to it. Then, it becomes something else," he said.
GAME SETUP
CLEMSON (15-6, 6-3 ACC) vs. No. 1 SYRACUSE (22-0, 9-0 ACC)
Tipoff: 6:02 p.m.
Arena: Carrier Dome (35,012)
Radio: CTSN (Pete Yanity-pbp; Tim Bourret-color)
TV: ESPNU (Carter Blackburn-pbp; Jay Williams-color; Allison Williams-reporter)
That "something else" is what gives opposing team fits, and Brownell told the media Friday afternoon that there are several factors that make the Syracuse zone a formidable obstacle.
"It's alont of things. They have very good players who are big and long," he said. "Because they play it pretty much exclusively, they've seen just about everything and know how to adjust to it quickly. It's different than a regular 2-3 zone because of the way they bring their wings all the way out to the 3-point line. Because of their size they are able to do that.
"And then because they are such good athletes, you have to decide to shoot or pass. If you get trapped on the baseline, you are getting trapped by guys that are 6-8 and 6-10 with long arms. They have big guards on the backside that are going for steals. People don't do that well against it. It's formidable certainly. He's been doing it for so long and now they've seen all the different things you can run against it. And most coaches have more schemes against the man-to-man than they do the zone."
Leading scorer K.J. McDaniels

K.J. McDaniels
Jr. Forward
#32 6-6, 200
Birmingham, AL
View Full Profile ' said he is looking forward to the challenge.
"It's exciting, because I've watched Syracuse for a long time, as long as [Carmelo Anthony] has been there. It's a magnificent place to play, from what it looks like. To be there, it's going to be really fun," McDaniels said. "We want to go out there, stay focused and play as hard as we can, knock off the number one team. It will be a great experience for us."
Brownell said he doesn't have to tell his team that Syracuse is the nation's top team.
"Our guys know. They know that those guys are undefeated, number one team in the country," Brownell said. "They watch SportsCenter, do all that. We don't make much out of it."
QUICK HITS
• Clemson and Syracuse meet for the third time in history on Sunday, the first as ACC foes. The Tigers have won both games played in the series.
• The Tigers are facing the nation's top-ranked team Sunday. It is their first game against the No. 1 team since the 2008 ACC Championship game versus North Carolina.
• Clemson's last true road game against the nation's No. 1 team came in 2003-04 at Duke. The Tigers are playing their 10th game all-time on the home court of the nation's No. 1 ranked team.
• Clemson makes its first trip to the Carrier Dome since the 1990 ACC-Big East Challenge, when the Tigers played Seton Hall as part of a doubleheader.
• The last time the two programs met, Clemson won 74-70 in the quarterfinals of the 2007 National Invitation Tournament, which sent the Tigers to New York City and Madison Square Garden for the semifinals.
• Brad Brownell would be the 17th different coach to defeat Hall of Famers Mike Krzyzewski and Jim Boeheim in the same season with a win Sunday.
• Clemson is coming off its ninth straight home win over Georgia Tech, breaking the record for consecutive home wins over an ACC opponent.
• K.J. McDaniels is celebrating his 21st birthday Sunday.
• Syracuse forward Jerami Grant is the younger brother of 2011 Clemson graduate Jerai Grant

Jerai Grant
Forward (2007 - 2010)
#45 6-8, 230
Bowie, MD
View Full Profile , who was an All-ACC Defensive Team selection as a senior.