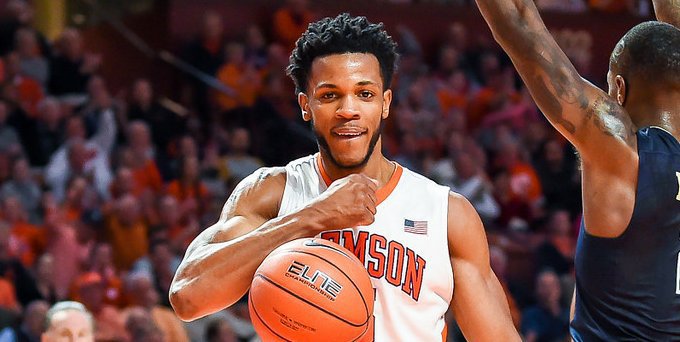 | | |
| --- | --- |
| Tigers take aim at Bulldogs Friday night in new Littlejohn | |
---
CLEMSON – The Clemson Tigers and Georgia Bulldogs renew acquaintances Friday night to kick off the 2016 basketball season and open the newly renovated Littlejohn Coliseum.
Head coach Brad Brownell – in his seventh season at Clemson – met with the media Thursday afternoon to preview the season, and he said he's not only excited to see his team in action, but he's also excited to show off the new facility to Clemson fans.
"Very good opening game for us. Great challenge for our guys. I want to emphasize how excited I am and pleased to be opening Littlejohn," Brownell said Thursday. "It's a fantastic building. I think our fans are really going to enjoy the new experience. I want to thank the Swann Family, once again, for the Swann Pavilion. Our practice facility and new coaches' offices are top notch now. I think there's a lot of good buzz going with our program and we're excited for another season."
CLEMSON (0-0) vs. GEORGIA (0-0)
Tipoff: 7:06 p.m. ET
Arena: Littlejohn Coliseum (9,000)
Radio: CTSN (Tony Castricone-pbp; Tim Bourret-color)
TV: RSN (Bob Rathbun-pbp; Dominique Wilkins-color)
Before the Tigers could get into their season, they received some bad news as starting point guard Shelton Mitchell suffered a non-contact knee injury earlier in the week. Brownell said Mitchell's surgery went well and he could return to action in a few weeks.
"I'm certainly very excited about the start of our season. I'm very pleased with the way our guys have been working and practicing," Brownell said. "We had a setback this week with Shelton. I feel bad for him because I know how hard he's been working all last season and had a great fall. Having said that, the surgery went well. He seems to be doing well. Hopefully, there won't be any setbacks. I don't have any timetable but I was initially told two to four weeks, so we'll see how he's doing. He seems to be off to a very good start, so that's good news along that front."
Mitchell brought speed to the point guard position, but senior Jaron Blossomgame said they'll be just fine with Avry Holmes at the helm.
"Shelton is a speed guard. When he gets it, he's gone and a lot of players aren't built that way, so the speed of the game will be slowed down a little bit, but it's not something that will hurt us," Blossomgame said. "Avry played the point guard for us all of last season, so he'll move into that position. That's something he did really well for us last year, so it's not as big of a blow as people think it is. It will be different."
Blossomgame – who declined to enter the NBA draft – returned to Clemson to lead the Tigers to what they hope will be a special season and an NCAA Tournament berth, but if they are to accomplish their goals, Clemson will need to pass some of the early non-conference tests on the schedule.
"It's crazy that we won 10 games in the ACC last year. I believe the ACC is the best basketball conference in America and we didn't get any postseason," Blossomgame said. "That's a direct reflection of our non-conference schedule. We dropped a game to Minnesota, UMass, and Georgia. Those are games we can't lose if we want to play in the NCAA Tournament. With the wins we had last year, there's no way we shouldn't have been playing in the NCAA Tournament, so it's quite obvious that the reason we didn't get in was our early non-conference losses."
The first test is Friday night at 7 p.m. when Georgia comes to town, and Blossomgame said the game will be a good measuring stick to see where the team has improved since last year.
"I think so. We had a close scrimmage and then we played Lander and played well," Blossomgame said. "We haven't played anybody as big as us and as strong as us and as athletic as us. I think tomorrow will be a good test for us to see what we've been doing in practice and how good of our team we're going to be."
Brownell on Ty Hudson's suspension
"I don't really want to go there. There are some things that he needs to do for us to work his way back and he's in the process of doing that. It could be two or three games or it could be four or five games, I just don't know. We'll have to wait and see."

Upgrade Your Account
Unlock premium boards and exclusive features (e.g. ad-free) by upgrading your account today.
Upgrade Now