| | |
| --- | --- |
| Tigers need to rediscover identity, find help for McDaniels | |
---
| | |
| --- | --- |
| Monday, January 27, 2014 1:36 PM | |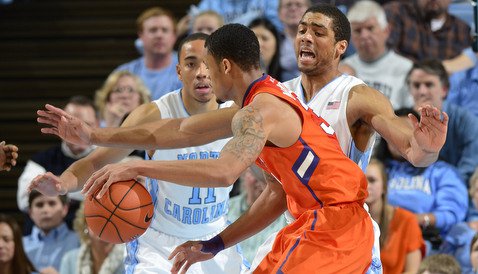 ACC basketball officials Karl Hess, Jamie Luckie and Tim Nestor showed up as scheduled Sunday evening in Chapel Hill, and many Clemson fans wondered aloud on social media if the Tigers would play five-on-eight all evening. As it turned out, the odds were even longer.
K.J. McDaniels was bumped and pushed and held by North Carolina's suffocating defense – nobody has said that all season – but he still managed to score 13 points in Clemson's blowout loss to the Tar Heels. And as much as Clemson fans have complained in the past about the Tigers not getting the calls in Chapel Hill – and rightfully so – the officials were merely a backdrop as Clemson's offense looked like a a game of one-on-five.
Both teams were called for 19 fouls, and it was obvious from the early stages of the game that the Tigers main opponents would be themselves. They were timid on both the offensive and defensive ends of the court, and now all three losses in league play have been in embarrassing fashion.
It was obvious that North Carolina intended to stop McDaniels – much like Pitt in the previous outing – and McDaniels' teammates were hard-pressed to give McDaniels any support. For much of the night, Clemson's offense would take the shot clock inside of ten seconds, only to see someone not named McDaniels throw up a prayer. For a 13-minute span of the late first half and early second half, none of those prayers were answered as the Tigers went scoreless from the field, an all-too-common occurrence this season.
In case you missed it, the Tigers were also not very good on the defensive end. The Tigers entered play last week as one of the nation's top defensive teams, giving up just over 54 points per game. However, Pittsburgh scored 76 last Tuesday and the Heels put up 80 rather easy points Sunday evening. In fact, the Tar Heels reached the 54 point mark with just under 13 minutes remaining in the second half.
The Panthers shot a blistering 56.3% from the field (27-for-48), while North Carolina shot a robust 31-for-56 from the field, a 55.4% clip.
Somewhere along the way, the Tigers have to regain their identity, something that head coach Brad Brownell

Brad Brownell
Head Coach
View Full Profile mentioned after Sunday's game. Jordan Roper came on at the end of last season and proved to be a capable scorer, but scored just six points at Pitt last week and tallied one point against the Heels. Brownell has tinkered with the starting lineup in an effort to find a spark, and was rewarded with zero points from Jaron Blossomgame at Pitt and the six from Roper. Add in Rod Hall's six points and Landry Nnoko's three against the Panthers, and Brownell got a whopping 15 points from four starters.
Against North Carolina, Josh Smith and Damarcus Harrison replaced Roper and Blossomgame in the starting lineup, and combined to go 0-for-7 from the field. Harrison had five points, Hall had six and Smith was held out of the scoring column.
It doesn't get any easier for Clemson – they play at Florida St. next Saturday, a team that won in Littlejohn earlier this month by a 56-41 count. They get a brief reprieve from the road grind with a home game against Georgia Tech early next week, but then face road challenges at Syracuse and Notre Dame.
Sunday night, Brownell blamed himself for the defensive lapses over the past few games. For a team that is challenged offensively, he knows the Tigers have to do a better job on defense in order to be competitive with the elite teams in the league.
"We've lost a little bit of our competitive spirit on the defensive end," he said. "That is more of our identity. I probably made some mistakes in the last couple of days getting ready for this game. We spent more time on our offense in practice and it showed in our defensive efficiency. I don't think it showed from an offensive standpoint. I thought we were better offensively in that we didn't turn the ball over, but we just aren't a very good offensive team in terms of shooting. But if we don't defend at a high level, we can't play with the best teams in this league. We aren't talented enough. So we have to get back this week and get our edge back."
Brownell said that McDaniels needs help from his teammates.
"K.J. competed at a high level today," Brownell said. "He played harder than anybody on our team today. He had 13 points, but those were hard-earned points because he doesn't have any help right now. He played well even though they were geared to stop him."
McDaniels declined to blame his teammates after the loss and instead put the blame on his own shoulders. McDaniels isn't outspoken enough at this point in his career to demand excellence form his teammates, but he could be drawing closer to that point according to Brownell.
"It'll come. He's not frustrated enough yet. He's too nice a guy," Brownell said. "But he'll get to a point where if it continues, he will (challenge his teammates). We need a little bit of that. The players from within have to have some spirit and fight on their own. They need to be hurting over this. But it's not the end of the world. We had a bad week. That's part of this. We have to rally from this. We have to figure out a way in the next three weeks to keep grinding and getting better and climb out of this hole."