| | |
| --- | --- |
| Tigers let ranked Cavs escape with 63-58 win | |
---
| | |
| --- | --- |
| Saturday, February 15, 2014 2:54 PM | |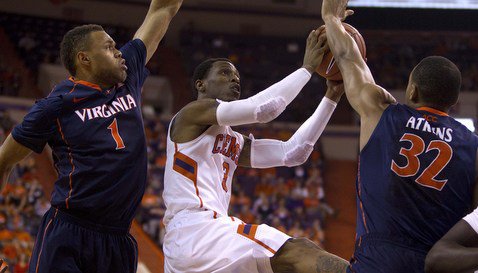 CLEMSON – The Clemson basketball team had a ranked Virginia team on the ropes Saturday afternoon in Littlejohn Coliseum, but couldn't hit enough big shots down the stretch as the 16th-ranked Cavaliers escaped with a 63-58 victory over the Tigers.
The Tigers started ACC play with a 4-1 record, but have dropped five of their last seven league contests to drop to 6-6 in the conference, 15-9 overall. It was the second heartbreaking loss in a row for Brad Brownell's team, which lost in double overtime to Notre Dame earlier in the week.
K.J. McDaniels was once again outstanding, scoring 24 points and hitting a late 3-pointer, but he was the only Clemson player in double figures and failed to get much help on the offensive end in the loss. Freshman Austin Ajukwa earned playing time and hit two big 3-pointers, but the Tigers will need more than McDaniels if they want to avoid playing on Wednesday in the ACC Tournament.
The Tigers played without center Landry Nnoko, who missed the game with the flu. Without their top big man, Clemson was outrebounded 33-20, with 13 of those rebounds coming on the offensive end. The Cavs (21-5, 12-1) also outscored Clemson 26-16 in the paint.
The loss snapped a four-game winning streak over the Cavaliers in Littlejohn.
"This was a disappointing loss, obviously," Brownell said. "I am really proud of our players, and I thought they fought very hard and really played well. But a lot of credit goes Virginia's way – they played well late in the game and their execution was good. They finished the game like a team that is 12-1 with 21 wins. They played with a lot of poise."
The Tigers owned the early part of the game, jumping out to leads of 4-0 and 8-2. The Cavs stayed within five points of the Tigers for the next six minutes, but a 3-pointer by Damarcus Harrison at the 8:30 mark gave Clemson its biggest lead of the half at 21-14.
At that point, however, the Cavs got hot and the Tigers went scoreless for the next five minutes. A 3-pointer by Virginia's Joe Harris and a jumper by Anthony Gill capped a 12-0 Virginia run and the Cavs lead 26-21 with 5:58 remaining in the half.
A jumper by McDaniels made it 29-28 Virginia with 58 seconds left in the half, but Mike Robey tipped in a missed shot at the buzzer for a 31-28 Virginia lead at intermission.
The Tigers came out aggressively to start the second half, and a layup by Josh Smith and a 3-pointer by Austin Ajukwa gave Clemson a 33-31 lead barely two minutes into the final stanza.
A dunk by K.J. McDaniels and two free throws by Adonis Filer extended Clemson's lead to six at 43-37 midway through the half, but the Cavs tied it up at 43-43 on a 3-pointer by Harris at the eight minute mark.
A Rod Hall jumper made it 49-48 Virginia with 3:50 to play, but Virginia eventually expanded the lead to five at 57-52 on a runner by Harris at the two minute mark. However, Ajukwa hit another 3-pointer – this from the right wing – to make it 57-55 Cavs with 1:43 remaining.
Virginia hit two free throws on the next trip up the court that made it 59-55, and Clemson missed two shots on two separate possessions to set up a final flurry with 27.1 seconds left in the game.
The Tigers inbounded the ball under their own basket, and Josh Smith almost lost the handle, but Jaron Blossomgame corralled the loose ball and passed to McDaniels, who drained a long 3-pointer that made it 59-58 Virginia with 21.1 seconds remaining.
The Cavs' Akil Mitchell hit two free throws to push the lead to 61-58, and the Tigers called timeout with 12.4 seconds left in the game to set up a play. However, Jordan Roper took the inbounds pass and shot a too-quick 3-pointer – there were still 10 seconds left on the clock – and his shot wasn't even close. The Cavs rebounded the ball, and McDaniels fouled out in trying to keep the Tigers alive.
However, the Cavs hit both free throws and the Tigers were left to wonder "what if."
Brownell said it's frustrating to see McDaniels play well, but not get a lot of help offensively.
"It is frustrating for all of us," he said. "We do a lot of things for K.J. to get him the ball, and that is what you want for a player. It's hard. And now we have lost two games by a possession or two – that is how close this is to being 8-4 instead of 6-6. It is one or two plays in the game. The hard part is to keep fighting and try to regroup."
Brownell said he wouldn't use Nnoko's absence as an excuse.
"It's obvious Landry would have helped us, but I don't like talking about those things," he said. "It takes away from the players who did play, and they did some good things for us. Josh Smith and Sidy Djitte competed hard, and we were in a position to win without Landry. We just didn't get it done."
The Tigers return to action Tuesday evening when they host North Carolina St. at Littlejohn Coliseum in a 7 pm tipoff.