| | |
| --- | --- |
| Tigers chasing history in Winston-Salem | |
---
| | |
| --- | --- |
| Monday, February 24, 2014 4:00 PM | |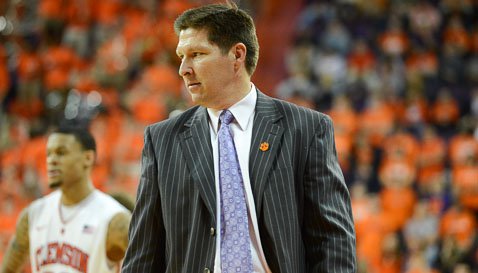 CLEMSON – The Clemson basketball team will be chasing more than a victory and seeding in the ACC Tournament when they face Wake Forest Tuesday night in Winston-Salem. They will be chasing history.
Clemson is in search of its fifth ACC road win, which would tie the 1986-87 team for the most in one season in school history, a remarkable feat for a team picked to finish at the bottom of the ACC standings.
"I don't know the stats like Tim Bourret, so I didn't know what kind of records we have," head coach Brad Brownell

Brad Brownell
Head Coach
View Full Profile said Monday in Littlejohn Coliseum. "But I am certainly proud of our guys for the way they've played all year, and to get four ACC road wins is pretty good. It's really tough to do, and that is why it hasn't been done much here. I understand we play an extra game or two probably, but it's hard to win in this league on the road."
Clemson won its fourth league road game Saturday in Atlanta over Georgia Tech, and Brownell said he saw his young squad take yet another step in its maturation process.
"To win on Saturday, I thought our guys played exceptionally well in those last 15 minutes," Brownell said. "I think we showed a little more mental toughness than we've shown at points in the last year or two, and our guys just found a way to get it done and played really well down the stretch in a game that was important."
However, Brownell said the Tigers have to be ready for a Wake Forest team that is coming off a 105-72 loss to North Carolina last week.
"We go in there with some confidence, which is good," he said. "I think Wake Forest is coming off a game where they were embarrassed a little bit, like we did when we played at North Carolina. North Carolina is just playing great basketball. So you kind of get a bad taste in your mouth, and we will see a team in Wake that is probably a little angry and we had better be ready to play from the outset."
Clemson beat Wake Forest in Clemson earlier this season, and Brownell said that will play a factor as well.
"Any time you play a team that you've beaten at home first, that team wants to even the score," he said. "That's natural. There is more a sense of, 'let's get these guys.' But really once the game begins you are just dealing with the crowd and the noise."
NOTE
Brownell was asked about K.J. McDaniels

K.J. McDaniels
Jr. Forward
#32 6-6, 200
Birmingham, AL
View Full Profile and how he is advising McDaniels on the NBA Draft, and Brownell admitted that this is a first for him as a coach.
"It's funny, we are really going through this together," he said. "I've never really had an NBA guy, so we're both just trying to make sure he stays focused on what he is doing. There aren't a lot of NBA guys at Wilmington and Wright St., I will tell you that. There aren't thousands of them at Clemson, either, by the way. "
However, at Clemson he has coached a Harlem Globetrotter ( Bryan Narcisse

Bryan Narcisse
Sr. Forward
#21 6-6, 220
North Augusta, SC
View Full Profile ) and a first round draft pick in the NFL ( DeAndre Hopkins

DeAndre Hopkins
Fr. Guard
#44 6-2, 205
Central, SC
View Full Profile ).
GAME SETUP
CLEMSON (17-9, 8-6 ACC) vs. WAKE FOREST (14-13, 4-10 ACC)
Tipoff: 7 p.m.
Arena: Lawrence Joel Coliseum (14,665)
Radio: CTSN (Pete Yanity-pbp; Tim Bourret-color)
TV: RSN (Wes Durham-pbp; Mike Gminski-color)
• Clemson is coming off a 63-55 win over Georgia Tech, its ninth straight over the Yellow Jackets. It is the program's second-longest winning streak over another ACC team in school history.
• Clemson looks for its ninth conference win, which would be a first since Brad Brownell's first season at the school in 2010-11.
SERIES HISTORY
CU Series W-L record: Wake Forest leads 98-57
Streak: Clemson has won the last five meetings
QUICK HITS
• Clemson broke an 18-game losing streak in Winston-Salem in its last trip to Lawrence Joel Coliseum with a 78-58 victory over Wake Forest in 2012.
• This is the 15th time in 61 seasons Clemson has amassed at least eight ACC regular season wins. The program has had just seven nine-win seasons.
• The Tigers have overcome five halftime deficits and won this season, just one shy of the school record set by the 1989-90 team.
• Clemson had an official RPI of No. 67 Monday, an improvement of 120 spots from the final ratings of 2012-13. It is the largest jump by an ACC team.
• Head Coach Brad Brownell is the first Clemson coach in history to win at least eight ACC games in three of his first four seasons.
• K.J. McDaniels has had multiple blocked shots in eight consecutive games and is now 24th nationally at 2.85 blocks per game.
• Damarcus Harrison

Damarcus Harrison
Jr. Guard
#21 6-4, 200
Greenwood, SC
View Full Profile is coming off back to back double figure scoring efforts for the first time since the opening two games of the 2013-14 season.
• Landry Nnoko

Landry Nnoko
So. Center
#35 6-10, 245
Montverde, FL
View Full Profile set his ACC-high with 13 points at Georgia Tech last time out.