| | |
| --- | --- |
| The Spark: Emotional speech lifts Tigers | |
---
| | |
| --- | --- |
| Saturday, February 6, 2016 7:01 AM | |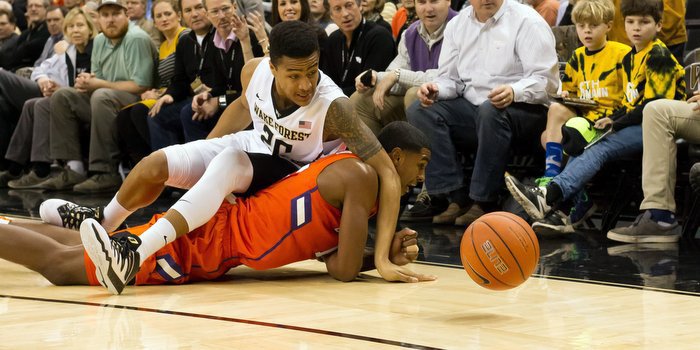 Trailing 28-20 at Wake Forest and looking confused on offense and lackadaisical on defense, the Clemson basketball team needed a spark.
The Tigers were shooting just 30 percent, were 1-of-10 from behind the arc, were being out-rebounded and had nine first-half turnovers, but if they were to keep their postseason dreams alive they needed something – anything – to change to give them the momentum to defeat the Demon Deacons.
That something was an emotional halftime speech by Donte Grantham. The sophomore forward saw that he and his teammates weren't giving everything they had during the first 20 minutes of the game and during intermission he told the team they needed to pick it up or risk putting their goals of an NCAA Tournament appearance in peril.
Grantham told TigerNet Tuesday that he usually leaves the speeches and team leadership to the seniors, but he knew he needed to step up and tell his teammates what was on his mind.
"It was just the feeling inside. I just felt like I had to step up and say something," Grantham said. "Usually, I let the leaders - Jaron (Blossomgame) and (Jordan) Roper and Landry (Nnoko) - say something. There was just something inside that made me want to say something. I felt like we weren't playing as hard as we could."
The result? A 56-point second half and a half of basketball that surprised even the players.
"I think it was the best half of basketball. Just the look we had coming from halftime, I'd never seen us have that look and how hard we played and how hard we wanted to play and win because in the first half we knew we didn't play so good," Grantham said. "We weren't playing our hardest, or up to our potential, so I just made a speech and we just turned it on out of nowhere. Honestly, I'm surprised how we turned it on like that. It was wild."
As Clemson prepares to travel to Virginia Tech for a 4 p.m. tipoff Saturday afternoon and to play two games in three days, head coach Brad Brownell said the success of this team will depend on the player-led leadership, something that's been a work in progress this season.
"At the end of the day, your teams are good when your players direct the team more than the coach," Brownell said. "The coach is always going to be involved and direct and give messages, but when the players take ownership and start leading themselves and start challenging themselves and holding each other accountable, I think that's when we have a greater chance of success. We've struggled with that a little bit with this team and even some in years past, but hopefully, we're growing Donte is a guy that is growing as a player. We know we need him to take another step, and I think he wants to do that. His heart and head are in the right place, and certainly he expressed his feelings at halftime as well as I did."
Brownell said that second half at Wake Forest created positive momentum for his team as they enter the home stretch of the regular season.
"It was one of our better halves, certainly. We've had a couple of good halves this year, but I was pleased," Brownell said. "Our guys really responded, and we set the one in the first few minutes of the half with a couple of defensive stops, and we scored in a few different ways. We got offensive rebound baskets. We didn't just make shots. We scored off our defense and guys were aggressive. We made plays and consistently made them throughout the course of the half to build positive momentum."
For Grantham, he said the team will play just as the practice – angry and aggressive.
"I feel like for our team and me it kind of carries over in practice," Grantham said. "The mentality we have everyday in practice carries over into the game. I think guys need to be locked in and ready for the game, but play angry. I just try to play angry and play aggressive and do whatever I need to do to help our team win the game."