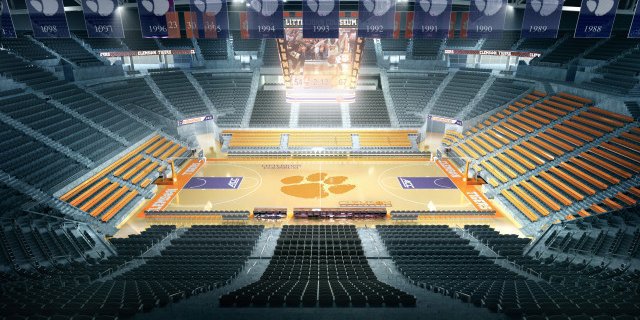 | | |
| --- | --- |
| Renovated Littlejohn at the forefront of technology | |
---
| | | |
| --- | --- | --- |
| Thursday, April 14, 2016, 12:23 PM | | |
CLEMSON – Littlejohn Coliseum has been cordoned off and undergoing renovations for almost a year, and Athletic Director Dan Radakovich told the media earlier this week that one of the first things fans will notice are the technology upgrades.
The renovations started in May of 2015 and school officials say the project is on track to be completed early next fall. Radakovich said fans will notice a different look.
"I think walking into Littlejohn that it is going to look different. There's going to be a lot more technology," Radakovich said. "A lot more video boards. We will have the largest center-hung curved video board in the country in a basketball arena.
"There is going to be a lot more technology. You will be able to use your phone, WiFi will be greatly increased. It's going to look better, feel better, it's going to be tight - nine thousand seats that are there are really going to create a great atmosphere for our men's and women's program. There will be 400 club seats and the students, by the way, will be seated much like you see at North Carolina State, Duke, Georgia Tech, LSU, they are all right there on the floor. 250 of them. Then we will have the students in the other section as well."
The school's athletic website says this about the rebuild:
"The rebuilt Coliseum will inspire and engage both the players and the fans through a whole new interior layout and design that will be extremely media rich. In addition to a renovated playing arena and seating bowl (approximately 8,500 seats), the facility will incorporate all aspects of men's and women's basketball program operations. This includes coaches' offices, weight rooms, locker rooms, video editing and theater areas housed in a separate practice facility addition.
Littlejohn Coliseum will also see a significant upgrade to the quality and character of the public exterior face of the building. The massing of the building will in large part remain, but the incorporation of transparent materials and the use of light in more contemporary ways will be high on the list of desired changes. In the end, the building will be transformed in almost every way."
Radakovich also said that the school will open up Littlejohn before and during football home games.
"We want to activate Littlejohn on football game days," he said. "Before it was closed and you couldn't really get in there. We want that to be a way station for people that are parking on this side of campus to stop in. The concessions will be open. The restrooms will be open. The video boards will be on. They will be showing game day. If people want to sit down and just relax for a few minutes they will able to do that before heading into the stadium. The south hall will be a 9,000 square foot open space. We will have our soft goods for sale over there so it is going to be a very active building. We think that is going to be very important to show what we've done to the building and to let them see other things about the athletic program."