| | |
| --- | --- |
| Oliver details decision to commit to Clemson | |
---
| | |
| --- | --- |
| Wednesday, December 2, 2015 7:01 AM | |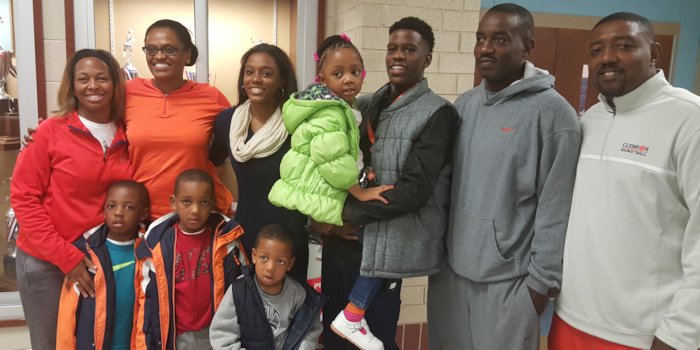 CENTRAL – Clemson was where A.J. Oliver felt like he needed to be.
The 4-star 2017 shooting guard out of Central (SC) D.W. Daniel picked the Tigers over College of Charleston and Texas Tech in a small ceremony just outside the Daniel High School gymnasium Tuesday afternoon, and he said Clemson was where he needed to be.
"It was a tough decision," Oliver said. "I thought about it, and I prayed about it and talked to some of my coaches, but when it came down to it, I really wanted to stay in Clemson. I talked to Coach (Brad) Brownell and he told me I would be a really good fit here, and I agreed with him. I feel like I need to stay in Clemson.
"I just want to focus on these next two years, academically and basketball, trying to get me ready for college," Oliver said. "I felt like the three schools I had were really what I needed, but Clemson is actually where I needed to be. I feel like I can be successful in Clemson's offensive and defensive scheme."
Oliver called Brownell with his decision while he was driving into the Daniel parking lot for the ceremony.
"He was very excited," Oliver said. "He said that we can do a lot of great things with me and what they have there. I'm excited. He's excited. Everybody is just ecstatic about the whole thing."
Clemson's coaching staff was also a deciding factor in Oliver's decision.
"The deciding factor was the coaching staff there at Clemson," he said. "They were always really nice to me, and they push me and they want me to be the best player I can be. They were telling me what I can do for their program, so it helped lead me towards them."
Oliver's mother is Clemson women's basketball coach Audra Smith, and she said she was happy with her son's decision.
"They're going to mold him into, not only the best possible basketball player he can be, the best student he can possibly be and the best young man he can possibly be," Smith said. "And, of course, as a mom, it warms my heart and makes me feel good to know that he's going to be right across the hall for me to see at pretty much every home game. I'm just so proud of his accomplishments and all he's done, and the mature way he's handled all this."