---
| | |
| --- | --- |
| Monday, February 9, 2015 11:41 AM | |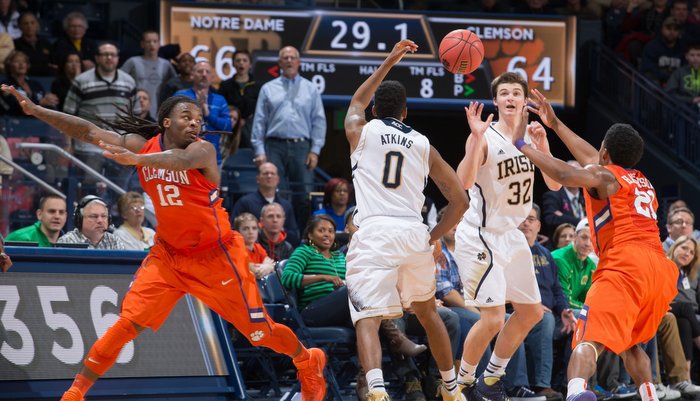 No excuses.
I've covered all but two home basketball games this season – the absences came against Robert Morris and Oakland as we were traveling to and from Orlando for the Russell Athletic Bowl – and every game I have mentioned attendance at some point on social media and how the students nor the general fans show up to support Brad Brownell

Brad Brownell
Head Coach
View Full Profile 's team.
Every time I send out a tweet or a FaceBook post admonishing the fans for their lack of support, the litany of excuses quickly flow in – exams, tests, the game is too early or too late, there's not enough time to eat before a game, it's too hot or too cold, the style of basketball just isn't fun to watch. The list could go on and on for days.
No. 10 Notre Dame rolls into Littlejohn Tuesday night for a 7 p.m. key ACC contest for the Tigers whose ACC seeding and NCAA dreams are on the line. Win and they inch closer to a March Madness bid with a manageable six games to go before the ACC Tournament.
The excuses for why the fans and students don't show up stop now.
Brownell's team has won six of their last nine games since starting ACC play with losses to UNC and Louisville and are giving up just 60 points on defense, while getting better offensively, especially with the performances by Jordan Roper

Jordan Roper
Jr. Guard
#20 6-0, 165
Columbia, SC
View Full Profile and energy-guy Josh Smith

Josh Smith
Jr. Forward
#33 6-8, 245
Charlotte, NC
View Full Profile .
Clemson fans saw the difference that a boisterous, energized crowd made during the Tigers NIT run last season and there's no reason to think that the same can't be done Tuesday night when the Fighting Irish come to town.
The excuses? There are none.
There are no common exams. The semester is still in its infancy so midterms aren't starting yet. It's a Tuesday night. It's a 7 p.m. tipoff, so even those traveling from surrounding areas can get home at a decent hour and the students can still go downtown afterward, if they so desire. It's possible to get a good meal before the game. There's no rain or bad weather in the forecast – the only thing you might need is a light jacket for your walk back to the car. And most importantly, there are still tickets to be had – and if you want to bring your child or you are an educator, you can get in for just 10 dollars.
I think I've covered all of the bases, but if I've missed anything feel free to let me know.
The bottom line is this………There are no excuses to not be in Littlejohn Tuesday night at 7 p.m.
Show up and support Rod Hall

Rod Hall
Sr. Guard
#12 6-1, 205
Augusta, GA
View Full Profile and Damarcus Harrison

Damarcus Harrison
Sr. Guard
#21 6-4, 205
Greenwood, SC
View Full Profile as their Clemson careers wind down. Take a few minutes to pay attention to freshman Donte Grantham

Donte Grantham
Fr. Forward
#15 6-8, 205
Martinsburg, WV
View Full Profile – he's going to be special before it's all said and done. Show your appreciation to a coaching staff that may well have the most difficult job at Clemson.
And most importantly, wear your orange and welcome Notre Dame to Littlejohn and the ACC the right way – by being loud and raucous for 40 minutes. Look at it as a tune-up for the game in October that will take place just across street in Memorial Stadium.