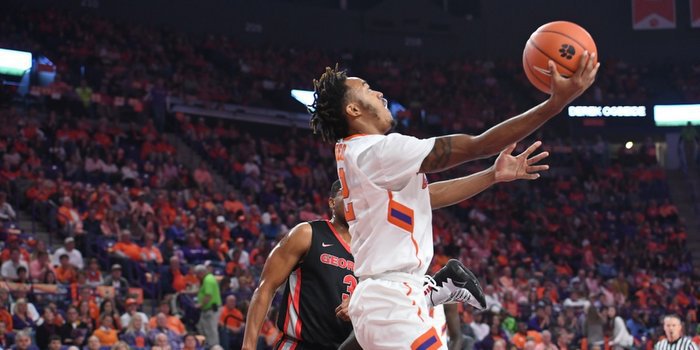 | | |
| --- | --- |
| Newcomer Reed leads Tigers to win over Georgia in opener | |
---
CLEMSON – Welcome to Clemson, Marcquise Reed.
Reed, in his first game since transferring from Robert Morris, scored seven consecutive points in a critical second half stretch and led the Tigers with 19 points as they opened the newly renovated Littlejohn Coliseum with a 74-64 victory over SEC foe Georgia.
Reed is eligible to play for the Tigers after sitting out 2015-16 as a transfer from Robert Morris, where he was Northeast Conference Rookie of the Year after scoring 15.1 points per game as a freshman.
Gabe DeVoe added 15, Jaron Blossomgame added 13 and Avry Holmes scored 10 as four Tigers scored in double figures. Donte Grantham had nine points and seven rebounds. The Tigers shot 44 percent from the field (27-62), including 7-22 from beyond the arc.
The Tigers were 13-of—16 from the charity stripe and recorded just eight turnovers. The Bulldogs outrebounded the Tigers 40-34.
"It was a special night for a lot of reasons. Certainly, the win was unbelievable," head coach Brad Brownell said. "I'm proud of my team for showing grit and toughness. Super excited about the building and the turnout. To see this much orange and life in the building, it feels like our place. I'm really excited about creating new memories here. Tonight's great, but this is more than tonight. This is a huge step for Clemson basketball."
The Tigers shot 44 percent in the first half and forced nine Georgia turnovers in taking a ten-point lead at the break.
The Tigers held 14-point leads twice in the half – the time at 25-11 and later at 34-20, the latter coming after a DeVoe 3-pointer with just over three minutes remaining before intermission.
"Our defense was the difference in first half. We had guys fighting down there," Brownell said. "Our pressure bothered Georgia. They did a couple of things we hadn't seen that hurt us, but we made some adjustments. That's the best thing about having older guys; you can make adjustments on the fly. Legend (Robertin) came in in the first half and made some good plays for us. Sidy (Djitte) battled. He's a glue guy. (Donte) Grantham was down there guarding. He showed more physical presence than he's had. I was really pleased to see Gabe (DeVoe) make shots early."
Georgia began to chip away, however, and back-to-back 3-pointers by the Bulldogs trimmed Clemson's advantage to 38-30 with 52 seconds left. Marcquise Reed hit two free throws with 31 seconds left on the clock and gave Clemson a 40-30 lead at the break.
Djitte picked up his third foul early in the second half, and backup Legend Robertin picked up his fourth a minute later, prompting Brownell to go with a smaller lineup. The Bulldogs began to shove the Tigers around on the boards and in the paint, and trimmed the lead to seven at 47-40 with just over 13 minutes to play in the game as the Tigers went scoreless for over four minutes.
Brownell called a timeout to put Djitte back in the lineup and Grantham hit a runner that put Clemson back up by nine at 49-40. However, the Bulldogs hit back-to-back 3-pointers and Clemson led by just three at 51-48 with a little over 10 minutes to play.
That's when Reed stepped up. The transfer from Robert Morris scored seven consecutive points – the last on a 3-pointer from the left side – that put Clemson up 58-48 with just over nine minutes remaining. Reed had a steal and a layup during the run, a run that got the Clemson crowd back into the game.
The Tigers pushed the lead to 60-50 a few minutes later, but Djitte picked up his fourth foul while chasing a loose ball and head to leave the game. Brownell went with the smaller lineup, and the Tigers came out of the timeout to hit a big play. Blossomgame threaded a pass into Grantham from the key, and Grantham hit the layup and a foul shot to put the Tigers ahead 63-50.
The Bulldogs wouldn't go away, however, and a 6-0 run made it 63-56 with just under five minutes to play. On the ensuing possession, Blossomgame was smacked in the face by a Bulldog and he hit both free throws to make it 65-56 at the 4:34 mark. Following a missed shot by the Bulldogs, Holmes hit a runner that made it 67-56, and another missed shot by the Bulldogs was followed by a tip-in by Blossomgame off a missed 3-pointer by Holmes and Clemson led 69-56 with under three minutes to play.
Georgia cut it to 10, but Reed hit another 3-pointer that effectively put the game out of reach at 72-59.
Brownell said he was pleased with his team's defensive effort.
"I was pleased. We struggled to rebound the ball, and we knew that was a worry going into the game,"he said. "We've got to really work at it. But in terms of following the game plan and making adjustments within the game, as well as guarding different positions, we handled that well. We worked through some things, and it helps that we have some experienced players."
Clemson returns to action next week, taking on Davidson in The Pros Invitational in Orlando at 11 a.m.
Clemson vs. Georgia Postgame Notes
TEAM
* Clemson opened the new Littlejohn Coliseum with a 74-64 victory over Georgia on Friday; the Tigers were displaced for the 2015-16 season during a $63.5 million renovation.
* The win was Clemson's first over Georgia since the 2006-07 season, which also came in Littlejohn Coliseum.
* Clemson improved to 7-0 in season openers under head coach Brad Brownell.
* The win was No. 108 in Brownell's career at Clemson, fourth-most in program history.
INDIVIDUAL
* Marcquise Reed made his Clemson debut after sitting out the 2015-16 season as a transfer. The sophomore made his mark with a team-high 19 points.
* In two career games in Clemson, Reed has scored 40 points. He posted 21 as a freshman at Robert Morris in a non-conference game in the old Littlejohn Coliseum.
* Reed tied a career-high with three makes behind the arc.
* Reed collected a team-high three steals, giving him 70 for his career in just 36 games played.
* Gabe DeVoe made his first career start on Friday night and responded with a double digit effort, scoring 15 points in the season opener.
* DeVoe hit Clemson's last three-point goal in the old Littlejohn Coliseum, and opened the new one in similar fashion after nailing a long-range attempt at the 15:35 mark of the first half.
* Donte Grantham played 39 minutes in the opener, one shy of his career high (Syracuse, 2016).
* Sidy Djitte, who played just 19 minutes due to foul trouble, pulled in a team-high nine rebounds.
* Avry Holmes posted 10 points for the Tigers, and needs 72 to reach 1,000 for his career.
* Jaron Blossomgame reached double figures in the scoring column for the 28th time in Clemson's last 32 games, dating to the 2015-16 opener.

Upgrade Your Account
Unlock premium boards and exclusive features (e.g. ad-free) by upgrading your account today.
Upgrade Now