| | |
| --- | --- |
| New faces, new place: Brownell previews 2015-16 season | |
---
| | |
| --- | --- |
| Friday, October 16, 2015 6:01 PM | |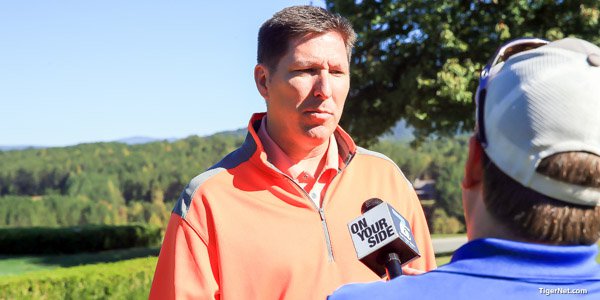 SUNSET, SC - When you see the Clemson basketball team for the first time, there will be plenty of new faces in a new place.
The Clemson basketball team opens up the 2015-2016 season November 13th against North Carolina Central in Greenville, SC as the Tigers will play the entire season away from Clemson with Littlejohn Coliseum under construction.
Head coach Brad Brownell

Brad Brownell
Head Coach
View Full Profile - who's entering his sixth season at Clemson - met with the media earlier this week during his annual media golf outing at The Reserve at Lake Keowee, and said that while this season presents many challenge, his team is looking at 2015 as an opportunity to be great.
"I told the guys early on that we're not making excuses for what we have to deal with this year. It's a challenge or an opportunity and you can do it either way you want," Brownell told the media this week. "Certainly, there are some challenges and it's a unique season and there are some difference, but it's also a great opportunity for us to continue to build our brand and our fanbase and excitement in the program. I think our athletic department has done a great job working with the Bon Secours Wellness Arena and the city of Greenville to help market us and to make people aware that we're going to be playing up there.
"Some of the things that they've done to the arena really look nice. It was for us to go up there yesterday and have a little bit of a dry run, although a little chilly certainly, it's a nice arena. If we can get fans in there, it's going to be a great home court. There's some challenges with timing and practicing and guys wanting to get back into the gym and get more shots at a few time. There are some inconveniences, but it shouldn't preclude us from having a great year."
For the first time in six seasons, Brownell gets the opportunity to coach team with the leading scorer from the previous season returning. Jaron Blossomgame

Jaron Blossomgame
RS Jr. Forward
#5 6-7, 220
Alpharetta, GA
View Full Profile made tremendous improvement during his sophomore season, and Brownell said having Blossomgame in the offense makes the rest of the team better.
"It's my sixth year and for the first time we've got a guy who we know is double-digit scorer coming back and led us scoring, and that makes you feel good," Brownell said. "Yesterday in the scrimmage he led us in scoring again. It gives you a place to start offensively and something you kind of know, and then you can get better at some other things. You can look at other guys and what they can do. It gives you poise and confidence going into the season."
Clemson adds newcomers Ty Hudson

Ty Hudson
Fr. Guard
#11 6-1, 205
Mableton, GA
View Full Profile and Legend Robertin

Legend Robertin
So. Center
#0 7-0, 250
London, England,
View Full Profile along with eligible transfer Avry Holmes

Avry Holmes
RS Jr. Guard
#12 6-2, 195
Salem, OR
View Full Profile

Avry Holmes
Jr. Guard
#3 6-2, 205
Salem, OR
View Full Profile and ineligible transfers Marcquise Reed

Marcquise Reed
So. Guard
#2 6-4, 180
Landover, MD
View Full Profile Shelton Mitchell

Shelton Mitchell
So. Guard
#4 6-3, 190
Waxhaw, NC
View Full Profile to the roster. Brownell said he thinks this year's squad has a chance to be better offensively.
"I think we have a chance to be a little more dynamic. I think there are times that Rod (Hall) didn't get credit for his ability to make big plays and make big driving shots around the rim, drives into the paint. He even had a few games that he had some big scoring games. It wasn't in his nature to do that. I think Avery (Holmes) and Jordan (Roper) are more offensive minded, so that will put a little more pressure on the other team's defense.
"I like our talent as a team. There's a little bit of a depth issue in the backcourt that if we were to get a couple of injuries we could get into trouble quickly," he said. "We made a decision with Shelton Mitchell and Marcquise Reed, we felt like that were too good of players to not try and get, so we didn't add another player to this team. It would probably be nice to have one more perimeter guy who had a little firepower and could change pace, but in hindsight, I think we made the right decision. I really like Shelton and Marcquise. Those guys in nine practice have already shown that they're good players and they're going to be really competitive next year and competing for minutes, and it's going to be really good for the guys this year to be competing against them every day. They bring some things that you need. Marquise is just a scorer and full of offensive confidence. Shelton has great size and pace as a point guard.
Other notes
Guards
My thought is that Avery would start at the point and then Jordan will either start at the two or come off the bench and play both positions and be able to score. I've got to be a little careful in that if I start Jordan and Avery together and we get a couple of quick fouls, I don't want to not have those guys the last 10 minutes of a game because they're our primary ball handlers. Then it comes to a guy like Gabe DeVoe

Gabe DeVoe
So. Guard
#10 6-3, 205
Shelby, NC
View Full Profile or Austin Ajukwa

Austin Ajukwa
Jr. Guard
#1 6-6, 205
Columbia, SC
View Full Profile or maybe even a Ty Hudson. Gabe is a guy who provides long-range shooting. He has strength. He's big and strong. I think he can rebound if we get on him a little bit. I think at 6-2, 200 pound, he's a guy who can jump up and get big rebounds. Austin Ajukwa is a versatile player who really probably excels more defensively right now. He's a nice change up that way with size and being able to guard different positions and bother some people. You can start Jordan Roper

Jordan Roper
Sr. Guard
#20 6-0, 165
Columbia, SC
View Full Profile who is a guy with speed and can run around and make shots. Sometimes his size can be a little bit of a detriment defensively.

Tags:
Jaron Blossomgame
,
Jordan Roper
,
Austin Ajukwa
,
Gabe DeVoe
,
Avry Holmes
,
Marcquise Reed
,
Shelton Mitchell
,
Legend Robertin
,
Ty Hudson
,
Avry Holmes
,
Brad Brownell