---
| | |
| --- | --- |
| Monday, February 9, 2015 3:53 PM | |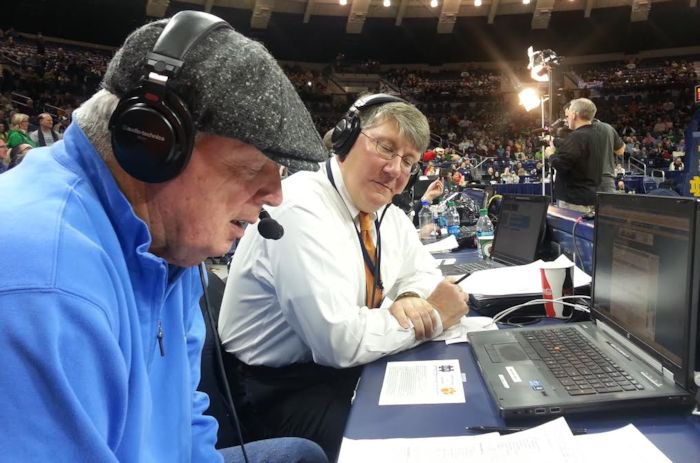 "And we were like yeah, sure. And so we kind of didn't say much about in the first segment of the postgame, but more and more he says he did and there was a big fight on the field. We had no television in front us, and we were trying to describe it. It made for an interesting second broadcast. So anyway, I did just those two games in 1978-79, and in 1979-80 I did all of the road games. So I did the road games and ACC Tournament and the NCAA Tournament and the run to the Elite Eight. And then in 1981 I started doing all of the games."
When did you first realize you could get to 1000?
"I didn't really think about it. About four or five years ago, I started going through the results and I knew which games I had been to and which games I hadn't been to and at that point it was like 927. So I said, wow I have a chance at a thousand games here. There was some attention when Woody Durham hit a thousand for North Carolina and Bob Harris hit a thousand for Duke, so I thought that was kind of neat."
Does it make it more special that the game is against Notre Dame?
Oh yeah, by a mile. Yes it does. These are the two schools I have been significantly involved with. As a student at Notre Dame, I never missed a home game in five years including grad school. I was working in sports information for basketball and I got to go to the Final Four and have remained close friends with Digger Phelps and I've written a couple of books with him, so that program is very special to me and so is Clemson after working here for 37 years and all the great coaches and players I've gotten to work with. It's kind of neat."
What was it like working with the late Jim Phillips
"It was great. It was so easy and he taught me a lot about when to talk and when not to talk. We had a deal where I used to try and say what I was going to say when the ball was in the backcourt or immediately after a score was made and when the flow of play was going. He was the consummate professional and he had a way about him that was at ease and he was confident in what he was doing. He was great to work with. I figured out on the plane one night that I did 670 games with him between 1978 and 2003. So 670 of the now 999 are with him."
Any other statistical oddities with the 1000?
"I will put this in just for Cobb Oxford, because he asked me on Facebook. Clemson is 546-453 with me calling the games. It would be great if I got 547 tomorrow night. It's been something I've really enjoyed and it's been a lot of fun and I think about all of the great players I have seen play. Not just Clemson but in the ACC is pretty amazing."