| | |
| --- | --- |
| Moving On: Tanner Smith opens up about his new career | |
---
| | | |
| --- | --- | --- |
| Friday, June 6, 2014, 9:36 AM | | |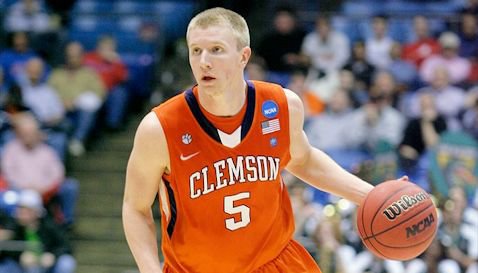 Tanner Smith

Tanner Smith
Sr. Guard
#5 6-5, 210
Alpharetta, GA
View Full Profile was known as being an unselfish player during his Clemson career, and he was also known for giving back to the community. So it came as no surprise when I called Smith Thursday afternoon and he had to call me back because he was out working with Tanner's Totes, his charity that delivers gift bags to sick children in hospitals.
That kind of attitude is what might also make him a pretty good head coach one day.
Former Clemson assistant and current Miss. St. head coach Rick Ray announced last week that he was adding Smith to his staff as a graduate assistant, and Smith later announced that he was retiring from professional basketball. Smith, 24, played professionally in Europe the past two seasons. The 6-foot-5 shooting guard was an all-star in the Dutch Basketball League as a rookie and spent last year with MHP RIESEN Ludwigsburg in Germany.
However, he now wants to see what the rest of his life has to offer.
"It's like anything, there is a little bit of anxiety because of the unknown," Smith told TigerNet Thursday. "I haven't really done anything on the coaching side of basketball, but I am excited for the new step and appreciative of the opportunity I have."
The Norcross, Ga., native is a former three-star prospect who lettered four seasons and started three for the Tigers, including as a senior in 2011-12 while Ray was an assistant at Clemson. Smith is a four-time All-ACC Academic Team selection and also won the Mr. Effort Award, Tiger Pride Award and C.J. Spiller Award.
Clemson head coach Brad Brownell

Brad Brownell
Head Coach
View Full Profile called Smith a "glue guy" during his time as a Tiger, citing the fact that Smith did all of the things it takes to be successful as a player. Smith said that is something he hopes he can pass on to the next generation of players.
"As a player, I always considered myself good at everything but not great at anything. Which I think will be helping them out when I am working them out and helping them with the skill things," he said. "That's because I feel like I can do pretty much everything on the court. That is bringing the ball up the court as a point guard, or being the wing off screens, or being the forward and taking pop situations and even working with centers teaching them some post moves. I have a good feel for all of the positions and what it all entails at a high college basketball level. I know what kind of players you are looking for and the skills they will need throughout their basketball career."
Smith, who has been helping his father recover from surgery, said that the timing for retiring as a player and becoming a coach couldn't have worked out better.
"I came home from playing basketball in Georgia early this year due to dad's recovery with his double amputation," he said. "I was struggling with if I wanted to go back and continue to play, or if I wanted to start coaching. I talked to Coach Ray last summer about when would be a good time to start. Every coach says that the sooner you start the better. I wasn't quite ready yet to start coaching and I went and played again.
"But this time it seemed like a God-thing. They had an open spot on their coaching staff for next season and it just worked out in a way you can only thank God for. Just to learn from a guy like Coach Ray who has done what I want to do one day, which is work your way up the ladder and become a head coach. I respect him as a man and a coach and mentor and I am excited to learn from him every day."
Smith will begin his coaching duties in Starkville in July.
"I moved all of my stuff down there a couple of days ago, but I start in July," he said. "I am back in Atlanta now with my dad. He has that second prosthetic and I want to make sure he is up and walking around. There are a few things we have to continue to iron out but I feel like we are turning the corner on that. I am going to get there and be a sponge and soak in everything I can and barely sleep - I just want to be up and learning and take everything that this job has to offer."