| | |
| --- | --- |
| McDaniels faces adjustment as number one option | |
---
| | |
| --- | --- |
| Wednesday, January 8, 2014 3:54 PM | |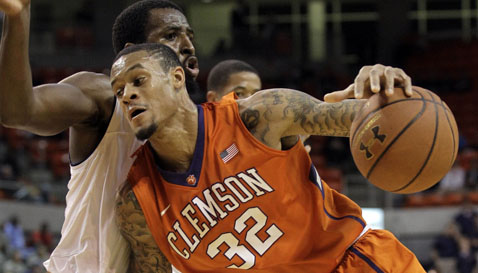 K.J. McDaniels

K.J. McDaniels
Jr. Forward
#32 6-6, 200
Birmingham, AL
View Full Profile had two seasons of being the second or third scoring option in Clemson's offense, but with Clemson starting ACC play the talented junior will now have to adjust to being number one on the opponent's scouting reports.

McDaniels is 10th in the ACC but leads Clemson in averaging 16.7 points per game, and there is little doubt that he is Clemson's first scoring option. As a result, he is seeing opposing teams and coaches devise different ways to stop him from scoring, something that head coach Brad Brownell

Brad Brownell
Head Coach
View Full Profile says McDaniels will have to get used to.
"He will see even more difficult defense as people know him and understand him," Brownell said Wednesday. "He will have to adjust to that, and for the first time in his college career he will be the number one guy on the other team's scouting reports. He will have to get used to that, especially when we play teams multiple times. He will have to make that adjustment and I hope he will be ready for that."
The Tigers opened ACC play with a win over Boston College last weekend, and play their first ACC home contest Thursday night when they play host to Florida St. in a 7 p.m. tipoff. McDaniels has a higher scoring average against Florida State (12.4 ppg) than he does against any other ACC opponent, but the Seminoles are better defensively this season than they have been over the past few years, according to Brownell.
Brownell then said that McDaniel's improvement as an all-around player will show against teams like the Seminoles.
"Certainly, the way teams are playing him talks about his improvement. He has worked hard on his ball skills," Brownell said. "He is better at shooting, and he is a guy that can put the ball on the floor and make a play for one of his teammates."
McDaniels said Wednesday that he hopes he is ready for the challenge.
"They (FSU) are one of the most athletic teams in our league and to go out there and play with that caliber of players is a good step for us. It's exciting for me personally," McDaniels said. "From what I've seen, they are a pretty aggressive team all the way around. They've got Ian Miller back and he's doing great for them. Okaro [White] is always doing good. I feel like they are better than they have been. They've been good the last few years, but I think this is one of the most elite groups they have. They are a fun team to watch and they are definitely going to be a fun team to play against."
McDaniels smiled when asked if he is getting more attention from opposing defenses this season.
"Most definitely, I've seen it. I just have to find a way to work around it mentally," he said. "I have to find other ways to score. It makes me better if the teams are having their eye on me. I just have to do other things for my team to help us win – go get rebounds, and just play tough."
I asked McDaniels what kind of defenses he has seen, and he said they are playing him for every part of his game.
"I feel like they are telling their players to play me straight up – to be ready for a shot or a drive," he said. "I feel like I need to shoot it more because sometimes they lay off. I feel like with the extra shooting that I've been doing that I'll be able to get a few shots off. I have to see through the defense before I can make a drive because they have two or three people back there waiting for me to drive to the basket. I have to find the open man and be able to make those plays. I've seen double teams, especially when I get the ball in the post. I just have to be able to kick the ball out for my open teammate so they can make the shot."