| | |
| --- | --- |
| Last Call: Wolfpack turn out the lights on Tigers and Littlejohn | |
---
| | |
| --- | --- |
| Tuesday, March 3, 2015 11:22 PM | |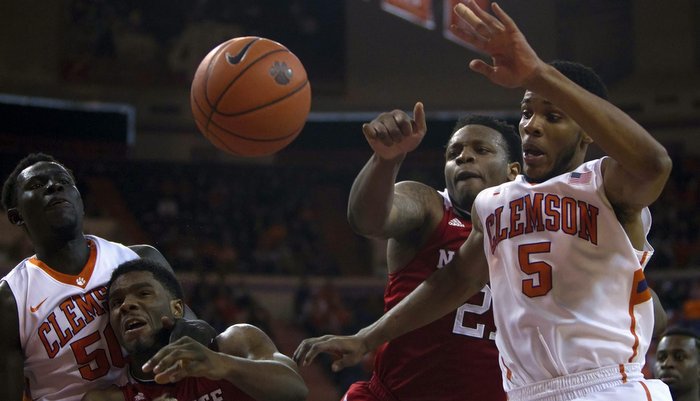 CLEMSON – The N.C. State Wolfpack closed the curtain on Littlejohn Coliseum and Clemson's slim NIT hopes with a dominating second half performance Tuesday night, taking advantage of yet another huge Clemson scoring drought in starring in the arena's last call.
A 14:26 span without a field goal in the second half led to the Tigers' (16-13 overall, 8-9 ACC) undoing as the Wolfpack (18-12, 9-8) defeated Clemson 66-61 Tuesday night.
Clemson went over 10 minutes without scoring – going 0-for-15 from the field and turning the ball over six times – while N.C. State found its rhythm offensively going on a 17-0 run over 9:23.
"In the second half, we did not play well offensively obviously, but we really lost the game because we did not guard," Clemson head coach Brad Brownell said. "As a team you have to know what your identity is. We are not going to get in a scoring contest with the better teams in the league offensively and win. That is not our nature, and not what we do. We got into our drought offensively, but really the game was lost because of poor defense in the second half."
The loss puts Clemson squarely on the bubble for the NIT and almost certainly means that the Tigers will need a win at Notre Dame Saturday afternoon or a run in the ACC Tournament to have a shot at making the field.
Clemson was led in scoring by Gabe DeVoe, who came off the bench to score an incredible 18 points, all in the last five minutes of the game. Donte Grantham added 12 points, while Ralston Turner scored 23 for N.C. State. DeVoe gave the Tigers a late spark, shooting the lights out of Littlejohn, but it was too little too late as the Pack held on the for the win. DeVoe hit a fallaway 3-pointer as time expired to make it 66-61.
"I am really happy and proud of Gabe," Brownell said. "The last month is when it has finally started to click. He really struggled in November and December. It has taken him longer than we hoped or thought, but finally the game has slowed down a little bit for him. He has strength and deep shooting ability, and those are two things that we need. It is ironic because someone said that they did not even know if he had made a shot in this building yet until tonight. He made six. He was in a situation where it is just 'Let her fly,' and he did. He made shots. Hopefully that just builds his confidence. Hopefully, he can be the really productive player that we recruited."
Both teams got of to a sluggish start offensively, as N.C. State – whose three made field goals were all three-pointers – led 10-8 with just over 12 minutes to play in the opening half.
Neither team scored for nearly three minutes but it was Clemson who broke the scoring drought on a floater in the lane by Rod Hall

Rod Hall
Sr. Guard
#12 6-1, 205
Augusta, GA
View Full Profile to tie the game at 10 apiece and begin a 7-0 run by the Tigers that included a three from the left wing by Austin Ajukwa

Austin Ajukwa
So. Guard
#1 6-6, 205
Columbia, SC
View Full Profile and a short jumper by Landry Nnoko

Landry Nnoko
Jr. Center
#35 6-10, 255
Montverde, FL
View Full Profile , giving Clemson a 15-10 lead with 8:40 to play before intermission.
A trey by Anthony Barber as the shot clock expired ended Clemson's run, making it a 15-13 affair. Harrison hit a jumper to extend Clemson's lead back to four before the Tigers went over two minutes without a basket, allowing N.C. State to take an 18-17 lead with 4:40 remaining in the half.
Rod Hall hit a floater to the left of the basket – for the eighth lead change of the game – putting Clemson back on top 19-18 at the 4:18 mark. Ralston Turner hit a pair of free throws putting N.C. State back ahead, however it was Clemson and Hall who scored the final points of the half with 2:59 to play for a 21-20 Tiger lead.
Clemson and N.C. State combined to go 16-for-56 from the field and there were 10 total lead changes in the half. Hall and Barber led their respective teams with six points a piece.
Blossomgame was fouled on the opening possession of the second half and promptly nailed both free throws extending Clemson's lead to three. Barber responded with a banked three-pointer off of an offensive rebound to tie the game with just under 19 minutes to play in the game.
The Wolfpack went nearly three minutes with out a field goal, as Clemson went on a 7-0 run that ended with five consecutive points from Grantham, however, N.C. State would tie the game at 30-30 with back-to-back treys from Turner with 15:38 to play.
Clemson and State traded baskets for the next two minutes, but the Wolfpack took a 32-33 lead on a put-back by Lennard Freeman with 12:42 to play.
Clemson plays at Notre Dame Saturday in the regular season finale.