| | |
| --- | --- |
| K.J. the Magnificent - catch his act while you can | |
---
| | |
| --- | --- |
| Monday, February 17, 2014 8:12 AM | |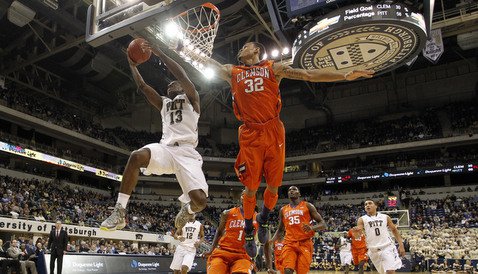 Twice during my tenure at TigerNet, I've used this space to tell Clemson fans to enjoy each and every second a certain player was on the field, because transcendent talents don't step on campus every day.
I wrote first about C.J. Spiller, not imaging that Spiller's departure would open the door for Sammy Watkins, nor that Watkins' departure for the NFL would lead to the emergence of another player.
Clemson fans, you have that type of talent yet again, but he doesn't wear cleats or run down the hill or wear a helmet. He's electric. He's magical. He's K.J. the Magnificent.
And he plays basketball.
The junior forward has improved each of his three seasons under Brownell and is averaging 17.3 points, 7.3 rebounds, and 2.8 blocks in 32 minutes this season, leading the Tigers in most statistical categories. On Saturday, ESPN named the Birmingham native the 22nd best player in the nation.
And if he keeps playing like he has in recent weeks, this will be his last season in a Clemson uniform, even though he said last week that thoughts about the NBA Draft will have to wait until after the season.
Head coach Brad Brownell

Brad Brownell
Head Coach
View Full Profile knows the type of special season McDaniels is having, including 24 points Saturday against a 16th-ranked Virginia team that is now 12-1 in the ACC.
Brownell said McDaniels deserves first team All-ACC honors.
"I've been pushing him all year. Every time I talk to people, I say I hope people take notice of the kind of player he is," Brownell said Saturday. "He is having a fantastic year. His consistency is what we've all been hoping to see. When you have 24 (points), when you have 30 and the 20-something he had at Florida St., those are huge games. He is playing at a very high level, and I think people are starting to take notice of that."
Brownell then said that McDaniels is making all of the plays – not just the highlight dunks – and is trying to make his teammates better.
"He is getting better at that," he said. "We ask him to score so much, he has to have the mentality that he has to go attack. He is bigger and he is stronger. He is able to absorb contact and finish plays. He can take the hit and still get closer to the basket to finish a play. And his skill level has improved to where he can make different plays. And you're watching a guy that through the course of the season is finding out what he can do and can't do. He is learning what to do when guys double him."
I asked Brownell if McDaniels would get more national attention if he played elsewhere – like on Tobacco Road or one of the bigger media markets – and he said yes, but also said that could work against the junior in some cases.
"Certainly, if he played at one of the more high-profile programs right now, that would be his case," he said. "But it's kind of like a recruiting question, would he be the high-profile guy there right now, because there would be other high-profile guys there. He is certainly our high-profile guy and that is because of our situation. But if was at one of those other programs he would get more attention because they are followed more closely.
"Having said that, I think people are starting to open up to K.J. He is playing consistently well. He has had two tremendous games here recently. And he averaged 10 points a game last year and he wasn't on people's radar, so he is earning what he is getting. People are gearing game plans for him and he is earning the respect he is getting. And it will help if our team keeps winning. But I think people are opening up to how good of a player he is. He is having a special year right now."
McDaniels is nearing "elite" status, according to his head coach.
"He has produced some big numbers," Brownell said. "He is right there with those players. He has been a major factor in so many games, and when you look at 30 points and 14 rebounds – those are monstrous numbers. Not many people are doing that. I think people can't help but see those and if he continues to play at a level like we all expect, he will be All-ACC."
There are four home games left this season, and like any magician, K.J. the Magnificent will have a limited run in Clemson. If Littlejohn Coliseum has yet another spotty crowd for the next home game, if the students once again fail to show up, that's a shame. Because this is an act worth catching, and next year these Tigers might not have McDaniels to pull another rabbit out of the hat in spectacular fashion.
Catch him while you can.