| | |
| --- | --- |
| K.J. McDaniels: I made the right decision | |
---
| | |
| --- | --- |
| Sunday, June 29, 2014 8:13 PM | |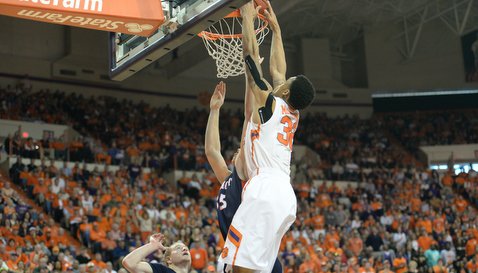 K.J. McDaniels

K.J. McDaniels
Jr. Forward
#32 6-6, 200
Birmingham, AL
View Full Profile knew he was taking a risk when he decided to forego his senior season at Clemson and enter the NBA Draft, but after being picked by the Philadelphia 76ers in the second round, he believes the risk paid off.
The Birmingham, Alabama native was projected to go in the middle of the first round, but with so many big-named prospects and international prospects, McDaniels slipped into the second round as the No. 32 overall selection by the Sixers.
However, McDaniels told TigerNet Sunday evening that he believes he made the right decision for himself and for his family.
"I feel like it was a great decision for me," McDaniels told TigerNet "I feel like Clemson has a lot of talent there now and that I would've had a great year for them, but I feel like the decision to leave was great for me and my family. I know that I'll be alright because I'm a basketball player and I 'll go out there compete with anybody. There was a lot of talent in the draft and I'm happy with where I ended up. I'm not mad. It's a blessing and an opportunity."
McDaniels even believes that going 32nd overall to the 76ers could have been act of divine intervention.
"It wasn't that bad [having to wait through the first round]. I knew that God would put me in the right place," McDaniels said. "I kind of figured that they might take me when it came up. I couldn't ask for a better place for me. The fact that He placed me at 32 is crazy because that's the number that I've been rockin' since my junior year in high school. The fact that I landed at 32 for the '32 Nation' is a blessing."
McDaniels was underrated in both high school and in college, but proved to be invaluable during his junior season – blocking 100 shots, leading the ACC in blocks per game, was the only player in the NCAA to lead his team in scoring (17.1), rebounding (7.1), three-point goals (42), steals (41) and blocks (100), being named ACC Defensive Player of the year and given first-team All-ACC honors.
He plans to take the same work ethic and mindset that has been the foundation of his success as he prepares to battle for a roster spot in Philadelphia.
"Just to come in and work hard that there is an opportunity with the organization," McDaniels said. "I just have to go in there with right mindset and work hard like I've been doing. Hopefully I'm able to make the team when the time comes."
McDaniels said a trip to Philly to meet with Sixers allowed him to get the advice of one of the 76ers greats.
"It's great. It's a great situation for me. I loved the facilities when I went down there," McDaniels said. "I got to meet Allen Iverson. He welcomed me to the city. It was great meeting him. He just told me to come in there and work hard and just be you. He said to come in there hungry, ready to eat and that's what I'm always ready to do."
McDaniels is the 27th player drafted in Clemson history, and first wing player selected since Will Solomon in 2001. He is Clemson's first draft choice since Trevor Booker

Trevor Booker
Forward (2006 - 2009)
#35 6-7, 240
Whitmire, SC
View Full Profile went 23rd overall to the Washington Wizards in 2010. He is the first Tiger taken by the 76ers since Sharone Wright

Sharone Wright
Center (1991 - 1994)
#34 6-11, 260
Macon, GA
View Full Profile went sixth overall in 1994.