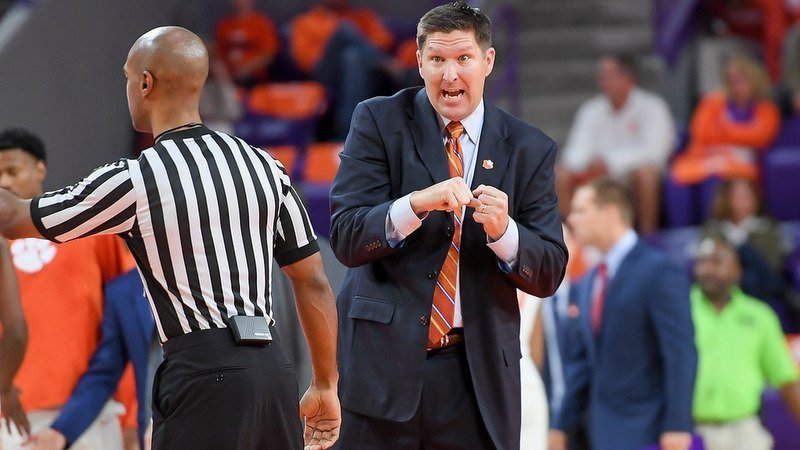 | | |
| --- | --- |
| Inside Brad Brownell's new six-year contract worth $15 million | |
---
| | | |
| --- | --- | --- |
| Friday, July 20, 2018, 12:07 PM | | |
CLEMSON – Head men's basketball coach Brad Brownell has agreed to a new six-year, $15 million contract through 2024 following his team's appearance in the Sweet 16 of the NCAA Tournament last season.
The contract was approved by the Clemson University Board of Trustees Compensation Committee Thursday morning.
"We wanted him to know that we were appreciative of his success and that we have the things in place for future success as well, and that's why we began to talk about this not right after the season but after a little bit of time," Athletic Director Dan Radakovich told TigerNet. "We were able to come to some kind of agreement. This kind of puts Brad within the mid-range in the ACC/SEC coaches and public school coaches. As you look at the public schools, he's in the median of that value now. I think with the investments we've put into the facilities and the staff and the things around him, I think he's really set up to have some good success."
Brownell said he was appreciative of the support.
"I want to thank Dan Radakovich, President Jim Clements and the Board of Trustees for continuing to support my leadership of our Clemson basketball program," said Brownell. "I'm extremely thankful and blessed to have the opportunity to coach at this great University. I'm also grateful for the outstanding young men I've coached and for the dedicated assistant coaches and staff who've worked alongside me the past eight years. I'm proud of what we've been able to accomplish, both on and off the court, and look forward to building upon the success of last season."
Brownell's assistants received raises in April and two more assistants were hired Wednesday.
"We did that in April and that was all part of our initial discussions," Radakovich said. "He wanted to make sure that we were able to do the things that he needed done to keep the very, very good staff that he has. We were able to do that and then we shifted our attention to him."
Performance incentives
Earn first seed in ACC Tourney: $150,000
Earn second seed in ACC Tourney: $125,000
Earn third seed in ACC Tourney: $100,000
Earn fourth seed in ACC Tourney: $75,000
ACC Tournament champion: $100,000
NCAA Tournament appearance: $50,000
Each NCAA Tournament win in First Four or first two rounds: $50,000
NCAA Tournament Sweet 16 and Elite 8 wins: $75,000 each
Win in Final Four: $100,000
NCAA Tournament champion $250,000
NIT Champion: $15,000
AP or USBWA ACC Coach of Year: $25,000
AP or USBWA National Coach of Year: $50,000
APR of 950 or higher: $25,000