| | |
| --- | --- |
| Harrison's second half helps Tigers punch ticket to New York | |
---
| | |
| --- | --- |
| Wednesday, March 26, 2014 9:41 AM | |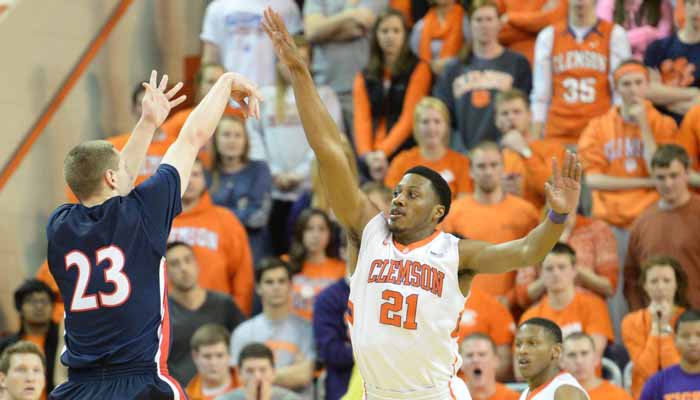 CLEMSON – Damarcus Harrison

Damarcus Harrison
Jr. Guard
#21 6-4, 200
Greenwood, SC
View Full Profile 's confidence is sky high and it showed during crunch time Tuesday night.
Despite having only four points in the first half, Harrison kept his confidence and scored 12 of Clemson's final 15 points in Tuesday's 73-68 win over Belmont, helping send the Tigers to the NIT Final Four in New York.
Harrison told TigerNet after the game that his teammates and coaches stayed in his ear throughout the game to keep his confidence up.
"I was just like, 'Man, this can't be it.' I was just thinking to myself that I have got to do something," Harris said. "I don't think they were really guarding me early. They were leaving me open and so I knew that I had to take advantage of it. My teammates found me and I just had the confidence to knock it down. The coaches were giving me confidence every time I was sitting on the bench. Glory to God because I really was struggling in the first half and then the shots started to fall."
After making the shot to tie the game with just over two minutes to play and being the catalyst that led the Tigers to victory, Harrison said that he hopes to ride his newfound confidence all the way to the Big Apple.
I'm on cloud nine or cloud 10," Harrison said. "It's through the roof right now and I just want to ride it to New York."
However, just making the trip to New York isn't enough for the junior from Greenwood.
"Advancing. I won't be satisfied until we are in the championship game, and then I want to win the championship," he said. "That's what I really want to do. I know it's going to be fun my first time going to New York, but I want to achieve this goal of mine."
Harrison said that playing against Belmont was a good experience, but was also extremely frustrating at time because the Tigers place so much emphasis on defense.
"It's hard because their shots are so long," he said. "It's not even a rebound, it's a 50-50 ball because it hits the ground. They've got fast guards and then they just can read the ball because they are on it every time. It was hard because it's kind of demoralizing when you're a good defensive team. You want to get one stop and one shot and then a rebound. They were continuous shots and continuing possessions. That was the tough part, but when we locked into them and made some catches harder, that's what helped us."
He and his teammates never lost confidence, though.
"I don't think so because it was still single digits," he said. "I knew that we are a grind it out team and it's going to come down to the last possession. As long as we got our stops, I knew we were going to be fine."