| | |
| --- | --- |
| Harrison, defense carry Tigers past Hornets | |
---
| | |
| --- | --- |
| Wednesday, November 13, 2013 10:46 PM | |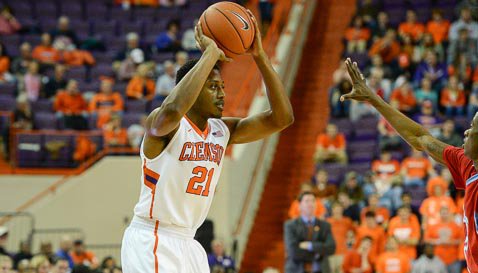 CLEMSON – Damarcus Harrison

Damarcus Harrison
Jr. Guard
#21 6-4, 200
Greenwood, SC
View Full Profile spent untold hours reworking his jump shot during the off-season, and the new release has already paid big dividends for the Tigers.
Harrison scored 15 points and junior swingman K.J. McDaniels

K.J. McDaniels
Jr. Forward
#32 6-6, 200
Birmingham, AL
View Full Profile chipped in 11 as Clemson got defensive in a 58-37 non-conference victory over Delaware St. Wednesday night in Littlejohn Coliseum.
The Tigers improved to 2-0 on the young season,, while Delaware State fell to 1-2. The Tigers host in-state rival South Carolina on Sunday. Clemson held Delaware State to just 14 second half points and matched its best scoring defense output under head coach Brad Brownell

Brad Brownell
Head Coach
View Full Profile .
Harrison, who scored 10 points for the Tigers in the season opener last week, told the media Wednesday night that he is confident that he can be a scoring threat for a young Clemson team this season, and he knows that he has to bring that mindset to the court every day.
"I know what I'm capable of, so I just know I've got to bring it every day, so I just come out with the same mindset to just play hard," Harrison said. "Coach helped me with that, to bring your motor every time you step on the floor, and be ready. That's all I think about – being game-ready before the games."
Brownell said the Tigers executed a perfect game plan against a Hornet team that tried to slow the pace.
"Good, solid win. I thought we really executed our defensive game plan perfectly," Brownell said. "Our plan coming in was to limit the threes for Walker and Bell. I think they got a combined 17 threes against Georgia Tech. It's their number one option, and we held them to 1-for-13. That was game plan number one defensively; controlling the dribble was number two. We had a couple of spurts where we didn't do that as well but all in all, it was really good execution of a defensive game plan.
"Offensively, it's a little harder to play against them. They start a possession in zone, and then after two passes they go to man. They start a possession in man, three passes later they go into zone. You have to go make plays. You give them a couple of simple concepts to go with, and then it's on your guys to finish. We need to work to get better production out of the paint, but we did enough to win. The best part of our offense was that we had 15 free throw attempts at halftime, so we were attacking. We also had 14 assists and only seven turnovers, which is pretty good. I'm pretty pleased with this performance."
The Tigers took control with a 17-6 first-half run and led 22-10 with 6:49 left and led 32-23 at intermission. Harrison scored seven points in the run, hitting four free throws and a 3-pointer. He led all scorers with 10 points in the half.
The Tigers led 34-25 with 16:06 left to play when the defensive intensity turned up a notch. A 16-6 run pushed the lead to 50-31 with 7:02 remaining, and later led by as many as 24 points.
Delaware State made just four field goals in the second half, and DeAndre Haywood's layup with 24 seconds left ended an eight-minute drought from the field.
"I think we found a group that was really locked in," Brownell said of the defensive surge. "They were getting stops, we didn't give up many easy looks and in all honesty, I stayed with them. I didn't switch after three or four minutes and I let them keep playing. The guys off the bench were doing a good job. Rod (Hall), Adonis (Filer) and Damarcus (Harrison) were really locked in. They just have confidence. I think that was a big part of our ability to get stops in the second half."
The Hornets shot just 16.7 percent after halftime and 26.7 percent for the game. Clemson made 47.6 percent of its shots for the half and 41.3 percent for the game.Five Clemson players scored at least seven points as freshman forward Jaron Blossomgamehad eight points and eight rebounds, and sophomore guard Jordan Roper

Jordan Roper
So. Guard
#20 5-11, 165
Columbia, SC
View Full Profile had seven points and four rebounds with three assists.
Brownell played Harrison at the unfamiliar "4" spot for much of the second half, and said he liked what he saw out of the smaller lineup.
"We went small. I think we had K.J. and Damarcus out there," he said. "I think Damarcus might be a little more comfortable with some of the offensive things we asked our four to do tonight. So, he went to that spot and K.J. went to the three and they split back and forth a little bit. They actually went small a little bit, so we matched them and I thought we got good production when we did that."

--------------------------------------------------------------------------------

VISITORS: Delaware State 1-2

                          TOT-FG  3-PT         REBOUNDS

## Player Name            FG-FGA FG-FGA FT-FTA OF DE TOT PF  TP  A TO BLK S MIN

05 BELL, Tyshawn....... f  1-5    0-3    2-2    0  2  2   2   4  0  1  0  1  31

01 GRAY, Kendall....... c  1-6    0-0    6-8    2  2  4   3   8  1  1  3  0  31

22 WALKER, Casey....... g  3-11   1-4    0-0    1  5  6   2   7  0  0  0  2  34

30 LAWSON, Jordan...... g  1-2    0-0    0-0    3  0  3   2   2  0  1  0  0  20

55 BURLEY, Charles..... g  1-3    0-0    1-2    1  0  1   3   3  3  1  0  0  16

00 BROWN, Rakeen.......    0-1    0-1    1-2    0  0  0   0   1  0  0  0  0   3

02 WILLIAMS, Kendal....    1-4    0-1    0-0    0  2  2   0   2  2  0  0  0  23

04 THOMAS, Cahli.......    0-0    0-0    0-0    0  0  0   0   0  0  0  0  1   2

10 DOYLE, Nick.........    0-6    0-3    0-2    0  1  1   2   0  0  0  0  0  15

11 HAYWOOD, DeANDRE....    1-1    0-0    2-3    1  0  1   0   4  0  0  0  1   2

20 GASEVIC, Mrdjan.....    0-1    0-0    0-0    0  1  1   0   0  0  0  0  1   4

21 HALEY, Larry........    0-1    0-1    0-0    0  1  1   0   0  0  0  0  0   4

23 OWENS, Jason........    3-4    0-0    0-0    0  0  0   3   6  1  0  0  0  12

34 LEWIS, Chris........    0-0    0-0    0-0    0  0  0   0   0  0  0  0  0   3

   TEAM................                         2  1  3             1

   Totals..............   12-45   1-13  12-19  10 15 25  17  37  7  5  3  6 200

TOTAL FG% 1st Half:  8-21 38.1%   2nd Half:  4-24 16.7%   Game: 26.7%  DEADB

3-Pt. FG% 1st Half:  1-6  16.7%   2nd Half:  0-7   0.0%   Game:  7.7%   REBS

F Throw % 1st Half:  6-8  75.0%   2nd Half:  6-11 54.5%   Game: 63.2%    5



--------------------------------------------------------------------------------

HOME TEAM: Clemson 2-0

                          TOT-FG  3-PT         REBOUNDS

## Player Name            FG-FGA FG-FGA FT-FTA OF DE TOT PF  TP  A TO BLK S MIN

05 BLOSSOMGAME, Jaron.. f  4-5    0-0    0-0    5  3  8   2   8  0  0  1  0  27

32 McDANIELS, K.J...... f  4-12   1-5    2-2    2  3  5   0  11  1  2  5  0  25

35 NNOKO, Landry....... c  0-1    0-0    0-0    1  2  3   4   0  1  1  1  0  15

12 HALL, Rod........... g  2-5    0-2    2-2    1  1  2   0   6  4  0  0  0  30

20 ROPER, Jordan....... g  1-4    1-2    4-6    0  4  4   1   7  3  1  0  0  15

01 AJUKWA, Austin......    0-2    0-0    0-0    1  2  3   2   0  0  0  0  0   6

02 FIELDS, Carson......    0-0    0-0    0-0    0  0  0   0   0  0  0  0  0   1

03 FILER, Adonis.......    3-4    1-2    0-0    0  2  2   1   7  3  0  0  0  20

15 COLEMAN, Devin......    0-2    0-2    0-0    0  0  0   1   0  0  1  0  0   8

21 HARRISON, Damarcus..    4-8    2-4    5-6    2  2  4   1  15  1  0  0  1  20

33 SMITH, Josh.........    0-1    0-0    2-2    0  3  3   1   2  0  0  0  0  22

42 DJAMBO, Ibrahim.....    0-1    0-0    0-0    2  1  3   1   0  1  1  0  0   8

50 DJITTE, Sidy........    1-1    0-0    0-1    0  1  1   0   2  0  1  0  0   3

   TEAM................                         1  1  2

   Totals..............   19-46   5-17  15-19  15 25 40  14  58 14  7  7  1 200

TOTAL FG% 1st Half:  9-25 36.0%   2nd Half: 10-21 47.6%   Game: 41.3%  DEADB

3-Pt. FG% 1st Half:  3-10 30.0%   2nd Half:  2-7  28.6%   Game: 29.4%   REBS

F Throw % 1st Half: 11-15 73.3%   2nd Half:  4-4  100 %   Game: 78.9%    1



--------------------------------------------------------------------------------

Officials: Michael Stephens, Bernard Clinton, Ron Tyburski

Technical fouls: Delaware State-None. Clemson-None.

Attendance: 5000

Score by Periods                1st  2nd   Total

Delaware State................   23   14  -   37

Clemson.......................   32   26  -   58

Points in the paint-DSUM 6,CU 29. Points off turnovers-DSUM 10,CU 9.

2nd chance points-DSUM 5,CU 14. Fast break points-DSUM 0,CU 11.

Bench points-DSUM 13,CU 26. Score tied-0 times. Lead changed-1 time.

Last FG-DSUM 2nd-00:24, CU 2nd-00:10.

Largest lead-DSUM by 3 1st-18:37, CU by 24 2nd-04:35