| | |
| --- | --- |
| Hall says NFL workout and new career options "have my mind spinning" | |
---
| | |
| --- | --- |
| Thursday, April 23, 2015 3:42 PM | |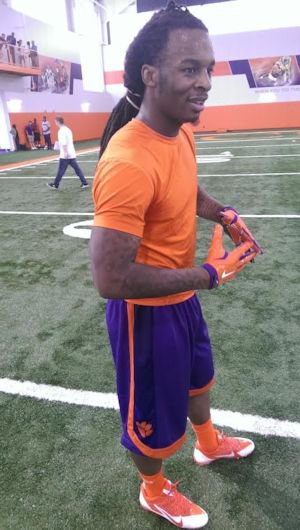 CLEMSON – Rod Hall

Rod Hall
Sr. Guard
#12 6-1, 205
Augusta, GA
View Full Profile said that this morning's workout for several NFL teams inside of Clemson's indoor football practice facility was a little surreal, and now he has a short amount of time in which to make a big life decision.
Hall started over 100 games as Clemson's point guard over the last four seasons, compiling 926 points, 393 assists and 86 steals. He started 97 of 98 games through the final three seasons. However, he also played on the football team at Augusta (GA) Laney High School, and Clemson assistant basketball coach Steve Smith

Steve Smith
Assistant Coach
View Full Profile recently sent out Hall's high school game film to several teams hoping Hall would get a look.
Smith's work paid off Thursday morning as six NFL teams – New Orleans Saints, Kansas City Chiefs, Cleveland Browns, Carolina Panthers, Baltimore Ravens and Buffalo Bills showed up to watch Hall work out.
Hall ran a 4.55 40-yard sash during the workout, which was faster than 23 of the 46 defensive backs at the NFL Combine in February.
"It was pretty good. It was a very good experience for me," Hall told TigerNet after the workout. "It was something that I really didn't expect to happen to me but it did and I was grateful for it."
Hall, who had more than 1,200 receiving yards and 13 touchdowns during his senior season at Laney, worked out at both defensive back and wide receiver despite having little preparation time.
"I really didn't have time to get prepared for it. I just had to go out there and go with what I know," Hall said. "There was nothing that I could do because it all happened so quickly. It seemed surreal because I haven't played football in four years. I went to college for basketball and have been playing basketball without even touching a football. I thought it was unreal."
Hall's session was cut a little short, however.
"I did pretty well and then I hurt my hamstring," he said. "They didn't want me to push it too much and hurt it even more. Overall, it went pretty well."
Hall didn't have a lot of time to prepare for Thursday's workout, and now he has a short amount of time in which to make a decision regarding his next career move.
"I've got the option to go overseas and play and possibly get an NBA workout," Hall said. "I really don't know yet. It's got my mind spinning. I've got a lot of decisions to make in a short period of time to decide what I'm going to do with my life. It's kind of overwhelming because I've got to do a lot of thinking. I was pretty good at both of them so it was hard for me to decide what I wanted to do."