| | |
| --- | --- |
| Greenville welcomes Clemson basketball | |
---
| | |
| --- | --- |
| Friday, April 17, 2015 10:54 AM | |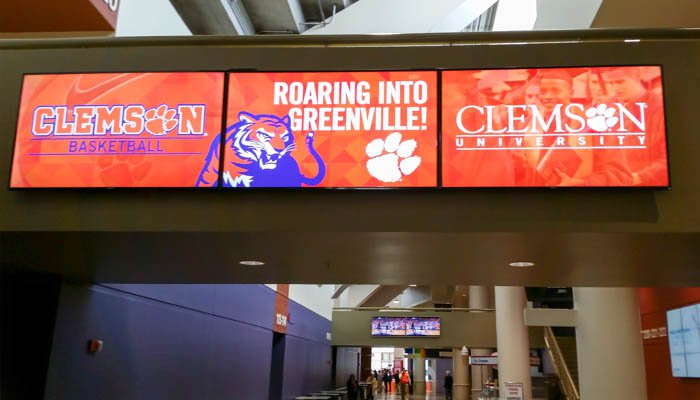 GREENVILLE – Clemson University and the city of Greenville formally announced a partnership Thursday to host 2015-16 men's basketball home games and commencement ceremonies, beginning in August. The announcement took place at the brand new Clemson entrance at the Bon Secours Wellness Arena.
Clemson's basketball team will play its home games in Greenville next season – Littlejohn Coliseum renovations begin next month – before returning to the campus to play the 2016-2017 season. During that period Clemson's commencement ceremonies will also take place in the arena.
On Thursday city leaders, Clemson President James Clements, Athletic Director Dan Radakovich

Dan Radakovich
Director of Athletics
View Full Profile and Clemson head basketball coach Brad Brownell

Brad Brownell
Head Coach
View Full Profile took part in the ribbon cutting ceremony at the arena. Following the ceremony, tours were allowed to see the court configuration for the upcoming season and it was announced that season tickets go on sale today.
"Greenville is going to be a great place for us to play," Brownell said. "We certainly have a large group of alumni and a big part of our fan base is from here. It'll be a much easier trip for a bunch of people and hopefully we'll get some new folks to come out and experience Clemson basketball. Our guys I think will be excited about it. We've got a beautiful arena here at the Well. They've done an unbelievable job and I think it will be a really neat fan experience.
"I know for us it's kind of nice sometimes to play in some different arenas and have a different vibe to the game as long as we continue to work and get our students up here and provide the kind of atmosphere we want then I think it's going to be an exciting place to play. Certainly we have enough good teams coming in here for competition to provide what should really be some good basketball games."
Greenville Mayor Pro Tem David Sudduth reminded the audience that as a Clemson graduate his blood runs orange, and then said Greenville's new nickname should be "Orangeville" because of the Clemson relationship.
"The bonds between Greenville and Clemson University have become even stronger," Sudduth said. "Thank you very much for your commitment to Greenville and your commitment to our partnership."
Clements said Greenville is just an extension of Clemson and will add millions of dollars to Greenville's bottom line.
"Greenville is like a second home to Clemson. And now the BSWA will become a second home for our men's basketball team and graduation ceremonies," Clements said. "This partnership adds another coat of Solid Orange to Greenville. Our presence at BSWA will have an economic impact of approximately $12.2 million in economic impact on the city of Greenville. I look forward to seeing you and all of your friends here as we play at the Well."
Brownell toured the floor area and said he is excited about playing there next season.
"They've done a really good job. I think the video boards and the ribbon boards around are spectacular. It's really up to date," Brownell said. "It's some of the things that we're going to have to do at Littlejohn Coliseum. And then again, I think the floor is going to get painted orange, we're going to be able to do some things that way. Locker rooms are first class. It's a really nice facility. I think it's going to be special for us and for our fans."
Brownell was asked about his team working out in Greenville, and he said they will find a way to get the players comfortable in the new environs.
"I think we will. We haven't talked a lot about it yet, but as soon as we get going here in the summer and as we start fall workouts, we're going to find some ways to get up here on different occasions and I think our guys will be excited about it," he said. "It's a different atmosphere, but it does have a little bit more of a pro feel to it with the suites and the luxury boxes and some of those different kind of things. I think our guys are going to be excited by it."
He was then asked if he was worried about attendance, and he said he hopes there are enough fans in the Greenville area to keep the arena full.
"We've got to do our job of providing an exciting product and have a winning team," Brownell said. "But, I think there will be enough people in Clemson and Greenville for that matter that are going to be excited about it and what's going on. I think we can also draw from the north a little bit. It's no secret that weekday games are hard for Clemson. You have a seven or nine o'clock game on a Tuesday or Wednesday night and that's never easy for people driving from distance. This will make it much easier. I think we can get most of the business folks to stick around and come to the games and again I think if we start winning and playing some good basketball this place could really get special."