| | |
| --- | --- |
| Furious rally falls just short as Tigers knocked from ACC Tourney | |
---
| | |
| --- | --- |
| Wednesday, March 11, 2015 1:39 PM | |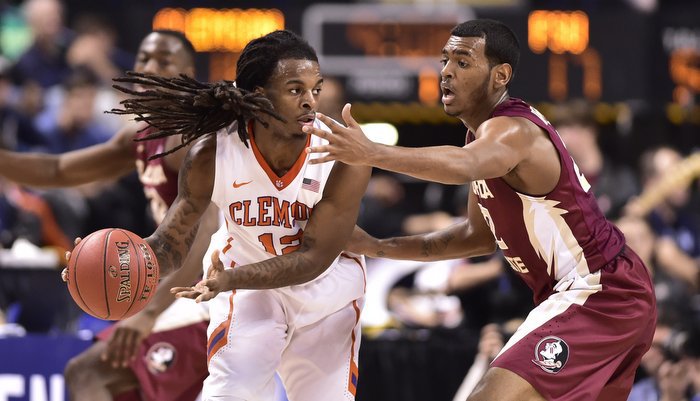 Another furious comeback fell short and another loss in the opening game of the ACC Tournament might have put an end to Clemson's season.
Clemson erased a 20-point deficit and had a chance to tie the game in the final 10 seconds but the comeback and the shot fell just short as freshman guard Xavier Rathan-Mayes scored 30 points and outdueled Clemson's Rod Hall

Rod Hall
Sr. Guard
#12 6-1, 205
Augusta, GA
View Full Profile as Florida St. held on for 76-73 win over Clemson in the second round of the ACC Tournament at the Greensboro Coliseum Wednesday afternoon.
Hall, making his 92nd career start, scored a career-high 25 points. Jaron Blossomgame

Jaron Blossomgame
RS So. Forward
#5 6-7, 215
Alpharetta, GA
View Full Profile added 14 and Gabe DeVoe

Gabe DeVoe
Fr. Guard
#10 6-3, 200
Shelby, NC
View Full Profile scored 10 points as the other Tigers in double digits.
Clemson is 2-6 against FSU in the ACC Tournament and the team that won the most recent regular season meeting has lost the last seven games in the tourney. Clemson used a four-game winning streak to start out at 6-4 in the ACC, but wound up losing seven of their last nine games.
The Tigers were already on the bubble for the NIT, but Wednesday's loss leaves them at 16-15 overall. Florida St. improves to 17-15. Florida St. advances to take on No. 1 Virginia in the noon game on Thursday.
Clemson trailed by as many as 20 midway through the second half, but Hall scored 10 straight points to make it 66-52 with just over five minutes to play. Both teams then went almost three minutes without scoring before Hall hit two more free throws to make it 66-54 with 2:17 to play.
Harrison then followed a Florida St. free throw with a jumper to make it 67-58 with 1:56 to play, and the Tigers quickly forced a turnover with a shot to cut into the lead even more. Hall turned it over, however, and Florida St. hit a breakaway layup and two free throws to make it 71-58. DeVoe hit a 3-pointer to make it 71-61 with 1:30 to play.
Following to Nole free throws, Hall hit a 3-pointer with 61 seconds remaining to make it 73-64 and Hall hit Blossomgame in the lane for a layup that made it 73-66 with 47 seconds to play. Clemson forced a quick turnover, but Hall's floater fell off the front of the rim forcing a foul. Florida St. hit just one free throw and Damarcus Harrison

Damarcus Harrison
Sr. Guard
#21 6-4, 205
Greenwood, SC
View Full Profile hit a 3-pointer that made it 74-69 with 33 seconds to play.
A Seminole then fell down trying to inbound the ball and Blossomgame hit a layup that made it 74-71 with 31 seconds to play. The Tigers fouled Rathan-Mayes and he hit one to make 75-71, and Hall was fouled as he took the ball into the lane. Hall hit both free throws to make it 75-73 with 25 seconds to play, and Florida St. was forced to call a timeout after failing to get the ball inbounds.
The timeout didn't help and the ball went off Devin Bookert's face with 24 seconds left, giving the Tigers a chance to tie or take the lead. However, Hall's shot at the rim fell just a little short and the Tigers fouled with Seminoles' Phil Cofer with just nine seconds to play. Cofer missed the first free throw, made the second and Clemson called timeout with 7.2 seconds to play after Hall got the ball across midcourt.
Hall said he was disappointed he couldn't get the tying shot to fall.
"It was very tough on me . I wanted to put my team in a good position and win this game," Hall said after the game. "The ball rolled the opposite way that I wanted to. It just didn't fall."
However, DeVoe's 3-pointer bounced off the side of the rim and time ran out on the game and maybe the season.
"Certainly proud of the way our guys at the end fought," head coach Brad Brownell said. "We played great at the end in the last four minutes when our backs were against the wall. We had two chances to tie and were just a little bit unlucky. Give Florida State credit. They out played us today."
Brownell said the Tigers got the look they wanted with DeVoe's 3-pointer.
"We got a good look. Everybody knows you need three and it's hard to get a great three," he said. "We had two looks there. Grantham found Gabe Devoe off a little screening action. It's a deep shot but he can make those. It just didn't go in."
The Seminoles led 33-26 at the half, but Florida St. jumped out to a quick double-digit lead at 37-26 just two minutes into the half. The Tigers used jumpers by Rod Hall and Gabe DeVoe to bring it back to single digits at 38-30 and two free throws by Blossomgame kept it at single digits as the Noles led 44-35 just five minutes into the half.
Florida St. then went on a 13-2 run as Clemson went into another scoring drought made it 54-37. The Noles then pushed the lead to 20 at 57-37 after a jumper by Mayes at the 9:09 mark.
The first half was a game of runs as Florida jumped out a huge lead only to see the Tigers claw back in the game.
The Tigers grabbed their first lead on a jumper by Rod Hall, giving them an 8-7 advantage six minutes into the game. Five minutes later a jumper by Jordan Roper

Jordan Roper
Jr. Guard
#20 6-0, 165
Columbia, SC
View Full Profile gave Clemson a 16-15 lead, but the Noles then went on a 10-0 run over the next four minutes in running out to a 25-16 lead.
Hall hit two free throws to stop the streak and it started an 8-2 Clemson run that ended with a thunderous Nnoko dunk and a 27-24 Seminole lead with just over two minutes to play in the half. However, Florida St. closed out the half on a 6-2 run and led 33-26 at intermission.
Brownell said the bad start to the second half was what cost the Tigers the win.
"Just didn't play well enough to win today. I thought we played pretty well in the first half and missed some shots at the rim that you need to make," he said. "Obviously their size was a factor. Just disappointed in the way we played in the second half. We didn't play very well. I didn't think our competitive spirit was where it needed to be."