---
| | |
| --- | --- |
| Friday, January 16, 2015 2:47 PM | |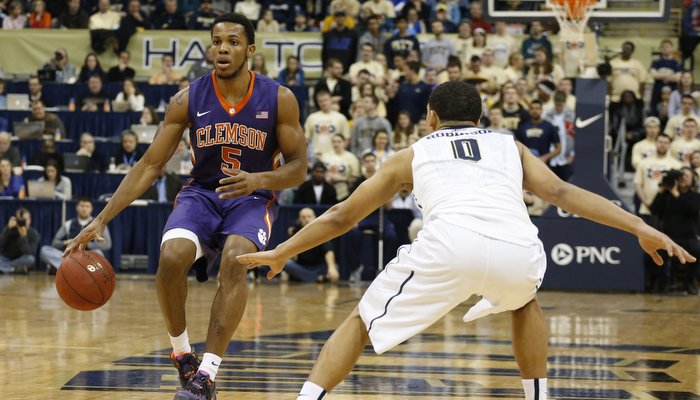 CLEMSON – Fresh off of a rugged three game road stretch and a 1-3 start to the ACC schedule, head coach Brad Brownell

Brad Brownell
Head Coach
View Full Profile isn't questioning his team's toughness or effort. What's lacking, he says, is execution and that execution will be needed Saturday when the Tigers host Syracuse at Littlejohn Coliseum.
Clemson is in search of its fourth top-100 RPI win of the season Saturday. The Tigers have claimed wins over Arkansas (16), LSU (36) and Pittsburgh (79) already this season. This is Syracuse's first game in Littlejohn Coliseum since the 2007 NIT quarterfinals, when Clemson won 74-70, and Saturday's game is the first of two games in just over 48 hours. The Tigers take on Florida State at 9 p.m. on Monday.
GAME SETUP
Clemson (9-7, 1-3 ACC) vs. Syracuse (13-4, 4-0 ACC)
Date: Saturday, Jan. 17
Tipoff: 4:01 p.m. ET
Arena: Littlejohn Coliseum (10,000)
Radio: CTSN (Tony Castricone-pbp; Tim Bourret-color)
TV: ACC Network (Tom Werme-pbp; Mike Gminski-color)
The Orange stumbled out to a 6-4 start, but have won seven in a row including an 86-83 overtime win over Wake Forest Sunday. Syracuse is led by 6-9 center Rakeem Christmas, who averages 18.2 points per game and 8.9 rebounds per game. Junior guard Trevor Cooney is the outside threat – he scored 28 points and hit seven 3-pointers against FSU on January 11th – and is second in scoring at 14.5 points per game.
For the Tigers to pull off the upset, their execution will have to be better.
"I think we are tougher and I think we are improved," Brownell said Friday in Littlejohn. "Everybody wants to just blame things – it's effort, it's toughness – sometimes it's just basketball execution that you're not doing well that is the problem. Certainly our team has needed to get tougher at times, and I think we showed great toughness at Louisville and I think we showed toughness at Pittsburgh. I thought we showed toughness in the first half at Virginia. The same can be said for effort in those games.
"I think it's too easy for fans and for coaches and sometimes players to say well, we have to play harder or we have to be tougher. Yes, that's part of it. But we have to be better, and that's the harder part is executing better. Making a shot in a timely fashion. Whether it's defending really good offensive players off the screen, and if you get caught the guy make the shot. It's not just effort – there is technique involved. And as the game goes and you get tired there is slippage in execution."
Clemson got just 11 points off the bench in the loss at Virginia Tuesday, and Brownell said the bench will also have to execute at a higher level if the Tigers are to have a chance against the Orange.
"Our bench has to play consistently better for us to win these kinds of game," he said. "We don't have that guy that is going to go and get us 20, or 25 and sometimes 30 like K.J. (McDaniels) did. I just don't see that happening. Our frontline guys and our starters wear down at times and that is what has happened to us sometimes in games. We have played well and had a lead and then our starters have worn down. We have had the lead in a bunch of games – the games we've lost we had a lead at some point or another – and at some points our bench guys are going to have to make plays. They have to have confidence and I don't know how to give it to them other than they have to go make plays."