| | |
| --- | --- |
| Eight Days Out: Tigers look to get back on track after long break | |
---
| | |
| --- | --- |
| Wednesday, January 27, 2016 10:54 AM | |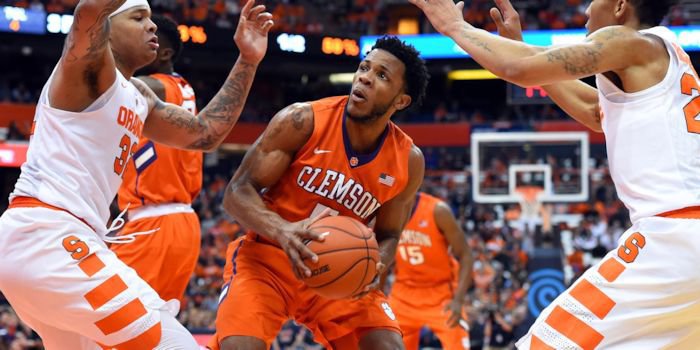 The Clemson basketball team had plenty of momentum going into its game with Virginia.
A five-game winning streak does that.
But the Tigers lost to the Cavaliers and then had eight days off to think about that game. Clemson (12-7 overall) will try to get back on track Wednesday night against Pittsburgh (16-3). oth teams are 5-2 in ACC play.
"Eight days off is a long time, especially when the other teams in the conference are playing," Clemson junior Jaron Blossomgame said. "Being able to see them on TV makes you want to get back out there, especially when you lost your last game. It would have been great to win at Virginia and then have eight days off, but we couldn't handle our business.
"Eight days was good for some guys that had a little bit of injuries and just needed some rest. We've been practicing hard, working out, getting shots up and trying to stay fresh. Eight days is a long time, so you've got to come to practice and work every day just like it was a game."
That means regaining momentum. Clemson built that with its five-game winning streak, including three wins over top-25 teams.
If Clemson wins Wednesday that would be its fourth top-25 win this season, which would tie the most for the program since the 1996-97 team earned five such wins.
"We're still very confident. We're a good team," Blossomgame said. "A lot of people wouldn't have us at 5-2 right now in the ACC. We've proved we're a good team and we can play with the best in the country, so we didn't hang our heads for too long (after the loss to Virginia). We were obviously upset we didn't win the game, but it's not something that's going to beat this team."
Clemson is facing another good team in Pittsburgh, which won 10 straight games before splitting its past four. The Panthers are led by Michael Young, who is averaging 16.8 points per game, Jamel Artis at 16.1 and James Robinson at 8.1. Robinson is also averaging 5.0 assists, while Young and Artis both shoot better than 50 percent from the floor.
"Very talented front line. Michael Young is outstanding. Jamel Artist is a great wing who can score, and James Robinson is one of my favorite players in the league," Clemson head coach Brad Brownell said. "I just love how hard he plays. He's a guy with almost 550 assists, doesn't turn the ball over. He's a winner, a competitive guy, so yeah, it's a real challenge. They're playing real good basketball, and we're looking forward to getting back out on the court."
The Tigers' chances start with Blossomgame, who is averaging 16.4 points and 6.9 rebounds. He has stepped up his play in January, averaging 18.5 points as Clemson has gone 5-1.
"Not really sure. I've been playing well, making shots, coming to every game focused and understanding the opportunity we have in these games," Blossomgame said. "We played really well at home in Greenville and just being excited for those types of games and being able to produce at a high level just keeps me excited and ready to go."
Brownell is interested to see how his team will respond to the long break. The Tigers head out on a three-game road trip after the game Wednesday starting Saturday at Florida State.
"We want to play well because we want to achieve bigger things, and certainly if we start to play well again and get a few more wins, we'll continue to draw bigger crowds and more support," Brownell said. "Really, it's about the hard work that we're putting in and trying to provide a really positive experience for your players. That's why we do this. You want to see these guys rewarded. I know how hard they work, how much time they put in the weight room, the summer, all the sweat equity that is involved in putting together a good team, and I'm just glad that my guys are playing better, and hopefully, we're going to continue that this week."
*Daniel Shirley is the sports editor of The Telegraph in Macon, Ga., and co-host of The Morning Show on FoxSports 1670 AM. Follow him on Twitter at @DM_Shirley and read his blog at macon.com/peachsports.