| | |
| --- | --- |
| Coleman and Blossomgame say redshirting last season will pay off this year | |
---
| | |
| --- | --- |
| Wednesday, October 30, 2013 4:39 PM | |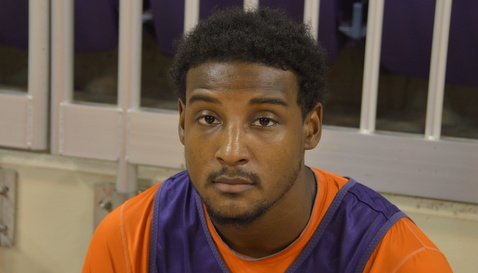 CLEMSON – During most Clemson basketball games last season, Devin Coleman and Jaron Blossomgame could be seen sitting side-by-side on the bench, anxiously watching the action and awaiting their time out on the court.
Coleman averaged 6.8 points per game over Clemson's final eight contests of the 2011-12 season and was poised to become one of Clemson's leaders last season. However, he tore his Achilles during summer conditioning drills, and missed all of last season.
Blossomgame also sat out the season due to a broken leg suffered in April as a senior in high school, but practiced in limited contact situations throughout most of the 2012-13 season. He underwent a second surgery on his leg in June to accelerate the healing process.
Blossomgame said that while most players hate the thought of sitting out their first season in college, he thinks his time sitting back and watching will prove invaluable.
"People think redshirting is a bad thing, but not necessarily," Blossomgame said Wednesday. "You get a year of experience under your belt, you get a year in the weight room, and you learn a lot from just watching the game. You can just sit back and not have the pressure of a freshman coming in who is expected to produce major points and minutes. You can sit back, watch and learn and prepare for the next year. It's a good thing."
He then said that he was able to learn patience while sitting on the sidelines.
"I had to be patient with myself. We didn't have a good season, and I felt like I could have helped on the offensive end and the defensive end," he said. "I think being patient was my biggest thing. Most people want to get out there and do too much, but you have to stay patient with yourself."
Coleman said that he spent some time angry at his situation, but eventually had to move past that anger if he wanted to be ready for this season, and eventually formed a bond with Blossomgame as the two worked out together before home games in Littlejohn.
"There was a little period there where I was mad and frustrated, but eventually I had to accept it for what it was and concentrate on the future," Coleman said. "Yeah we spent a lot of time together. While the team was practicing, we could go out there and do weights together. We could get together and talk about the things we saw. I think it helped us. "
Coleman returned to action during the Tigers' trip to Italy in August, and averaged 9.8 points per game, fourth-best of the 11 players that suited up for the Tigers over the four-game period. He reached double figures in three of four games, with a high of 13 in the opener vs. Indiana Pesre. He averaged 18.3 minutes per game and added eight assists and four steals.
However, he knows that playing in Italy won't match the feeling of finally lacing up his sneakers for the Tigers this season.
"It is going to feel good. That is pretty much all I can say," Coleman said. "Obviously, basketball being a game I love, not being able to go out there and play a game for a whole season was tough. It is going to be exciting to get out there and play, but hopefully not too exciting because I don't want to get out there and throw the ball over the backboard."