| | |
| --- | --- |
| Coleman, Nnoko pave way for Clemson win over SC State | |
---
| | |
| --- | --- |
| Tuesday, December 3, 2013 10:18 PM | |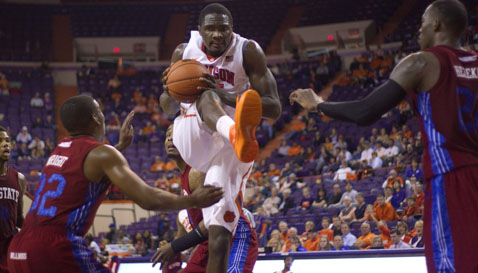 Brad Brownell

Brad Brownell
Head Coach
View Full Profile said. "To be honest, we showed a little immaturity tonight and made a ton of errors and weren't focused defensively. And they took advantage of that. But Devin Coleman shot the ball well in the first half and kept us in it a little bit."

Coleman got his first career start and made the most of the opportunity, helping the Tigers overcome a slow start to take a 34-31 lead at intermission. The Tigers trailed 20-11 with 8:39 to play in the half, and McDaniels, the Tigers' leading scorer, was saddled with a scoreless night.

The Tigers finished the half on a 23-11 run, with Coleman scoring nine of those points. Rod Hall – who added nine points, scored on a layup and free throw with 44 seconds remaining to give the Tigers the lead.

Coleman said he didn't learn of the start until Tuesday afternoon, but wanted to make the most of his opportunity.

"I just wanted to be aggressive and bring some energy," Coleman said after the game. "I just try to take advantage of things when they are there. Starting or coming off the bench doesn't matter to me. I just want to help us win. Everyone wants to play, but if I went out there and wasn't producing or playing hard, then it wouldn't mean anything. If coach wants someone else to get more minutes and that helps us win, that is fine with me."

Clemson then started the second half on a 13-6 run to push the lead to double figures and kept it there the rest of the way. Leading the way was the play of Nnoko, who was challenged by Brownell to bemore aggressive.

He took those words to heart and scored five quick points coming out the half, helping Clemson take a 44-37 lead.

Brownell said that Nnoko needs to be less of a nice guy and a little nastier on the court.

"He still has a long way to go. He doesn't realize yet that he can be a really good player," he said. "He is a nice guy, sometimes too nice. He is a hard worker. He is not the nastiest guy in the world and he needs to be tougher. He also needs to know that he is really good. In high school he wasn't really a dominant player and was more of a role player. His freshman year here he didn't get to play a lot. You go from playing a few minutes last year to almost 30 a game this year and it's a big jump, maybe too big of a jump. There are going to be games like this where he has confidence and there are going to be games where he is soft and not confident. I had to get after him in the second half and tell him to go get some rebounds and to be tough and he finally did. After that he got in little rhythm and started to play well."

Clemson entered the game leading the NCAA in scoring defense (51.3), but the 50-point mark appeared in jeopardy after the Bulldogs scored 31 points in the first half. However, after shooting 45.2 percent in the first half, S.C. State made just five of its first 21 shots from the field after halftime. The Bulldogs finished with just seven field goals for the second half, shooting 23.3 percent for the half and 34 percent for the game.

McDaniels entered the contest averaging 18.6 points per game and had scored at least 20 points in five of Clemson's seven games. Tuesday night, he shot just 3-of-10 from the field and added seven rebounds.

"He just wasn't aggressive," Brownell said of McDaniels. "Every time he came over to the sideline, I asked him when he was going to play to his strength and drive the ball. But he fell in love with his 3-pointer, and I guess with their zone he felt like he wouldn't be able to split them."

Coleman scored in double figures for the third consecutive game. He failed to score in Clemson's first five games, but has scored 10, 14 and 16 points in Clemson's last three outings.

"He has played well and has practiced well," Brownell said of Coleman. "Damarcus (Harrison) hasn't played very well of late and hasn't practiced as well. We just wanted to give him an opportunity. I know it's a big surprise to you guys because he wasn't playing a lot. I have never said he was out, and tonight we wanted to give him a shot. Jordan Roper has been out and Devin has been practicing a lot and playing well. He is coming off a couple of good games and is rolling right now, so he is probably taking minutes that Jordan had. It's a good thing for us, because we have depth and we have competition for positions. If you don't play well and don't practice well, you're going to lose minutes."

The Tigers travel to Arkansas Saturday for a matchup with the Razorbacks.

Clemson vs. SC State Game Notes

TEAM

* Clemson defeated SC State on Tuesday to move to 7-1 on the season.

* The Tigers are 5-0 at home after the win, the first time that has been achieved since the 2008-09 won its first nine in Littlejohn Coliseum.

* Clemson improved to 23-2 all-time under Head Coach Brad Brownell when holding an opponent to 50 points or less. It was the third such occurrence in eight games this season.

* SC State's 18 second half points were the second-fewest by a Tiger opponent this season. Only Delaware State had less with 14.

* Clemson improved to 30-1 all-time versus teams currently in the Mid-Eastern Athletic Conference, including 12-1 against SC State.

* The Tigers entered the game ranked among the nation's top three in scoring defense, field goal percentage defense and three-point percentage defense. All three figures for SC State were below Clemson's average entering the game.

INDIVIDUAL

* Devin Coleman earned his first career start Tuesday. It was his 29th appearance in a Clemson uniform.

* Coleman registered double figures for a third straight game, a career-long streak. He finished with 16 points, a career-high for the red-shirt sophomore. His previous high was 15 in the 2012 ACC Tournament against Virginia Tech.

* Coleman made 3-of-7 from three-point distance Tuesday, his career-high in terms of makes from behind the arc.

* Coleman played a career-high 31 minutes against SC State.

* Landry Nnoko notched his second double-double of the season Tuesday. He posted 13 points and 13 rebounds.

* Nnoko's 13 points were a career-high, topping 10 against Temple earlier this season. Nnoko missed just one field goal attempt Tuesday.

* Nnoko grabbed a career-high six offensive rebounds, the most by any Tiger since Devin Booker had six against North Carolina on Feb. 28, 2013.

* Nnoko blocked four shots in Tuesday's game, a career-high for the sophomore.

* Josh Smith posted a career-high six points and tied his career-high on the boards with seven.

* Jordan Roper returned to action after missing the Coastal Carolina game due to a concussion suffered in the Charleston Classic. He finished with four assists in 16 minutes.

* Rod Hall played 37 minutes without committing a turnover and has just seven this season in 243 minutes of play.

If you can't see the PDF below, click here to open it.