| | |
| --- | --- |
| Coach K says Clemson was more physical and athletic | |
---
| | |
| --- | --- |
| Saturday, January 11, 2014 9:51 PM | |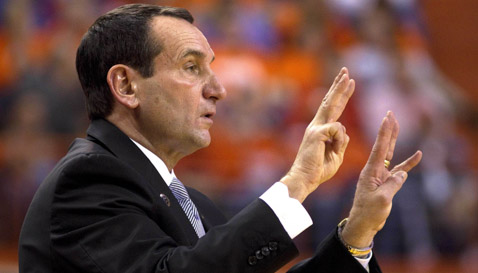 Jaron Blossomgame

Jaron Blossomgame
RS Fr. Forward
#5 6-7, 215
Alpharetta, GA
View Full Profile had his first career double-double, leading the Tigers on a 13-2 run over the final six minutes of the game – a stretch that Krzyzewski said sealed his team's fate.

"Blossomgame had an incredible game 14 and 14," Krzyzewski. "He hit a couple of big three's in there, which I kind of think turned the tide definitely in their favor. There were about four three-pointers – those two and then two off of offensive rebounds – right in that period where it was 50-50 or 48-46 where you have a four or five point lead and you get the defensive rebound, you have a chance to go up seven or eight. Instead they get a three-point play off of an offensive rebound and it's a two-point game. They did that twice. That's how games change. That's where their determination, especially on the boards – they killed us 48-30."

However, K.J. McDaniels

K.J. McDaniels
Jr. Forward
#32 6-6, 200
Birmingham, AL
View Full Profile and Landry Nnoko

Landry Nnoko
So. Center
#35 6-10, 245
Montverde, FL
View Full Profile made plays on the defensive end of the court, leading Krzyzewski to say that the Tigers may have one of the best defenses in the country.
"I just think that they are a really good defense – one of the best in the country," Krzyzewski said. "Brad is a really good coach. He has a group that he loves and they look they are really together. They block shots. We got past them five or six time where in normal games, we are able to score and all of a sudden McDaniels or Nnoko they made big plays. They have done that during the year and that's one of the reasons they are such a good defensive team."
Krzyzewski wasn't surprised by the intensity of Clemson's players or crowd, saying that his team will get every opponent's best shot because of what the Blue Devils have done in the past.
"Guys play hard. Duke doesn't own the patent to play hard, nor does any team in the United States. They played hard, but what we have to understand is that whenever we play, we will probably get a team's best shot," Krzyzewski said. "They probably didn't have pom poms here on Thursday night. It wasn't a packed house. That's nothing against Clemson – that's not a knock on the crowd. They came out and they were great. What I'm saying is that's what we get. That's what I've gotten for 25 years and I understand that. My team has to understand that. When we see a team on tape, it's not necessarily the team or the crowd that's going to show up for our game. Again, they were outstanding – their crowd, everything. They were obviously the most deserving of winning."
Krzyzewski went onto say that the Clemson fans need to continue to support their team because of the product that Brownell's team is putting on the court.
"We're used to tough atmospheres," Krzyzewski said. "They should do it all of the time. If they like it, why not do it all of the time? Their team is playing great. Their team is playing their butts off. It would be good for them. We usually get a team's best atmosphere. We usually get a team's best effort."
Krzyzewski ended his portion of the press conference by calling McDaniels one of the best in the ACC.
"McDaniels is one of the best players in the league. He's the best athlete. He's also an outstanding player."