| | |
| --- | --- |
| Clemson's young "trees" growing up | |
---
| | |
| --- | --- |
| Wednesday, January 15, 2014 12:30 PM | |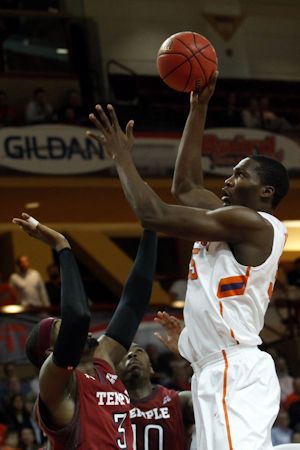 CLEMSON – The improved play of Clemson's three big men, especially Landry Nnoko

Landry Nnoko
So. Center
#35 6-10, 245
Montverde, FL
View Full Profile , has been an important part of Clemson's 2-1 start in the ACC and head coach Brad Brownell

Brad Brownell
Head Coach
View Full Profile expects his three trees to get even better as the season progresses.
Nnoko had 10 points, 13 rebounds and seven blocks in his first career double-double in Clemson's win over Duke last Saturday, and he is averaging 5.7 points per game, seven rebounds per game and is second on the team with 27 blocks, providing a defensive presence around the rim.
Brownell said Tuesday that it was good to see the 6-10, 255-pounder out of Cameroon respond to coaching.
"He was good. The rebounding and the put-backs were tremendous," Brownell said. "He has had a few games where he got some rebounds and he didn't finish. Those are things we are working on with him. We went to him a couple of times because he was bigger than the Duke players. When they moved Jabari Parker to the five we wanted to go at that a little bit. Defensively, he has just been great and when he can stay out of foul trouble it helps us tremendously because of his length and his ability to defend the rim. His rebounding is pretty good – he is getting seven rebounds a game in 23 or 24 minutes a game and that is pretty solid. We just needed him to defend and rebound and scratch out a few points."
Sidy Djitte

Sidy Djitte
Fr. Center
#50 6-10, 240
Fayetteville, NC
View Full Profile , a 6-10 freshman out of Senegal, is averaging just under 10 minutes per game but is still hauling in 3.8 rebounds per contest, impressing his head coach.
"I think Sidy rebounds the ball at an extremely high rate and has a nose for it and hunger for it," Brownell said. "Defensively, he is pretty solid for a young guy in the post, fighting in there and being physical. Offensively, it has been a little more of struggle just remembering plays and his offensive skill set needs work. But he has done a solid job and has that physical presence that I think is significant."
Ibrahim Djambo

Ibrahim Djambo
Jr. Forward
#42 6-10, 215
Poplar Bluff, MO
View Full Profile , a 6-10 junior college transfer, is averaging 11.5 minutes per contest but has struggled offensively, something that has surprised Brownell.
"Ibrahim has probably surprised me a little bit the other way. You know, he is a really good shooter and can shoot 3-pointers," Brownell said. "In the fall, he was shooting the ball unbelievably well. We would do drills, and he would just shoot the ball at a high level. He would make 10 3-pointers and be in the top four or five guys on the team getting done. He just shot the ball really well. We knew that his strength would be a problem, but we hoped that with him being older he would be able to overcome some of that. Right now, that has been a problem and probably a bigger problem than we anticipated. He hasn't figured out a way to use his length to offset some of his physical limitations."
He then said that he thinks the speed of the game has affected Djambo, but he also thinks his big man will come around eventually.
"The speed of the game has probably been a step faster than he is used to, and that has contributed to some missed shots and him being a step behind on defense or a rebound or whatever it is," Brownell said. "He is a little bit behind where I thought he would be, but I am optimistic he can turn it around. But the junior college players I have coached have been inconsistent at first, and they've kind of hit their stride in the second semester of their first year and then their second year is when they play the best."