| | |
| --- | --- |
| Clemson AD: New contract in the works for Brownell | |
---
| | |
| --- | --- |
| Monday, May 12, 2014 2:39 PM | |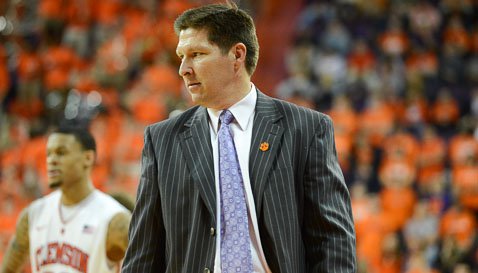 CLEMSON – Brad Brownell

Brad Brownell
Head Coach
View Full Profile will shortly receive a new contract from Clemson University and Athletic Director Dan Radakovich is working on finalizing plans that would give Brownell and his troops a better place to play.
In four seasons at Clemson, Brownell has compiled a 74-58 record and taken the Tigers to one NCAA Tournament and one NIT berth. He is the first in Clemson coaching history with a career .459 winning percentage (34-40, including conference tournaments) against ACC competition.
Last season, Brownell took a Clemson team that was picked to finish 14th by the ACC media and guided it to a sixth place finish during the regular season. The Tigers earned a berth in the NIT, eventually losing in the semifinals of the tournament to SMU in Madison Square Garden.
Clemson improved by 10 wins over 2012-13, matching the school record for the best single-season improvement. The Tigers also doubled their conference win total over the previous season, becoming just the fourth team in Clemson history to reach double digit ACC wins.
Three years ago, the university and Brownell reworked Brownell's original deal, which was set to expire following the 2015-16 season; the current deal will run through 2016-17 and pay $1.2 million annually, a $300,000 raise from his original $900,000 salary.
TigerNet spoke with Radakovich, and he said that while he wouldn't get into specifics of the new deal, there was one in the works.
"I think the basketball program is moving in a very positive direction," Radakovich said. "At this point, about all I can say is that we are working with Brad and his representatives to work towards a new deal."
The university also hopes that planning for renovating Littlejohn Coliseum will begin to move forward in the next few weeks. The renovations will begin in 2015, and Clemson will play the 2015-16 season off campus.
"The schedule moving forward is that the selection of the architect of record will occur later this month," Radakovich said. "Later this month, a selected group of folks here on campus will get together and hear presentations from the short-listed group of architects and an architect of record will be chosen. Shortly thereafter, we would hope to send out an RFQ out onto the street to select a contractor and go through that process and hopefully have the contractor on board before the summer. That way the contractor and the architect will be able to work together in coming forward with ideas and designs and costs and timing associated with this renovation."