| | |
| --- | --- |
| Can Clemson pull off the upset at No. 2 Virginia? | |
---
| | |
| --- | --- |
| Tuesday, January 13, 2015 1:07 PM | |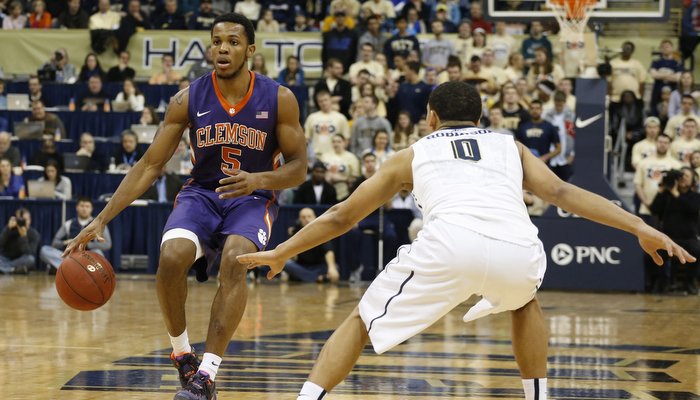 On the heels of the Tigers first ACC win and road win against the Pitt Panthers, the season doesn't get any easier as Clemson (9-6 overall, 1-2 ACC) travels to Charlottesville for a Tuesday night tilt with Virginia (15-0, 3-0 ACC).
The Cavaliers are undefeated this season and are ranked second in the country, coming off of a 62-56 victory at Notre Dame Saturday night.
GAME SETUP
CLEMSON at VIRGINIA
Date: Tuesday, Jan. 13
Tipoff: 8 p.m. ET: John Paul Jones Arena (14,593)
Radio: CTSN (Tony Castricone-pbp; Tim Bourret-color)
TV: ACC Network (Steve Martin-pbp; Eddie Fogler-color)
Clemson head coach Brad Brownell

Brad Brownell
Head Coach
View Full Profile claimed his 250th career victory as his team defeated the Panthers 71-62 in a complete team effort Saturday that saw eight different players score and the Tigers own a plus-17 rebound margin over Pittsburgh (39-22).
Brownell told the media Monday morning that he hopes Saturday's victory will serve as a springboard as Clemson continues through a brutal five-game stretch to open ACC play.
"We're coming off of a really good win at Pitt and we're in a really tough stretch where we opened with Carolina, went to Louisville on Wednesday at nine and turned right around and had to play at Pitt at noon," Brownell said Monday. "I thought our guys were really ready to play and played with great spirit. We made some shots, which we haven't been able to do in some games. That really kept us energized throughout the 40 minutes. We had good play from our bench in that game and that really helped us with a great win over a good Pitt team."
However, Tuesday night's contest against the Cavaliers will prove to be even more challenging as Virginia has three players who average 12 points or more per game – Anthony Gill (12.0 ppg), Malcolm Brogdon (13.0 ppg) and Justin Anderson (14.9 ppg)/ The Cavs are also good on the defensive end, giving up 51.1 points per game to opponents.
"Virginia is really good and is defensively as good as anybody that we'll play," Brownell said. "There are a lot of different styles to play against and they just don't give you anything easy. You're going to have to make some perimeter shots when you play them. I'm sure there's some reason as to why we played so well in that game [two years ago] and shot it so well. We've had some good games with those guys. We got smashed up there one year but hopefully our guys will have some positive momentum from our game against Pitt. We actually played them well last year here in a close game without Landry Nnoko

Landry Nnoko
Jr. Center
#35 6-10, 255
Montverde, FL
View Full Profile who was sick. Hopefully we can match up and give them a good game."
Brownell said that Virginia employs a similar defensive style to Pitt in that the Cavs like to trap the post player and force teams to take outside shots. Brownell said he hopes that his big men – Landry Nnoko, Sidy Djitte

Sidy Djitte
So. Center
#50 6-10, 240
Fayetteville, NC
View Full Profile and Josh Smith

Josh Smith
Jr. Forward
#33 6-8, 245
Charlotte, NC
View Full Profile – will find the same success lthey did against the Panthers.
"We haven't gotten trapped too much this season so far but we certainly anticipated that with Pitt and did some things in practice to hopefully be able to execute some things," Brownell said. "I thought our guys did well. Certainly, Virginia traps the post a great deal and so if we do throw it in there we've got to be able to kick it back out and make some plays. That's an encouraging sign for us that they were able to do it against Pittsburgh and hopefully they'll be able to continue that if Virginia does the same thing."
Clemson's bench contributed 23 points in the winning effort Saturday night and Brownell said that he will need a similar effort Tuesday night if Clemson is to pull off its highest-ranked road victory since 1976, when they knocked off No. 2 Maryland 82-77.
"It was terrific. It was a big boost. Our bench hasn't played as well this year as we would like," Brownell said. "Those guys did a great job physically. Sidy and Josh did a great job around the rim and rebounded and were aggressive and played through some contact, which I thought was really good. Just to see them finish a few plays, I think was really good to energize our team. Our starters feel like they need a little boost from our bench. Jordan Roper

Jordan Roper
Jr. Guard
#20 6-0, 165
Columbia, SC
View Full Profile gave us some shots at the beginning of the game early in the half to kind of give us some energy and then those guys in the second half, I thought were outstanding. That certainly helped our team a tremendous amount."