| | |
| --- | --- |
| Brownell talks loss to Notre Dame, missing the postseason and recruiting | |
---
| | |
| --- | --- |
| Thursday, March 19, 2015 3:41 PM | |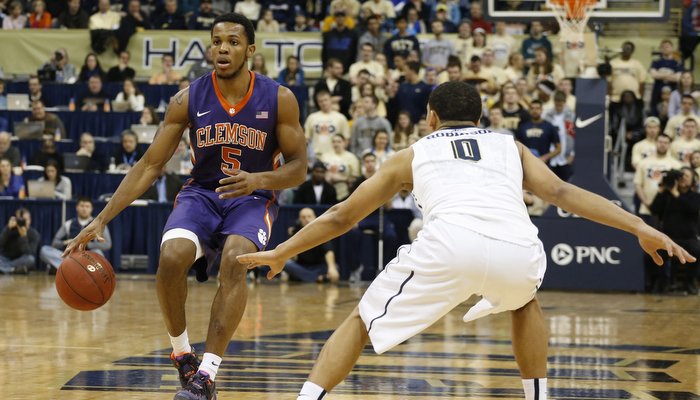 CLEMSON – Most Clemson fans will point to early-season losses like the ones to Gardner-Webb, Rutgers and South Carolina as proof the Tigers were never really a team worthy of the NCAA Tournament, but head coach Brad Brownell

Brad Brownell
Head Coach
View Full Profile told the media this week that he thinks a late-season loss to Notre Dame is what derailed the Tigers' season.
The Tigers lost seven of their last nine games, including a one-and-done trip to the ACC tournament. The second of those seven losses was against the Irish in a February 10th matchup in Littlejohn Coliseum as Clemson squandered late opportunities in what would be a 60-58 loss. The loss dropped the Tigers to 6-6 in the conference and they never recovered while the Irish went on to win the ACC Tournament.
"For whatever reasons, I feel like the air kind of went out when we lost to Notre Dame a little bit," Brownell said Tuesday at his final press conference of the season. "Certainly I feel like if we get that win and win that game you have a chance to get into the NCAA Tournament and could get in the tournament with the last couple of games. It didn't happen."
The losses began to mount, and a team that had NCAA dreams began to see hopes of a berth in the NIT begin to slip away. The Tigers made the Final Four of the NIT following last season, and many teams use an NIT run as springboard to a berth in the NCAA Tournament.
This season, neither invite materialized.
"Guys really wanted to make the (NCAA) tournament. We wanted to take the next step," Brownell said. "We wanted to do better than we did the year before. Obviously we started the year poorly and we rebounded from it pretty well. We got ourselves together and beat LSU and that gave us a lot of confidence and we played well in some games. We just didn't know how to finish games, especially early on. We kind of folded."
However, Brownell says the team wasn't as bad as people think.
"Sometimes it's like we were just awful this year because of the way we ended," he said. "It's more of the disappointment that we could've taken this to the end of the season maybe with the chance to make something special happen and we didn't do it. That's what frustrates me the most."
The good news is that leading scorer Jaron Blossomgame

Jaron Blossomgame
RS So. Forward
#5 6-7, 215
Alpharetta, GA
View Full Profile will be back next season, a first for Brownell who has lost his leading scorer following each season.
"That has been one of the challenges since I've been here is losing our leading scorer every year and kind of having to retool our offense in terms of what we are going to do and who we are going to go to," he said. "It's strange that it's my sixth year and it's taken this long. I am really proud of Jaron. I thought he would make a jump but he had a better season than I thought. I am excited to have him for two more years and he will be the center piece of what we try to do offensively."
Other notes
On whether the offense will run quicker next season
"I do think Avry (Holmes) is a little faster than Rod and I think that will help us play a little faster at times. That is one of things with Rod the last couple of years - he's not as fast and that probably hurt us a little bit in getting a few more easy baskets occasionally. I think that can change a little bit. I think we will continue to push and shoot early."
Recruiting and some early misses
"Certainly we are recruiting the best players we think we can get. We have tried on some high-level guys and we just haven't been successful with some. Now I would argue that Donte Grantham

Donte Grantham
Fr. Forward
#15 6-8, 205
Martinsburg, WV
View Full Profile was a pretty high-level guy. Jaron Blossomgame was a high-level guy. I think our recruiting is getting better and has gotten better each year. I kind of said that two or three years ago, that by getting the job a little late and not being a high major guy there is going to be a year or two learning curve for me to catch up to some of the people we need to catch up to. Maybe some of our classes reflected that. I think our recruiting, especially the last couple of years, has been on par. Donte and Jaron are my two best players, so my two most productive guys are young players. I think we are getting better in recruiting, and we're getting involved with better players. We get some, we don't get some and that is normal. I think our recruiting over the last two years has been better than we've been given credit for."