| | |
| --- | --- |
| Brownell says Tigers need to get better defensively in order to knock off FSU | |
---
| | |
| --- | --- |
| Friday, January 31, 2014 7:09 PM | |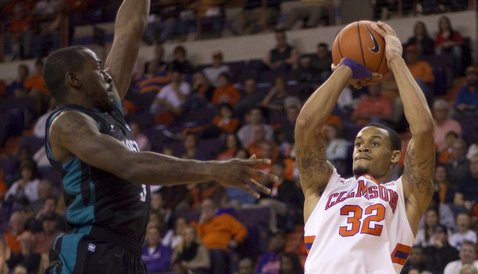 CLEMSON – The Clemson basketball team ends a three-game road swing Saturday afternoon at Florida St. having lost the first two games by a combined score of 156-104.
The Tigers have also lost the last five meetings against the Seminoles, including a 56-41 loss early in January in Littlejohn Coliseum. In that game, the Tigers shot just 30 percent and committed a season-high 18 turnovers.
Florida State is also coming off two straight losses - the 'Noles lost at Duke, 78-56, and at NC State, 74-70.
In other words, something has to give Saturday.
GAME SETUP
CLEMSON (13-6, 4-3 ACC) vs. FLORIDA STATE (13-7, 4-4 ACC)
Tipoff: 3:05 p.m.
Arena: Tucker Center (12,100)
Radio: CTSN (Pete Yanity-pbp; Tim Bourret-color)
TV: ESPN2 (Mark Jones-pbp; Sean Farnham-color)
Tiger point guard Rod Hall

Rod Hall
Jr. Guard
#4 6-1, 210
Augusta, GA
View Full Profile told the media Friday afternoon at Littlejohn that the Tigers have to cut down on the turnovers if they want to steal a win on the road.
"We've just got to make smarter decisions and get a good shots when we have a chance to and don't pass up a good shot and try to make something else happen," Hall said. "That's how we made so many turnovers we had. We'd pass up a shot and try to make something else happen."
Clemson head coach Brad Brownell

Brad Brownell
Head Coach
View Full Profile said he was proud of his team's defensive effort that night, but that poor shooting and turnovers were the deciding factors.
"Competitively, we were fine. We competed, we defended pretty well, we were on the boards in a lot of ways, but we just turned the ball over and couldn't get shots," Brownell said. We need to play better, certainly. We need to get our mojo back a little bit, just from the standpoint of believing that we're good and that we can compete with people, playing the kind of basketball that we need to play. We've gotten away from that a little bit."
Clemson is still one of the nation's top defensive teams, but in Clemson's loss at Pittsburgh the Panthers shot 56 percent from the field and 53 percent from 3-point range. At North Carolina last Sunday,, the Tar Heels knocked down 55 percent of their shots from the field and 44 percent from beyond the arc.
"Certainly, the way the game has been played and us having to play uphill has been hard," Brownell said. "I think, as that's happened, for whatever reason, we've kind of lost some -- in the middle of the game, we've lost what is it we're trying to do. Some of that happens with younger teams."
Brownell then said that Florida St. is tough for the Tigers because they can match Clemson's size and athleticism.
"They're so athletic and they're so long and their positioning is very good. They make it hard on you," Brownell said. "Like a lot of good teams, when they get in a good mindset, really getting after you, their length around the basket is a problem. They have versatile players that can do a lot of things defensively."