| | |
| --- | --- |
| Brownell says Tigers haven't played as poorly as some think | |
---
| | |
| --- | --- |
| Wednesday, March 11, 2015 6:01 AM | |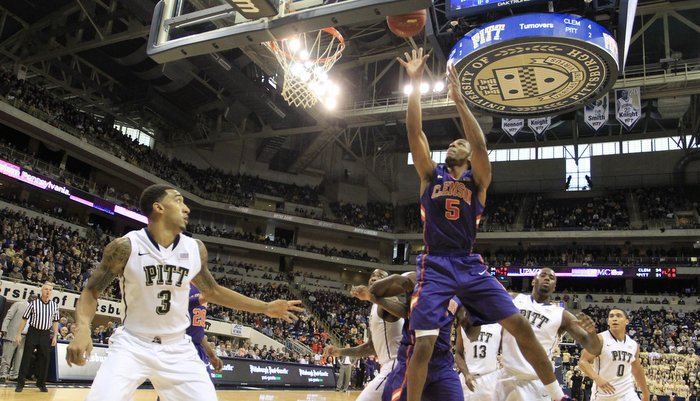 CLEMSON – Wednesday begins a new season for the Clemson basketball team.
The Tigers ended the regular season by losing six out of their last eight conference games and will enter Wednesday's ACC Tournament clash as the eight seed and they will take on ninth-seeded Florida St. in a noon tipoff in the Greensboro Coliseum. The Noles' had lost three in a row before knocking off Pitt in the regular season finale.
GAME SETUP
8-Clemson (16-14, 8-10 ACC) vs. 9-Florida State (16-15, 8-10 ACC)
Date: Wednesday, March 11
Tipoff: 12 p.m. ET
Arena: Greensboro Coliseum (23,500)
Radio: CTSN (Tony Castricone-pbp; Tim Bourret-color)
TV1: ESPN (Sean McDonough-pbp; Shane Battier-color; Allison Williams-sideline)
TV2: ACC Network (Tim Brant-pbp; Mike Gminski-color)
The Tigers split the season series with the Seminoles – both teams won on the opponent's home court – and whichever team can earn the win will face top-seeded Virginia on Thursday.
Jaron Blossomgame

Jaron Blossomgame
RS So. Forward
#5 6-7, 215
Alpharetta, GA
View Full Profile , Clemson's leading scorer, told TigerNet Monday that anything can happen in a conference tournament and the new season that presents itself.
"We have the great teams like the Virginias and the Dukes, but in tournament play, anything can happen," Blossomgame said. "It's kind of like the NCAA tournament where all the lower teams are beating the higher seeds. Furman is playing Wofford (Monday) for the (Southern Conference) championship and they finished in last place in their conference."
Head coach Brad Brownell

Brad Brownell
Head Coach
View Full Profile said his team should be excited about the opportunity to not only get the season back on track, but maybe gain a postseason berth.
"This time of year you should be excited," Brownell said. "This is a chance to go do something special. We're playing in one of the great tournaments in college basketball and certainly there's a lot of things to look forward to. The first game is Florida State. If you can build some positive momentum with a win there then you never know what can happen."
The Tigers used a four-game winning streak and jumped out to a 6-4 mark in league play before offensive woes led to the six losses in the last eight games. However, Brownell said the Tigers haven't played as bad as people think.
"I don't think we've played as poorly as maybe people on the outside think," Brownell said. "I thought we really defended pretty well for much of the N.C. State game and it got away from us a little bit in the second half. Offensively it got away from us in the second half and you can't beat N.C. State that way. I thought we took advantage of the advantages we had offensively in South Bend. We got the ball inside and we knew we were bigger. That is what we wanted to do. I thought we played reasonably well for stretches but offensively they were too talented for us."
Now Brownell and the Tigers have to concentrate on what will surely be a physical matchup against the Seminoles.
"Very physical every time we play Florida State," Brownell said. "It's hard to score the basketball. Both teams know each other very well because we play twice every year. They have great length and size and do a really good job on defense as well. Points are hard to come by. It might come down to somebody has a hot hand or which team creates a little bit of easy baskets off turnovers."
Standing in the way of a Clemson win will be Seminole freshman guard Xavier Rathan-Mayes, who averages 14.4 points per game.
"You have an idea of what to do (against Rathan-Mayes), but he's just really talented," Brownell said. "He's got great size. He's almost 6-4 and he's got speed. That's what makes him different than most guys, his ability to get away with speed. He's an improving decision-maker along the lines of a (first-team All-ACC Notre Dame guard) Jerian Grant."
A Clemson win sets up a matchup against the top-seeded Cavaliers (28-2, 16-2) on Thursday at noon.
"Obviously if you win you get to play in more significant games," Brownell said. "That's what's fun about this time of year. If you win a game, the next game will be even bigger. If you win that game, the game after that is bigger. You have to deal with the pressure that comes with that, but if you're a competitor that's what you want to do."