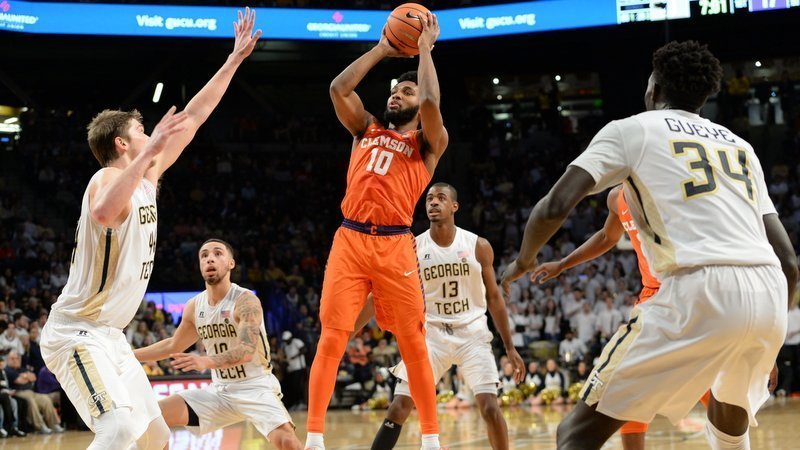 | | |
| --- | --- |
| Brownell says Tigers have plenty of fight despite losses | |
---
CLEMSON – Brad Brownell's 15th-ranked Clemson team has suffered blow after blow in the last few weeks, but with the stretch run of the ACC season continuing Wednesday night at Virginia Tech, his squad still has plenty of fight.
Clemson (20-6 overall, 9-5 ACC) travels to Blacksburg to take on Virginia Tech (19-8, 8-6 ACC) in Cassell Coliseum in a key ACC matchup. The Tigers have suffered two losses in a row but still sit fourth in the ACC standings, a game ahead of the Hokies. •The two-game skid for Clemson is the first time the Tigers have lost back-to-back games in the regular season since nearly a year ago on Feb. 21 and Feb. 25 of 2017.
The Tigers will be without the services of point guard Shelton Mitchell, who will miss his second consecutive game after taking a blow to the head in last week's game at Florida St. Mitchell is still in concussion protocol, but Brownell hopes to have him back by Saturday when Clemson hosts Georgia Tech.
"First off, Shelton is not going to play tomorrow night. He's not ready and we're hopeful he'll be fine by the weekend," Brownell said. "He needs to be able to do some more things, so we're going to leave him back here and let him have a couple of more days, which I think is a good decision. We'll push forward without him.
"He obviously would've loved to have been out there Sunday, but that wasn't going to happen. It's hard to be disappointed when you know you really can't be out there. I'm sure this one will be a little tougher just from the standpoint that you'd like to go out there with your guys and play. You only get 30 or 31 opportunities to do this and guys put in a lot of hard work to get to play in those games. Then you miss one or two and that's disappointing, but it's something we all deal with."
Brownell said the Hokies are playing well.
"Big game against Virginia Tech. Playing very well. Very difficult place to play," he said. "I'm a big fan of their point guard, Justin Robinson. I think he's an outstanding player and one of the best point guards in our league. Super fast, makes shots, makes other players better. They do a great job of shooting the three, spreading you out. They play a little bit of small ball at times. From watching film and listening to Buzz (Williams) a couple of times, I think they've put a lot of time on their defense here lately and I think it shows. They're playing very good defense, especially in the game against Virginia. I thought that was an unbelievable win on the road. Hands full, but another big ACC game on the road."
The game is crucial for a team that wants to finish in the top four spots, but Brownell said he just wants his team to play better than it has in the past two games.
"Sure it all matters, but I think our guys just want to go play well. We've been playing extremely hard," Brownell said. "I told our team yesterday that last week is just one of those weeks where sometimes you work hard in life and it doesn't always pay off with wins, and that's the hard thing about sports. I thought our guys had great preparation in our practices and meetings all last week. I thought we competed extremely hard in both games but we had a lot of basketball errors and that cost us two wins or opportunities for two wins.
"I'm really proud of the way our guys have been able to stay focused and compete. The Duke game was a very, very physical game. Very emotional game in terms of guys dealing with some different things because of being put into some different positions by not having Shelton and then the way the game was played. I thought the two teams really went after each other. I think Coach (Mike) Kryzezewski felt the same way about the game. That was a high-level ACC game, very physical and our guys, I was proud of the way they competed in the game. We've got to try to clean things up and play better basketball to win these games against high-level teams in our league."
Despite the back-to-back losses and the loss of Donte Grantham and Shelton Mitchell to injury, Brownell says his team is in good spirits.
"I don't see that out of our guys. I think that's one thing, we were really ready against Duke," Brownell said. "We should've been. We had a great atmosphere and electric crowd. I think our guys were fine yesterday other than being a little tired, but I'm hopeful we'll kind of recharge the battery here. We had a light practice yesterday, fairly light today, but we've got to get our battery going back here tomorrow. That's one of the things I'm concerned about is just having enough juice to play for 40 minutes that we need to play in a game like this."

Upgrade Your Account
Unlock premium boards and exclusive features (e.g. ad-free) by upgrading your account today.
Upgrade Now