| | |
| --- | --- |
| Brownell recaps the season, talks next year's goals | |
---
| | |
| --- | --- |
| Thursday, April 10, 2014 10:44 AM | |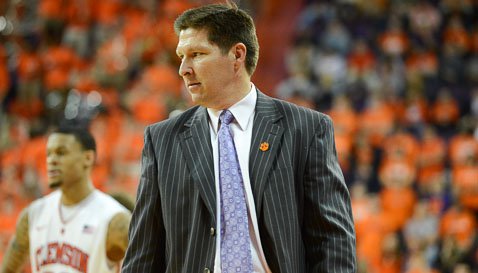 CLEMSON – Brad Brownell

Brad Brownell
Head Coach
View Full Profile isn't the kind of coach who hangs up promotional posters in the locker room, and he said Wednesday that he isn't going to hang pictures of NCAA Tournament brackets in players' lockers as an incentive for next season.
However, he did admit that the NCAA Tournament is always the goal, a goal that would be a logical next step for a team that went from winning 13 games the previous season to 23 this past season, advancing to the semifinals of the NIT in New York.
Brownell faced the media Wednesday afternoon in Littlejohn Coliseum, and he said he was proud of what the team accomplished.
"I'm really proud of our players and coaches," Brownell said. "Last year was really difficult for all of us, but even though we finished poorly last year, I didn't feel we were as far away as most. I had confidence in the development of some of our younger players, and them making the next step.
"I really want to credit K.J. and Rod (Hall) for their leadership this year, because that was one of the areas of concern I had, about positive voices from the team giving good messages of work and accountability and belief. And those guys did that."
He then said that the team-specific goals will develop once the Tigers return to Clemson this summer and begin their school work. However, he did admit that the NCAA would be the next step in the process.
"I don't know yet what our goals are," Brownell said. "We certainly want to take the next step and make it to the NCAA tournament, but everybody wants that. I'm not as big as some people are about setting big, broad goals all the time.
"You just have to work to get better, and you have to identify things in your program that you want to be better at, both individually and collectively as a team. Like three-point defense was an area that we set out to get better at this year, and we achieved it. We'll have to analyze a lot of film and think about our team."
Brownell credited last summer's skill development sessions and the August trip to Italy with setting the stage for this year's sixth place finish in the ACC and postseason run.
"Our players and coaches worked hard, beginning last spring with our skill development," Brownell said. "And I want to thank our administration for giving us the opportunity to take trip to Italy, because I thought that was vital. That trip is when we started to lay the foundation of team, and lay out some roles for guys.
"From there, I think we built great confidence and got ourselves ready. We didn't believe what other people said about our team, and we believed in each other. Then as the games went on, we gained confidence with some early-season wins, and our tough-mindedness allowed us to win some close games."
He was also proud of how coachable this year's team proved to be.
"As a coach, you're proud of your team for playing to your potential, for being unselfish and for believing," he said. "This team did that. They were coachable every day, they came to practice, and they really wanted to work. Our practices were long and competitive, and I think that competition paid off for our team."
He again cited the leadership of Hall and McDaniels, and said what the Tigers accomplished this season was accomplished with a "true team."
"There are a lot of teams out there wearing the same jerseys but there aren't as many true teams out there as you might think," he said. "That's one thing that we had - we were a team. We had guys who were unselfish and guys who accepted roles.
"We had guys who did their jobs, who were glad to do their jobs and who accepted their jobs, without trying to do more than that. And the guys got along really well. Because of that, we played as close to our potential on most nights as most people."