| | |
| --- | --- |
| Brownell on facing 5th-ranked Cards: "We need to play better right now" | |
---
| | |
| --- | --- |
| Wednesday, January 7, 2015 7:01 AM | |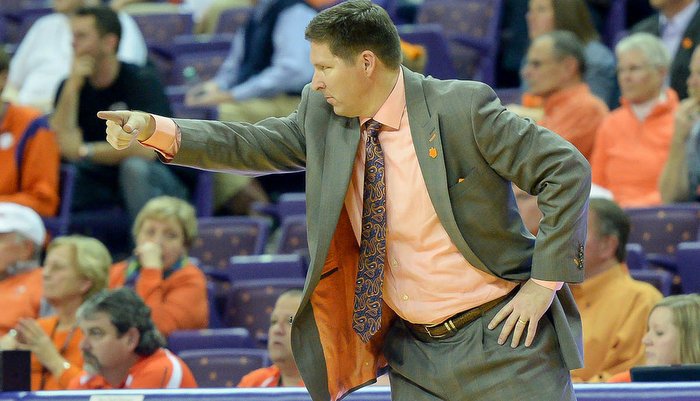 CLEMSON – During a press conference in Littlejohn Coliseum Tuesday morning, head basketball coach Brad Brownell

Brad Brownell
Head Coach
View Full Profile sounded like he was discussing a football offense that gets too tight in big games.
Brownell spoke to the media to preview this week's slate of games, and he said that his own offense gets too tight in pressure situations.
The result?
"We abandon the run and just start passing every time," Brownell said, sounding like a fan at the Esso Club after a big loss. "Eventually the ball gets intercepted. We don't stay with what we've been doing that could work."
Clemson's offense took too long to get going last weekend, squandering an early offensive funk by North Carolina by going into a funk of its own in what would eventually be a 74-50 home loss. It doesn't get any easier for Brownell's young squad (8-5, 0-1 ACC), which makes the trek to Louisville tonight to take on the Cardinals (13-1, 1-0) In a 9 p.m. tipoff on the ACC Network.
Brownell said that in order for the Tigers to escape with a tough win on the road, a fast start will be in order.
"I don't understand why some of the guys are a little bit as fragile as they seem to be, but they just are a little bit right now, and when you're playing these kind of teams, the good start just gives you confidence," Brownell said. "You see the ball go in and it changes the flow of the game much more than people understand. If you hang for a while, at some point (the other team) can go through a cold spell or you can make a couple of good plays that turn around your way and get some momentum. You can have a shot at the end. We need to play better right now. If you don't get off to a good start and set the tone, it just gets you into a heck of a hole. We need to take care of the ball early and try to rebound physically and then we're going to have to make a couple shots."
The Tigers committed just eight turnovers against the Tar Heels – reversing a disturbing recent trend – but will have to contend with Louisville's full-court press, a press that Brownell says is different from the press employed by Arkansas earlier this season.
"It's not as much risk-reward. It's more safety pressing, but it's not really safety pressing because of the way their guards can bother you. They don't take a lot of chances," he said. "They're just putting extreme pressure on you to get the ball inbounds and extreme pressure to bring it up against some of the best ball hawks you'll go against. It is really good, maybe harder to deal with than the others. It'll be a big factor in the game in terms of how our guards handle it."
The 5th-ranked Cardinals have four players averaging double figures. Terry Rozier leads the Cards in scoring with 17.1 points per game, while Montrezl Harrell ranks second with 16.7 points. Wayne Blackshear ranks third on the team in scoring with 12.6 points per game and Chris Jones averages 12.1 points. The Cardinals are solid on the boards, Harrell leads the team with 9.5 rebounds per game while Rozier ranks second on the team with 5.6 rebounds per game.
Clemson is 0-3 all-time against Louisville, but the two programs haven't faced off since a 2006 NIT game. This is the first meeting between the two programs with Louisville as a member of the ACC, and Brownell thinks his team can make it a tight contest.
"They're very good. And in their own building they're great, but we can give them a run," Brownell said. "The good start is really important for us to hang around and build confidence throughout the game."
GAME SETUP
Clemson (8-5, 0-1 ACC) vs. No. 5/5 Louisville (13-1, 1-0 ACC)
Date: Wednesday, Jan. 7
Tipoff: 9:06 p.m. ET
Arena: KFC Yum! Center (22,090)
Radio: CTSN (Tony Castricone-pbp; Tim Bourret-color)
TV: ACC Network (Tim Brant-pbp; Dan Bonner-color)