| | |
| --- | --- |
| Brownell hopes new hoops facilities will bring energy to Clemson program | |
---
| | |
| --- | --- |
| Tuesday, March 17, 2015 5:12 PM | |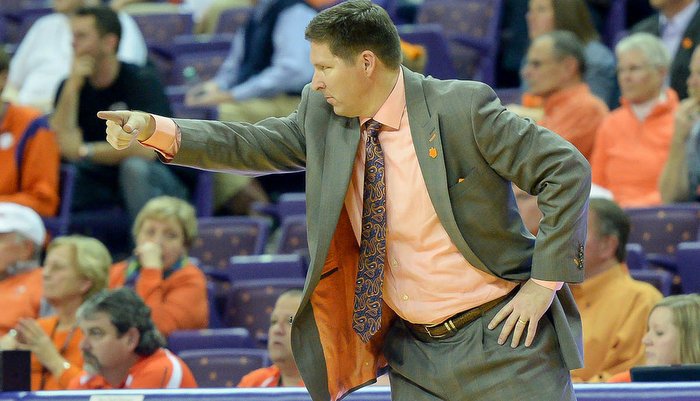 CLEMSON – Clemson head coach Brad Brownell

Brad Brownell
Head Coach
View Full Profile understands the fans' frustrations with the recently-completed season, but he hopes new facilities and better recruiting will create the same kind of buzz around the basketball program that the football program currently enjoys.
Brownell spoke to the media Tuesday afternoon in Littlejohn Coliseum, and he said that the plans to replace Littlejohn Coliseum will pay off in the long run even if they don't mean that much on the current recruiting trail.
"I think it will. It's not something that is wowing guys right now when we show them a photograph," Brownell said. "But I do think it will mean more and guys will understand it more when guys come to Clemson and we aren't here. If they want to watch us play they are going to have to go to Greenville. They are going to see digging and new things going up and I think that will create some excitement. I also think you have to create some excitement within your program."
Brownell pointed to the football program's new amenities as something he wants to see for Clemson basketball, and he said he thinks the school's commitment to basketball will help energize his players.
"That is one of the things you notice with football - it's 'what can we do to be better and what can we help them do to be better?' I think there's an excitement level and there is a feeling in football like, 'we are making positive change.' They see the new locker rooms and they see the new dining hall and see a new recruiting center," Brownell said. "They see all these things that happen. Every year they come back and there's something different and new for them. Well, there hasn't been anything new for me. More than me, there hasn't been anything new for my players.
"And pretty soon and after a while that is hard on your players. That is what is going to be exciting about it - the guys on the team will feel good about being Clemson basketball players and really good about 'hey we want to be really good at basketball here.' We are spending $62 million and I think it's going to be great and I think it's going to be a fantastic arena and environment for fans. They are going to do as much as they can to make it fan-friendly and make it to where the people who come to the games enjoy the experience. Certainly new locker rooms, practice facility, weight rooms and training rooms - all those things are things that are necessary. We have OK facilities now, but to be on par with the teams that people want us to be we have to improve and I think that's going to really help."
Clemson didn't received a bid from the NIT this past Sunday and finished with a 16-15 record after being eliminated by Florida State, 76-73, in their first game of the Atlantic Coast Conference Tournament last week.
Clemson had an RPI (Ratings Percentage Index) of 106 and went 2-7 against teams in the Top 50 of the RPI, but had six losses against teams with an RPI of 101 or higher. Part of the team's downfall was a 2-7 finish that sealed its fate.