| | |
| --- | --- |
| Brownell: "We could taste the NCAA Tournament" | |
---
| | |
| --- | --- |
| Saturday, March 15, 2014 12:23 AM | |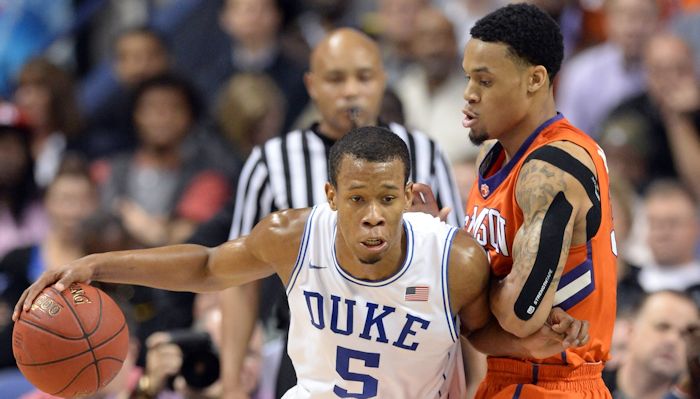 Rod Hall

Rod Hall
Jr. Guard
#4 6-1, 210
Augusta, GA
View Full Profile 's runner in the lane had just given the Tigers a 62-61 lead over the Blue Devils with 7.8 seconds remaining, but Duke pushed the ball up the court and K.J. McDaniels

K.J. McDaniels
Jr. Forward
#32 6-6, 200
Birmingham, AL
View Full Profile was called for a foul on Rodney Hood. Hood calmly sank both free throws for the winning points.

A timeout allowed the Tigers to set up a play, and Hall drove the length of the court but was knocked to the floor as time expired. Hall looked around for the officials and a possible foul call, but all three were already headed towards the locker room as Duke's players celebrated the win.

Two plays, one call, no win.

"That's them getting a break on this one. It happened, unfortunately for us," Clemson head coach Brad Brownell

Brad Brownell
Head Coach
View Full Profile said in the locker room after the game.
Brownell then went on to say the Tigers got the play they wanted, but were unable to finish with the win.
"We did exactly what we wanted and what we practice. As it was unfolding, I thought we were going to win the game," Brownell said. "We run K.J. as kind of an initial cutter and get him in a spot to where he's open and hit him to make a play. And, then we have Rod – our fastest player with a full head of steam taking the ball to the rim to either score or pass it to somebody. It was exactly what we wanted. I haven't seen the replay. I don't know how much contact there was."
Brownell said he was unsure of what happened on the call where McDaniels fouled Hood.
"We hit and tripped them, I guess. They got the call on the play before, but that's part of sports," he said. "It's hard. We've have a couple of controversial endings now and it's hard especially at this time of year when your guys are fighting as hard as they did. Our guys fight. To win the game last night, when they weren't playing well and then to not win tonight when they were playing reasonably well and fight against a team with that kind of talent. There probably weren't too many people in the gym who believed that we could take the lead. I just have a group of guys that are competing their tails off. You hate to see a NCAA Tournament bid not come because of a couple of tough plays, but unfortunately that's what happened to us."
Clemson was picked to finish 14th in the ACC by the media, and if not for a controversial call at the end of the Pitt game would have finished fifth. Instead, they finished fifth and took one of the nation's best teams to the wire in what was essentially a Duke home game.
"I'm just really proud of these guys for how hard they fought all year. They are a group of over achievers in some ways and a group that very few people believed in," Brownell said. "We believed in ourselves and our guys came together unbelievably well and were coachable and had unselfish attitudes. When you have a group of guys who come together and believes and competes the way that they do, you hate for those things to not end well for the players.
"Not as much for me, I'm going to coach for a long time. Those guys don't have as many chances. These kinds of seasons are more special than most people realize because of how hard they are to get. Everything has to fall into place – you can't have a lot of injuries, guys have to be in a good rhythm, confidence has to build. We had so many things that happened for our team in a lot of positive ways that you just want positive things to keep happening for your players."
Now, the Tigers will turn their thoughts to the post-season and what will most likely be an NIT berth.
"We'll be in post season and we'll be excited about that," Brownell said. "Our goal coming into the season was to be playing in March with a chance to advance. It's unfortunate because we could taste the NCAA Tournament. We were getting closer with each win. A couple of really tough, heart breaking games with controversy at the end – you just hate for your season to end that way. The NCAA Tournament was what we were really after."
Brownell was asked what he would say about the call – and no call – on the fundraising circuit this summer, and he offered a small glimpse.
"If there's not as many cameras around, I may say what I really feel, especially if I've seen the video," he said. "I'll be very proud of our young men and what they've been able to accomplish this year and how they did it. People that watch this team saw guys that played really hard and got the most out of their abilities. As a coach, that's what you really want. As a fan, you want to see your team play as close to their ability level on a consistent basis and we've done that."