| | |
| --- | --- |
| Brownell, Tigers ready to move on after crushing ACC loss | |
---
| | |
| --- | --- |
| Monday, March 17, 2014 3:55 PM | |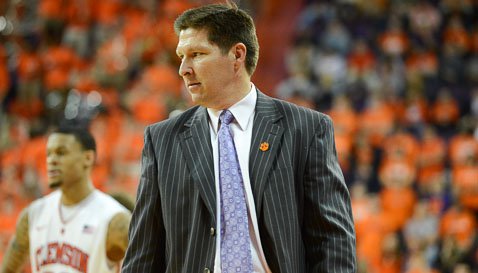 CLEMSON – Clemson head coach Brad Brownell

Brad Brownell
Head Coach
View Full Profile says his team doesn't have time to sit around and think about "what if." The Clemson basketball team accepted a bid to compete in the 2014 National Invitation Tournament (NIT) Sunday and need to prepare for that tournament rather than dwell on last weekend's ACC Tournament.
The third-seeded Tigers host No. 6 seed Georgia State on Tuesday in a 9 p.m. game televised by ESPNU. Clemson is returning to the NIT for the first time since the 2006-07 team advanced to the championship game in Madison Square Garden.
The short turnaround comes on the heels off a disappointing – and controversial – loss to Duke in the quarterfinals of the ACC Tournament last Friday. Brownell was asked Monday what the first order of business would be in preparing for Georgia St. and his answer was only a little surprising.
"I think the first thing I'm doing is congratulating our players on a great season," Brownell said Monday in Littlejohn Coliseum. "I don't think people realize anymore how hard it is to get into these type of postseason tournaments. There's been a change over the last few years of the mid-majors and low-majors regular season champions automatically getting a bid to the NIT.
"This isn't 20 years ago when it was a good old boy network and if you were 6-10 in the ACC and 16-15 record, you automatically get in the NIT. That isn't the case anymore. You have to have a special year. There are a lot of good teams that are marquee programs that aren't playing in the NCAA or NIT. Certainly I'm approaching it from congratulating our players on an outstanding season and ACC Tournament. Now we're going to try to play well and as long as we can in the NIT."
Brownell was asked if playing well in the NIT can be a springboard into next season, and he said not necessarily.
"Certainly, you're trying to build positive momentum from these experiences," he said. "I don't know that these one or two weeks extra of playing means that you're going to have NCAA success or win the ACC next year. I don't think that that correlates. Every team is different in terms of how many guys are returning and experiences. The best thing about it for me is that we have a group of guys that are playing well together and enjoying each other and we get to keep playing.
"That's number one. It gives us an opportunity to play for another championship. There are a lot of good teams in this field and we'll have to play well starting tomorrow to stay in the tournament for very long. It's nice to continue to coach guys that you are enjoying and are pretty healthy. It's a great opportunity for us."
The coaches and players will have to cram for Georgia St.
"It's much different because for the last couple of months you've been playing teams that you are familiar with, coaches that you know well and tendencies are not different and then you go to somebody that you don't know about," Brownell said. "I didn't know much about Georgia State. I knew that Ron (Hunter) has done a good job the last couple of years. They have a bunch of Division I transfers and highly talented players. R.J. Hunter, the coaches son, I've known about him for a while being a mid-west guy. He was highly recruited by the B1G schools in Indianapolis. They've got a couple of pro prospects on their roster with he and (Ryan) Harrow. This is not your typical mid-major, talent-wise team. They've got highly talented and highly skilled players. They should probably be in the NCAA Tournament."
The Tigers were hurt by controversial calls in the regular season finale against Pitt and at the end of the Duke game, and Brownell said that while his team can't play the "what if" game with a tournament game looming, he does think his team would have been in contention for a NCAA Tournament berth.
"We've been wondering that for a couple of days," he said. "You know that you're probably a couple of games out. If a couple of games go a different way, maybe our name is called. I certainly think we were close enough to be in contention. We played some very good teams late – Duke and Pittsburgh – and had a chance late, but didn't get those done. I don't know if that would've been enough, but it would've been right there. It's good for the league to get a sixth team in. I think our league is deserving of that."