| | |
| --- | --- |
| Boston College comes to town as part of a special hoops weekend | |
---
| | |
| --- | --- |
| Friday, January 30, 2015 8:29 PM | |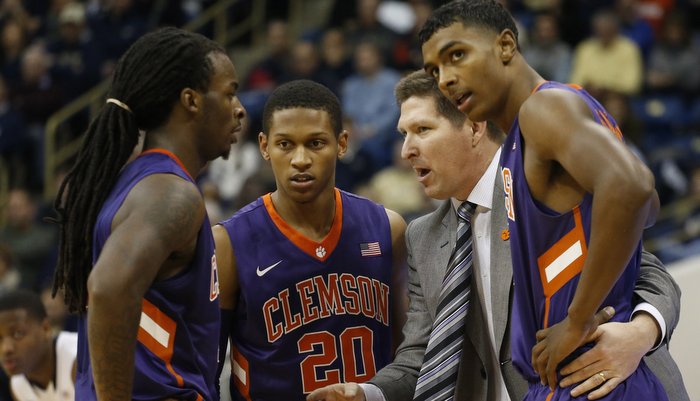 Clemson is 4-4 in the ACC, but the Tigers are coming off back-to-back wins and have a chance to build momentum heading into the final half the ACC slate.
Boston College comes to town Saturday with just one ACC win and a sub .500 overall record, and with back-to-back road games coming up the Tigers need all of the positive momentum they can get.
GAME SETUP
Clemson (12-8, 4-4 ACC) vs. Boston College (9-10, 1-6 ACC)
Date: Saturday, Jan. 31
Tipoff: 12 p.m. ET
Arena: Littlejohn Coliseum (10,000)
Radio: CTSN (Tony Castricone-pbp; Tim Bourret-color)
TV: ACC Network (Wes Durham-pbp; Mike Gminski-color)
Head coach Brad Brownell

Brad Brownell
Head Coach
View Full Profile said that his team is playing with a lot of confidence after the last second victory over Wake Forest last Saturday and the 68-57 win at N.C. State Wednesday night. However, the Tigers can't afford to overlook the Eagles because of their record.
"We did great the other night at N.C. State. A lot of guys played extremely well and have a lot of confidence off of that performance, but as we know in this league every game is difficult," Brownell said during a Friday afternoon press conference. "Certainly, Boston College presents a challenge with their scoring on the perimeter with Olivier Hanlan and Aaron Brown. We'd like to keep positive momentum going because I think momentum is important in sports. I think we've won three out of four. We'd like to play well and keep this thing rolling a little bit."
Clemson got off to a fast start against the Wolfpack, jumping out to a 23-point halftime lead, and Brownell said that when his team is playing well on the offensive side it translates to defense as well.
"It's positive plays being made - making shots, being able to get your defense set because you made shots, executing defensively with a good plan, being organized and rebounding the ball well. It all kind of rolls hand in hand when go back and look at things - good offense can help defense and good defense can help create offense," Brownell said. "Obviously when you play really well on both ends and you're playing really well, you have a chance to play to your potential. It's hard to bottle that for 40 minutes. You can't count on great shooting every half or every game. You're hoping to have as many good minutes strung together as possible. They Syracuse first half and the N.C. State first half were two of the best halves we've played this year."
The current team will be looking to go over .500 in conference play but Saturday's game will serve as a time for Brownell and his team to look to the past at the history of Clemson basketball with over 100 basketball alumni coming to town.
"We're doing something tonight where we're honoring those teams and I'll be around that. Tim Bourret is spearheading that effort," Brownell said. "We're going to have something tomorrow where we'll have all of those guys back and get a chance to say hello to as many as those people as we can and just thank them for supporting us and let them know that we still appreciate them and they are still a part of basketball family here. We want them to feel a part of it and welcome. With me, that's something I view as important. I want the basketball alumni at Clemson to feel good about themselves, their school, and their basketball program and to be proud of it and to come back and be a part of it as often as they can."