| | |
| --- | --- |
| Blossomgame's breakout game lifts Tigers over No. 16 Duke | |
---
| | |
| --- | --- |
| Saturday, January 11, 2014 5:55 PM | |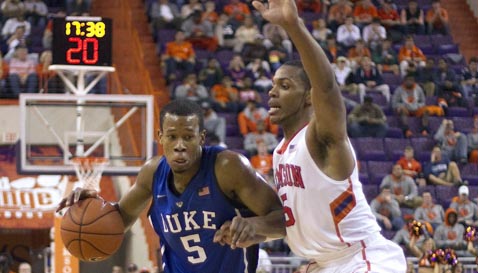 K.J. McDaniels

K.J. McDaniels
Jr. Forward
#32 6-6, 200
Birmingham, AL
View Full Profile scored 24 points and had 10 rebounds, Landry Nnoko

Landry Nnoko
So. Center
#35 6-10, 245
Montverde, FL
View Full Profile 10 points, seven blocks and 13 rebounds and Jaron Blossomgame

Jaron Blossomgame
RS Fr. Forward
#5 6-7, 215
Alpharetta, GA
View Full Profile had career highs with 14 points and 14 rebounds as Clemson handed the Blue Devils' their second straight Atlantic Coast Conference road loss.

The win, Clemson's first over Duke since the 2008-09 season, moved the Tigers to 11-4 on the season and 2-1 in the ACC. The Blue Devils fell to 12-4 overall and 1-2 in conference play.

Clemson held a commanding advantage on the boards – 48 to 30 – and hit 18-of-30 shots from the line, while Duke was 11-of-15 from the charity stripe.

"This was certainly a great team win and I'm really proud of our players for showing a lot of resiliency, not only with the quick turnaround but also from halftime," Clemson head coach Brad Brownell

Brad Brownell
Head Coach
View Full Profile said. "I thought we played exceptionally well in the second half and gained confidence throughout the game on both sides. It was great to see Jaron (Blossomgame) play at his level with his capabilities. Rod (Hall) and (Landry) Nnoko, along with Jaron, were huge.
"And K.J. (McDaniels) was the guy who really kept us in the game in the first half and gave us every opportunity to stay within striking distance. I think he was one of the guys who settled us down early and gave us the belief that we could win. Obviously as the game went along, I think we convinced ourselves that we could win."
Duke led 36-26 late in the first half before the Tigers (11-4, 2-1) put together a 37-18 run over the next 14 minutes to take control. Duke's final 11 possessions saw the Blue Devils go 0-for-11 from the field and they scored just two points. Clemson held Duke without a field goal over the final 6:22.
Blossomgame hit two key 3-pointers in the second half to key Clemson's rally. Blossomgame missed his freshman season after breaking a leg during the spring. He had a second surgery last summer, and has been trying to find his "game legs" all season.
He found them Saturday.
"This is big day for me, my breakout game," Blossomgame said. "I've had a rough start, but I'm trying to get back into the flow of things."
Blossomgame's 3-pointer with 9:27 left put the Tigers in front 52-50, the first lead for Clemson since the game's early moments. With the game tied at 54-all moments later, Blossomgame struck from left corner to give Clemson the lead for good, sending many in the sellout crowd to their feet.
Duke's Quinn Cook hit a three with 6:20 remaining that trimmed Clemson's lead to two at 59-57, but the Blue Devils managed just the two foul shots the rest of the way to end a five-game win streak over the Tigers.
Rodney Hood led the Blue Devils with 20 points. Jabari Parker, who had Blossomgame guarding him much of the game, scored 15 points, only five after halftime after scoring 10 of Duke's early points.
Duke head coach Mike Krzyzewski said the Tigers were more physical and athletic than the Blue Devils.
"Brad and his staff and his team just had a heck of a game. Their kids played so hard, and it started from the get-go," he said. "From the start you could tell they had a great verve. I thought that in the first half we did a good job of countering that, but their physicality and athleticism and determination wore on us. We got doubled on the score in the second half. A lot of it was their defense. We missed some shots that we should hit. In saying that, I'm not sure that that would have been enough to beat them. [Jaron] Blossomgame had an amazing game, 14 and 14.
"He had two big three-point shots, that I think turned the tide definitely in their favor. That's how games change. They killed us on the boards, 48-30. We're not a good team right now. We're a small team and we need make up for it in other ways. We're not some powerhouse. When you watch the game, they're bigger. [K.J.] McDaniels is one of the best players in the league. He's the best athlete, and he's also an outstanding player. They were terrific, and we need to get a lot better. We're not very good right now and that's on me as a coach. I never bad mouth my team or any guy. We win together, we lose together, but we're not very good right now and we've got to take steps to try to get to be good, because the league is unforgiving."
Clemson held and early 3-0 lead on a three from Jordan Roper

Jordan Roper
So. Guard
#20 5-11, 165
Columbia, SC
View Full Profile , but the Blue Devils responded to take a 15-11 lead early in the contest. Parker had 10 during that early stretch. The Tigers went without a field goal late in the first half, and Duke managed to run out to a 37-31 lead at intermission.
That earned Clemson guard Rod Hall

Rod Hall
Jr. Guard
#4 6-1, 210
Augusta, GA
View Full Profile a tongue-lashing from head coach Brad Brownell, who thought the junior needed to push the pace and attack Duke's guards.
"He kind of got at me and made more aggressive than I had been," said Hall, who wound up with 11 second half points and several key free throws down the stretch. Hall had three lay-ups coming out of intermission that helped the Tigers cut into Duke's 10-point lead.
Brownell said it was good to see Blossomgame have a breakout game.
"Well, he obviously hasn't played as well as we would like. He's a better player than he's shown," Brownell said. "We certainly thought that he would play more like this but we didn't think we'd get 14 (points) and 14 (rebounds) out of him. There are going to be games like today when he has 14 and 14 and then there are going to be nights when he doesn't play as well. He has to listen to the coaches, stay focused to what needs to be done, commit to doing the little things that we recruited him to do, and as he continues to get better and his confidence gets better, bigger things will happen for him. All he has to do is watch K.J. in front of him.
"He's gone through a ton in the last 18 months and I'm really happy for him because I know how it's hard it's been. All that work and having to sit out and then having a second surgery after the first didn't go so well and that sets you back even further. I think we, as coaches, have been good being patient with him and it paid off today."
The Tigers travel to Blacksburg, VA to take on Virginia Tech in their next game. Clemson will square off with the Hokies at Cassell Coliseum on Wednesday, Jan. 15. The game will tip at 7 p.m. and is televised by RSN.
If you can't see the PDF below, click here to open it.