| | |
| --- | --- |
| West Virginia blanks Tigers on Opening Day | |
---
| | |
| --- | --- |
| Friday, February 13, 2015 7:05 PM | |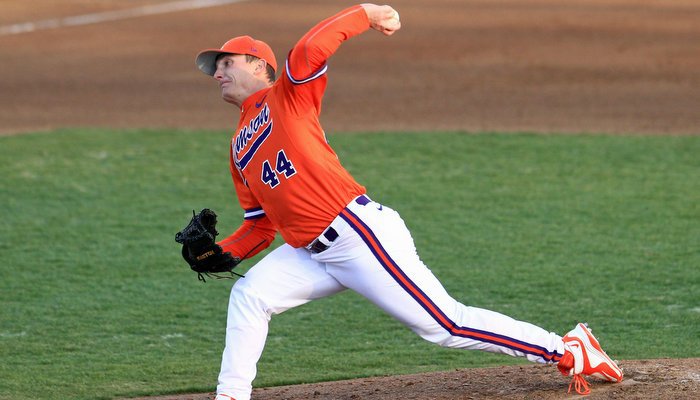 CLEMSON – The



# 0, 0
,
View Full Profile words "Opening Day" evoke images of bright sunshine and warmth, and where there was plenty of sunshine to go around Friday at Doug Kingsmore Stadium, the temperatures were as cold as Clemson's bats.
West Virginia broke open a pitcher's duel with single runs in the seventh and eighth innings, wasting Matthew Crownover

Matthew Crownover
Jr. LH Pitcher
#44 6-0, 210
Ringgold, GA
View Full Profile 's superlative start, and the Moutaineers opened the 2015 season with a 2-0 victory over the Tigers in front of a chilled crowd.
Clemson suffered its third opening day loss in the last four years after winning seven consecutive opening day contests.
The Tigers had one final chance to score in the ninth - Reed Rohlman

Reed Rohlman
RS Fr. Outfielder
#26 6-0, 210
Moore, SC
View Full Profile doubled to center with one out. Tyler Slaton

Tyler Slaton
Sr. Outfielder
#18 5-8, 200
Cumming, GA
View Full Profile followed that up with a walk, but freshman Chase Pinder

Chase Pinder
Fr. Infielder
#5 5-10, 175
Poquoson, VA
View Full Profile

Chase Pinder
Infielder
# 6-0, 165
Poquoson, VA
View Full Profile grounded into a double play to end the game.
"I thought we pitched really well and played good defense," head coach Jack Leggett said after the game. "Six hits and six walks and we just couldn't take advantage of it. We had a couple of opportunities in the first two or three innings and if we break the ice there, things probably go a lot better for us. They played good defense and their kids pitched well, too. It was a good ballgame. We just needed a few more hits."
Crownover – who was registering his first Friday start – threw 75 pitches in six innings. He sat the first six batters he faced down in order – striking out three – before giving up his first hit in the third inning. The junior lefty faced 21 batters – giving up three hits and no walks, while striking out eight.
"Crownover was really good tonight. He got up around 80 pitches and that's as far as you need to go this early in the season," Leggett said of his Friday starter. "The other guys came in and pitched good but they got a runner and a sacrifice fly and pushed across a runner. We just couldn't get things going. We only had the leadoff runner on three times and that's difficult to turn our offense over and get going."
Leggett said that sending Crownover out for another inning, but the cold made his decision rather easy.
"You're always tempted early in the season," he said. "You may be able to sneak another inning out of him, maybe. It's one of those things that it's cold out here and their kid reached the limit and our kid reached the limit - six innings. We'll have him later in the season when we need him. You definitely don't want to get anybody hurt or push anybody past their limits."
Alex Bostic

Alex Bostic
So. LH Pitcher
#37 6-2, 215
Matthews, NC
View Full Profile entered the game for Crownover – who had reached is pitch count limit – in the seventh inning and suffered the loss. K.C. Huth reached base on a fielder's choice and advanced to third on a two-out single by Justin Fox putting runners at the corners. Fox stole second putting two runners in scoring position. Huth scored on a wild pitch and Fox was thrown out at home on the same play, giving West Virginia a 1-0 lead in the seventh inning.
Sophomore and Spartanburg Methodist transfer Taylor Vetzel

Taylor Vetzel
RS So. RH Pitcher
#41 6-0, 155
Simpsonville, SC
View Full Profile came into pitch the eighth inning for Clemson and walked the first batter – Ray Guerrini – who stole second and advanced on a fly ball to right field and scored fly ball to right field by Taylor Munden to give the Mountaineers a 2-0 lead in the top of the eighth.
Mountaineers' starter B.J. Myers had a little bit more of a difficult start to his freshman campaign but successfully navigated the trouble spots. Myers faced 23 batters and gave up four hits and four walks and registered five strikeouts before his night came to an end after five-and-a-half innings due to a pitch count restricition.
It looked like Clemson would get on the board early after a Chase Pinder fielder's choice and back-to-back singles by Tyler Krieger

Tyler Krieger
Jr. Infielder
#3 6-1, 170
Johns Creek, GA
View Full Profile and Chris Okey

Chris Okey
So. Catcher
#25 5-11, 195
Mount Dora, FL
View Full Profile , but a strikeout by Andrew Cox

Andrew Cox
RS So. Outfielder
#6 6-0, 215
Belton, SC
View Full Profile ended the Tigers' chances in the first inning.
West Virginia's best chance of scoring came in third with singles by Justin Fox Taylor Munden, but Crownover ended the threat striking out Shaun Wood.
Clemson stranded nine runners through the first six innings and only registered one hit – a double by Reed Rohlman in the bottom of the ninth – over the final three innings.
The Tigers and Mountaineers play game two of the three-game series Saturday at 2:30 at Doug Kingsmore. Lefty Zack Erwin

Zack Erwin
Jr. LH Pitcher
#33 6-5, 195
Duluth, GA
View Full Profile will get the start for the Tigers.

Tags:
Tyler Slaton
,
,
Tyler Krieger
,
Andrew Cox
,
Zack Erwin
,
Matthew Crownover
,
Chris Okey
,
Reed Rohlman
,
Alex Bostic
,
Chase Pinder
,
,
Taylor Vetzel