| | |
| --- | --- |
| Waves drown Tigers in late-inning surge as Clemson's season ends | |
---
| | |
| --- | --- |
| Saturday, May 30, 2015 10:41 PM | |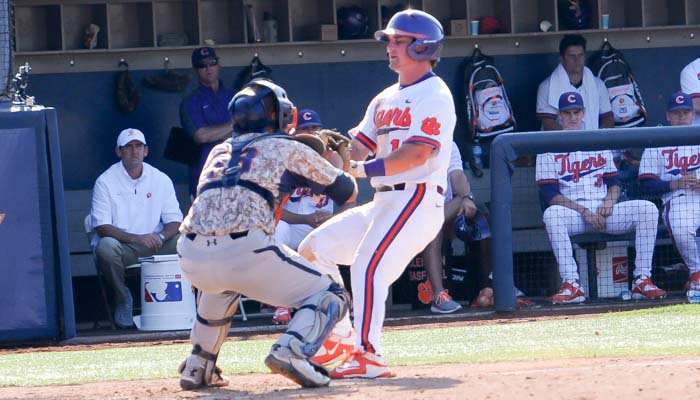 FULLERTON, CA – Saturday's NCAA regional game between Clemson and Pepperdine mirrored the results Clemson has seen on the field recently - a sluggish start followed by a furious rally and then heartbreaking defeat.
Clemson rallied from a 7-0 deficit to take an 8-7 lead in the bottom of the seventh, only to see that lead evaporate over the next two innings as No. 4 seed Pepperdine eliminated the No. 3 seedTigers with a 10-8 victory at Goodwin Field in the Cal State Fullerton Regional.
The Tigers finish the season on a three-game losing streak and have lost six of their last seven NCAA Tournament games dating back to the South Carolina Regional in 2013 when the Tigers lost two Liberty twice and then fell to Oregon and Xavier in the Nashville Regional in 2014.
The Waves had Clemson starting pitcher Zack Erwin

Zack Erwin
Jr. LH Pitcher
#33 6-5, 195
Duluth, GA
View Full Profile figured out from the beginning. Erwin exited after just five-and-a-third giving up seven runs – six earned – on eight hits and three walks, while striking out a pair.
Erwin got off to a shaky start walking Hutton Moyer – the second batter of the game. Brad Anderson followed that up a single to put runners on first and second with just one out and Aaron Barnett drove home the game's first run with a single to left that was mishandled by Rohlman. Brandon Caruso hit a sac fly to center with the bases loaded to add another first inning run, before another single and mishandled ball – this time by Duggar – gave Pepperdine a 3-0 lead.
The Waves extended their lead to 4-0 with a one out home run by Chris Fornaci.
Pepperdine's began the sixth inning with back-to-back singles that put runners on the corners after an error by Erwin. Designated hitter Nick Costello flied out to right field to score Matt Gelalich from third. The waves added two more runs in sixth making it a 7-0 Pepperdine advantage.
Clemson's offense finally showed signs of life in the sixth inning.
Tyler Krieger

Tyler Krieger
Jr. Infielder
#3 6-1, 170
Johns Creek, GA
View Full Profile followed up a leadoff single by Steven Duggar

Steven Duggar
Jr. Outfielder
#9 6-2, 195
Moore, SC
View Full Profile with a bloop double over the head of the third baseman to put runners on second and third with nobody out. Reed Rohlman

Reed Rohlman
RS Fr. Outfielder
#26 6-0, 210
Moore, SC
View Full Profile grounded out to second to score Duggar and Krieger scored a batter later on a single to left by Robert Jolly

Robert Jolly
Fr. Catcher
#12 5-9, 195
Myrtle Beach, SC
View Full Profile closing the gap to 7-2, Pepperdine.
The Tiger offense took the positive momentum into the seventh inning, scoring six runs to take its first lead of the game.
Andrew Cox

Andrew Cox
RS So. Outfielder
#6 6-0, 215
Belton, SC
View Full Profile led off the inning with a single up the middle and advanced to third on a double to left by Eli White

Eli White
So. Infielder
#4 6-2, 185
Easley, SC
View Full Profile . Duggar loaded the bases with walk. Krieger promptly singled through the right side, scoring two. Chris Okey

Chris Okey
So. Catcher
#25 5-11, 195
Mount Dora, FL
View Full Profile skirted a single just under the glove of the third baseman, scoring Krieger and Duggar. Jolly followed up with a single through the right side, putting runners on first and second. Tyler Slaton

Tyler Slaton
Sr. Outfielder
#18 5-8, 200
Cumming, GA
View Full Profile rocketed a triple to right center scoring both Jolly and Okey and giving Clemson an 8-7 lead.
Pepperdine wasted no time tying the game up at eight a piece. Fornaci led of the eighth inning with a double down the left field line and advanced to third on a fly ball. Anderson singled to right field, scoring Fornaci and knotting the score at 8-8.
The Waves took the lead for good in the ninth after Gelalich led off the inning with a walk and scored on a double by Jefferson throwing error by Rohlman. The inning continued as Jefferson scored on a scorcher through the 5-6 hole by Gallagher.