| | |
| --- | --- |
| Walks, errors cost Tigers against UNC in ACC Tourney; Tigers await NCAA fate | |
---
| | |
| --- | --- |
| Friday, May 22, 2015 6:36 PM | |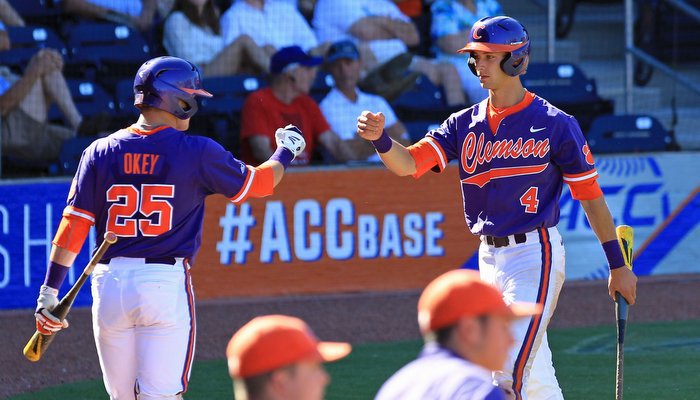 DURHAM, NC – With an NCAA Tournament berth possibly on the line and needing a win to have a winning record in the ACC Tournament, Friday was not the best of days for the bad Clemson baseball team to show up.
The Tigers committed four critical errors – which led to four two-out runs – and Clemson pitchers walked eight batters as No. 8 seed North Carolina defeated No. 5 seed Clemson 6-3 in the final game of the tourney for both teams at Durham Bulls Athletic Park. The Tar Heels earned the win despite garnering just five hits.
Now the Tigers will have to sit back and wait to see if their number is called when the tournament teams are announced Monday. Speculation before the tournament centered on the fact that the Tigers might need to go 2-1 or at least beat either Louisville or Florida St. The Tigers instead went 1-2, but did defeat No. 3 Louisville 7-2 Thursday evening.
"It was a tough ball game against a good ball club. They took advantage of the opportunities that we gave them with third and fourth outs in the third and fourth inning," head coach Jack Leggett said. "They made their hits count. They had some good offensive opportunities that they pieced together kind of like they did last night. They played well and played a little bit better than we did. We were a little shaky defensively and gave them too many opportunities that they took advantage up. The guys battled out there."
The teams were scoreless through the first two innings, but the Heels did damage in the bottom of the third thanks to shaky Clemson defense. Long got the first two outs of the inning fairly easily, but the third batter reached on a throwing error by shortstop Eli White

Eli White
So. Infielder
#4 6-2, 185
Easley, SC
View Full Profile . The next hitter hit one to second that Tyler Krieger

Tyler Krieger
Jr. Infielder
#3 6-1, 170
Johns Creek, GA
View Full Profile smothered, but Krieger couldn't get up and make the throw in time. That brought up Skye Bolt, who hammered one pitch into foul territory in right field but Steven Duggar

Steven Duggar
Jr. Outfielder
#9 6-2, 195
Moore, SC
View Full Profile couldn't corral the ball near the wall in right, and Bolt had new life. He then made Long and the Tigers pay with a no-doubt laser doubt onto the aptly named Home Run Patio in right for a 3-0 lead.
The Tigers got two two-out singles from Krieger and Reed Rohlman

Reed Rohlman
RS Fr. Outfielder
#26 6-0, 210
Moore, SC
View Full Profile with two out in the fourth, but Chris Okey

Chris Okey
So. Catcher
#25 5-11, 195
Mount Dora, FL
View Full Profile fled weakly to left to end the threat.
Long unraveled in the fourth, with three walks and single ending his day. He was replaced by Clate Schmidt

Clate Schmidt
Jr. RH Pitcher
#32 6-1, 205
Acworth, GA
View Full Profile , who walked in a run – to Bolt - with the bases loaded for a 5-0 North Carolina leader. Charlie Barnes

Charlie Barnes
Fr. LH Pitcher
#23 6-1, 170
Sumter, SC
View Full Profile

Charlie Barnes
Fr. LH Pitcher
#23 6-1, 170
Sumter, SC
View Full Profile promptly replaced Schmidt and got out of the inning, striking out Korey Dunbar with the bases loaded.
Long's final line wasn't impressive but he wasn't helped by his defense. Long finished with 3.2 innings pitched, giving up five runs of which only two were earned. He walked five and struck out five in his 77 pitches, of which less than half (38) were for strikes.
The Tigers finally broke through against UNC starter J.B. Bukauskas in the top of the sixth. Bukauskas was brilliant through the first five innings, but White singled up the middle with one out and stole second as Duggar struck out for the second out. Krieger followed with an RBI single to right to score White, and Rohlman singled up the middle to move Krieger to third.
Bukauskas was replaced by Trevor Kelley, and Kelley promptly threw a wild pitch on a 3-2 count to Okey that scored Krieger to make it 5-2 Heels. Kelley got out of the inning, but the Tigers were back in the game trailing by three.
Clemson's porous defense promptly gave one of the runs right back. Tyler Ramirez singled with two out, and he moved to third as Barnes' pickoff attempt rolled into foul territory in right field. Facing Bolt, it looked like Barnes would get out of the inning unscathed, but Barnes popup in short left was dropped by White – who battled the sun without the aid of sunglasses – and Ramirez scored to make it 6-2.
Andrew Cox

Andrew Cox
RS So. Outfielder
#6 6-0, 215
Belton, SC
View Full Profile walked with two outs in the seventh. White singled to center and a throwing error by Bolt allowed both runners to move up a base, giving the Tigers runners at second and third for Duggar. Duggar battled but struck out swinging to end the frame.
Clemson added a run in the eighth – Rohlman and Okey singled and Rohlman scored on a single by Wilson that made it 6-3 North Carolina, but Tyler Slaton

Tyler Slaton
Sr. Outfielder
#18 5-8, 200
Cumming, GA
View Full Profile struck out to end the threat.